Entertainment
Flo Rida A No-No When it Comes To Dating and Keeping a Girlfriend! Has A Child But Was He Ever Married For That?
Some people think that they don't need to do exchange 'I dos' to have a family.
We have many examples in our entertainment industry, where celeb just enters into the parenthood without tying the knot. Today, we have raised this topic to correlate with the American rapper, Flo Rida's personal life.
The widely known singer has been in the No-No zone when it comes to dating affair and girlfriend, but the irony is that he already is a father of a child. But has he ever turned his baby's mama into his wife? Stick around for the details!
Multiple Paternity Claims but has he ever been Married?
Celeb getting into controversy is not a new thing. Many celebs hit the headlines for various reasons, and Flo Rida is among those who time and again gets into the news for paternity claims.
Earlier this year in April, the 24 years old film actress Alexis Adams claimed for additional child support for their child. Flo Rida had been paying $5k per month for his son, Zohar Paxton, who was born in September 2016.
But Alexis went to court for additional payment and claimed that child support which she has been receiving was not enough. Moreover, Alexis claimed that she cannot afford the child care and can't go to work leaving her child.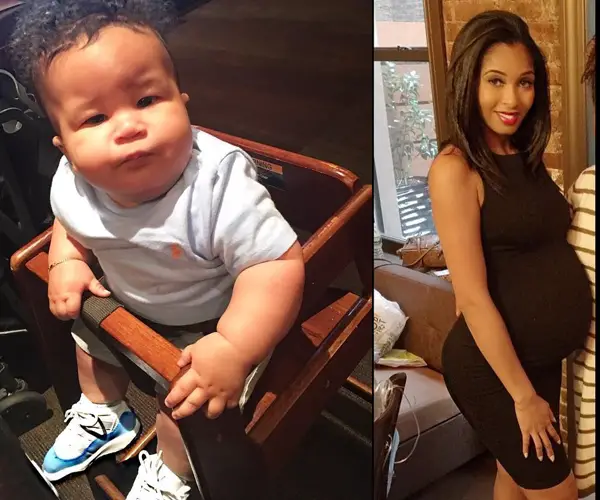 Caption: Flo Rida's son Zohar Paxton and mother of his child, Alexis Adams.
According to Alexis, she was in a relationship with 'Low' rapper for a month, which started in December 2015 and went up to mid-January 2016.
That was not the first time for the 37 years old rapper who had to go through a legal battle for the paternity conformity and child support.
Previously on April 2014, Natasha Georgette Williams accused Flo Rida being the father of her son. The paternity claims turned into legal issues, following which the paternity test documents suggest that Flo is the father of the child. Moreover, Natasha's lawyer Ray Rafool stated,
"Though not a surprise to Ms. Williams, we are certainly pleased that the court-ordered paternity test firmly establishes Flo Rida is the father of their son,"
Before the legal battle with Natasha, Flo was claimed to be the father of Gloria Holloway's child on 2011. The alleged baby's mama of Flo Rida, Gloria Holloway also sought for the child support.
That one had a dramatic turn, as the reports of the DNA tests proved the claims to be untrue.
Caption: Wendy Williams talks about Flo Rida's paternity tests and two children on her show. (Published on Apr 21, 2017)
With a couple of names on the list of alleged dating affairs, has Flo Rida got married to any of them?
Well! The probable answer to that question would be a 'No.'
The rapper hasn't been open about his relationship status much, but he is a father of two, to whom he has been providing child support.
However, as of today, he might be dating someone, just keeping it behind the sheets. Hopefully, the singer will open up soon about the dating affairs!
More about Flo Rida:
Flo Rida was born as Tramar Lacel Dillard on September 16, 1979, and is a Florida-bred. His parents raised him along with six sisters.
After making a mindset to get into music, he faced a number of rejections, but was able to fix position in 2008 with chart topping song "Low." The song was at the top of the US chart for ten weeks.
After that, he has given a handful of hit songs, and that includes "Club Can't Handle Me," Wild Ones," "Right Round," "Whistle" and much more.
For 2017, he is busy with his new song and tours. The rapper loves sharing snaps from his concerts via Instagram.
As per the official site, Flo Rida has got a very tight schedule with his concerts and tours.
On August 8, 2017, Flo Rida will perform at Jackson Country fair-MI at Jackson, MI, on August 11 at Golden Nugget Lake Charles, LA.
The next day, on August 12, Flo Rida will be performing, at Sandi Casino Amphitheater Albuquerque, NM. Further on August 15, he will be performing at Iowa State Fair Des Moines, IA.
Hurry up! And book your tickets to watch your favorite artist Flo Rida perform Live!
Stay with us for the latest updates on Flo Rida!