Entertainment
Flourished Professional Career But Unsuccessful Married Life: Jamie Colby's Husband and Divorce. Affairs?
Looking at the life of some individuals, people may suspect that maintaining personal life is far difficult than professional life. For instance look at the well-known journalist Jamie Colby. Jamie has managed to gain immense success in her career but always faced failures when it comes to relationships.
The news anchor for Fox news channel, Jamie Colby is adored by the audience for her confident and rigorous presentation. However, the similar could never happen in her personal life. The successful Jamie experienced two broken marriages and is raising a child alone.Take a look!
Jamie Colby's Married Life along with Husband and Children:
According to some websites, Jamie Colby is married twice. But unlike her second marriage, there is no information in the media about her first marriage. The name or other details about her first husband have not been disclosed so far.
Jamie Colby married Dr. Marc K. Wallack, a surgeon in New York. The couple has a son named Gregory Green Berg. Unfortunately, their relationship could not go very long, and they separated in 2011. There were rumors that the couple's twenty year age gap was the reason for their divorce.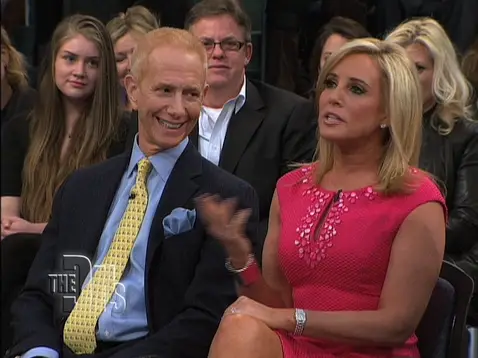 Jamie Colby with Ex-Husband Dr. Marc K. Wallack (thedoctorstv.com)
Jamie and Marc are the authors of Back to life after a heart crisis.
The couple stayed in the headlines for a long time when their book, 'Back to life after a heart crisis' came out in the market. In the book, the couple had shared an experience of the time when Marc went through heart surgery. They also have talked about the remedies to prevent the heart disease.Let's see a video of Jamie Colby and Marc K Wallack, talking about their book 'Back to life after a heart crisis.'
Jamie Colby and Marc K Wallack talking about their book Back to life after a heart crisis (published on February 23, 2010)
After her divorce with Marc, Jamie has become very silent regarding her personal life. The news or rumors about her affairs are not heard so far. Only she can answer if she has a boyfriend hidden under her sleeves or is single at the moment.
Jamie Colby's Short Bio:
Besides her personal life, Jamie is currently an anchor of show "Strange Inheritance" for Fox business news. Before this show, she was the co-host of "America news headquarters." The multi-talented Jamie is not only a journalist but an attorney and author as well.
She practiced her law career with the show "The Tonight Show" assigned to her by a Hollywood entertainment firm. She got enormous popularity due to her work for Jonny Carlson contract, renewable with NBC. Similarly, she is also the co-author of the book "Back to life after a heart crisis."
The American news anchor Jamie covered the news of the September 11 attack and won the Edward R. Murrow National Award. She is also the winner of Gracie Award for investigative reporting in 2000 and the Clarion Award in communication from the Association for women.