Entertainment
Fox News' Adam Housley, On Fifth Wedding Anniversary: Couple's Splendid Net Worth! Salary?
Finding a perfect match with whom we can spend the rest of our lives with is very fortunate indeed. A perfect significant other with whom you can be yourself with and with whom you can raise your family is very lucky.
Same can be said for Adam Housley and his wife, Tamera Mowry. For they are the luckiest of them all. To have someone who loves you unconditionally is really something else. Recently having their 5th fairy tale wedding anniversary party has left many fans speechless. Let's find out more about their life together and their beautiful 5th wedding anniversary.
Adam Housely and Tamera Mowry: (Wedding, Married Life, Wife, and Children)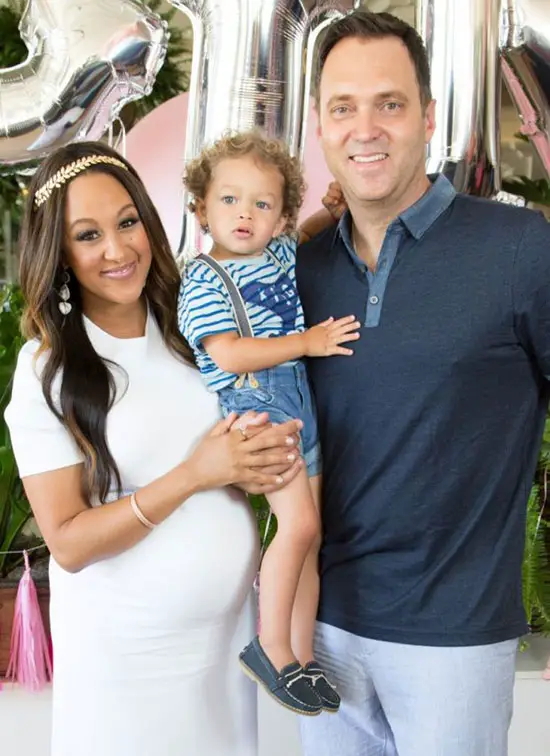 Caption: Adam Housley and wife Tamera Mowry with son Aden at their second baby shower
Source: liverampup.com
Adam Housley is currently married to beautiful American actress Tamera Mowry. Adam began dating Tamera in 2005. The couple was engaged in 2009 but later broke up. After reigniting their love again in 2010, the couple got engaged in March 2011. While vacationing in Italy, Adam got down on one knee and popped the question in Venice, Italy.
After three months of engagement, they married on 15th May 2011. The couple has been going strong since then. Not only their love for each other keeps growing with time but adding extra joy in their relationship Tamera gave birth to son Aden John Tanner Housley on12th November 2012 in Los Angeles, California.
After three years of sheer love and joy with their son, Tamera was pregnant again and this time, she gave birth to a beautiful baby girl on 1st July 2015. The couple named their daughter Ariah Talea Housley.
Adam Housley has a perfect family. How lucky is he to have found such a loving wife? The couple is beyond happy with what they've got, and they should be. They've got everything that most people only dream of. Now that this power couple is on their fifth wedding anniversary, we expect this holy matrimony will last till they are old and crippling.
Adam Housley and Tamera Mowry's 5th Wedding Anniversary: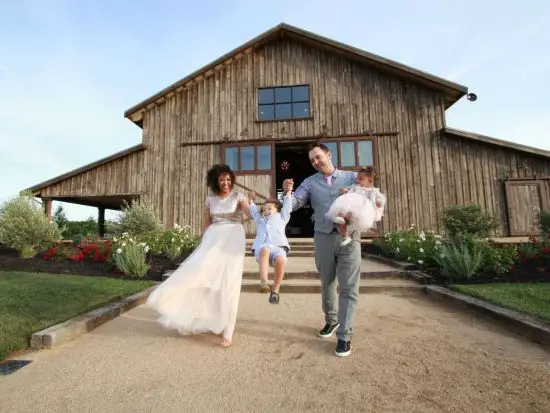 Caption: Adam Housley and Tamera Mowry at the celebration of their 5th wedding anniversary at the Il Fienile Tra Vigne Green Valley in California's wine country.
Source: liverampup.com
When the couple got married in 2011 in Napa Valley, their wedding party was epic, and people were still talking about it. So to re-create the same magic they had on their wedding day, Adam and Tamera decided to throw a lavish party for their 5th wedding anniversary.
In an interview with PEOPLE, Tamera, mother of 2 says,
"One thing that we loved about our wedding was we had two different worlds come together and by the end of the wedding, a lot of people became friends with each other.
"Everyone always said, 'Man, we should just get together again like that. That was so much fun.' And this time, we had so much to celebrate. We wanted to celebrate our two amazing children that now we have in the five years and we wanted people who hadn't had a chance to meet them to meet them."
Mowry and Housley took the help of celebrity party planner Mindy Weiss, who happened to plan their beautiful wedding in 2011. Mindy put together the fete at II Fienile Tra Vigne Green Valley in California's wine country this May.
In an interview with PEOPLE, Mowry expressed, "I went walking one day, and I was like wow that barn is gorgeous. I love the juxtaposition of a rustic barn but then at the same time you can make it really elegant." Mowry had a really beautiful vision and to incorporate that vision into reality, Mindy decorated the barn with chandeliers and candles.
And since the color palette of the party was white and blush, Mowry decided to match it with her ethereal blush dress. The best part of the party was when the couple asked guests to donate to two of their favorite charities, The Shadow Warriors Project and Expressions of Hope. With the help of their beautiful party, Mowry and Housley raised the total of $12000.
Now that we've seen this couple enjoy their 5-year anniversary, we just hope that they have much more anniversaries to celebrate their lasting love for each other.
Couple's Splendid Net Worth! And Salary?
Adam Housley is an award-winning journalist who has covered news/stories of countries. He has a net worth of $3 million. He was able to gain this splendid salary because of his performance as a journalist. He joined Fox News Channel as a senior LA-based correspondent in 2001.
Tamera Howry is an American actress and model who has a net worth of total $4 million. This Germany-born actress has succeeded in capturing this splendid net worth by acting in several movies and tv series. Her hit shows include Disney movie "Twitches" and "Twitches Too," television series "Sister, Sister," tv film "Seventeen Again," "Roommates," "Tia and Tamera" and much more. She is also the co-host of the talk show The Real.