Entertainment
Fox News' Todd Starnes Went Through Weight Loss And His Wife Helped Him; He's A Married Man After All
Some things can be tough to hide even if you want them to remain hidden. No, we are not going to be philosophic today, but rather are going to relate this saying to the life of American conservative columnist Todd Starnes.
He has always been hiding his married life and keeping it far from the eyes of the general public, but while revealing a story about his weight loss, he also revealed that he has a wife who he is married to.
So let us address the story about his weight loss and how his wife was one influencing factor for him to shed some pounds in a wiki-like bio of him.
How Did Todd Starnes Undergo Weight Loss And How His Wife Helped Him In That?
By the time Todd Starnes was 37, he weighed over 300 pounds and had ample issues even with getting out of bed.
Caption: Todd Starnes talks about the history of his weight.
Video credit: Cbn.com
In 2005, after facing some more issues, x-rays and further examination revealed that he had an enlarged heart. His aortic valve was defective due to which he required undergoing an open-heart surgery to repair it.
Todd also needed to shed some pounds and lose weight because of the additional strain his weight was putting on his heart. But while he had to undergo surgery, he also required losing his weight so much that his doctors told him to lose weight or die.
He said,
"My cardiologist told me I had a choice to make. Either keep stuffing my face with Nutter Butters or I could make some changes in my lifestyle and live a long and healthy life."
However, two weeks after his surgery, the will to live made him determined and he, along with his pastor Wayne and his wife Nancy, went out for regular walks and the result, he started losing weight at a good rate.
I can't even walk around the block without getting winded!
Moreover, four months after his surgery, he got a call from Fox News Radio for the job of a news anchor, which he accepted after his cardiologist cleared him to travel via flight and move to NYC.
Furthermore, the fact that his cardiologist claimed Todd would one day run a marathon made him prepare for that in 2007 as well.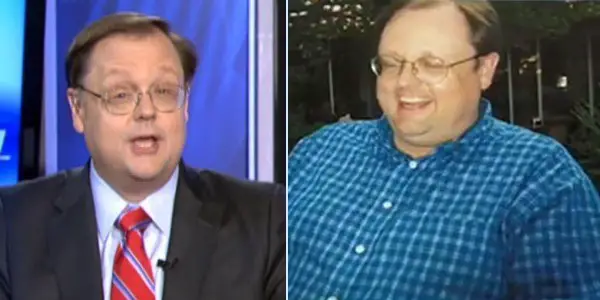 Caption: Todd Starnes' Weight Loss: Now and Then.
Photo Credit: liverampup.com
By that time, he had already shed 120 pounds, but he wanted to shed more, and the Marathon that he ran took him 6hrs and 53 minutes to complete.
"My time won't make the record books, but it was my time,"
Todd's weight loss story is amazing, and he said that he did not even spend a penny for that. He said,
You need to take personal responsibility for yourself. Admit you are overweight and that you want to do something about it.
Build an accountability team. Losing weight should be a team sport.
Set reasonable goals. Set small goals in five pound increments.
Start exercising immediately. Start walking or join a running club.
Seek divine guidance. It's a physical and spiritual journey.
Inspirational eh?
The above story might let you know about how he shed weight, but you might be missing out on something, his marital relationship with his wife.
We now know that he is a married man, but he and his wife Nancy have always preferred to keep their relationship far from the knowledge of the public which is why they have revealed nothing, which is something that they are entitled to do.
Let us hope he reveals anything about his married life in the days to come!
More You'd Like To Know About Todd Starnes: A Short Bio of Him.
Born on October 28, 1967, in the US, Todd Starnes is an American news columnist, who is known for his regular appearances on series like "Fox and Friends" and "Hannity." Starnes was born in Memphis, Tennessee and he joined Fox News Channel back in 2005 as a radio news anchor.
Also, in 2007 Todd was assigned to cover former President Barack Obama's presidential campaign, and he traveled as an embedded reporter during the final weeks of the 2008 election.
Also, did you know that he is a supporter of gay people and same-sex marriages?
He has often been verbal about it on Twitter.
He has also covered the news of Pro-Trump gays being banned from the pride parade earlier this month.
Glad to know that he does not bias between gay and straight people!