Entertainment
Frank Bruno Reveals Struggle Of Broken Married Life With Wife; The Hard-Hitter Has A Soft Spot
Did you know that there are 100 divorces every hour in the United States?
But with divorce comes a battle, and today, we will be talking about one of such struggles; the struggles of former world boxing champion, Frank Bruno's divorce.
Frank looks like a tough guy in regards to his boxing skills, but his past holds a bitter divorce with his ex-wife, Laura Mooney. Let's take a peek at the incident and find out the exact cause of this harsh experience, while we also share if he has stumbled upon a woman, with whom he can finally settle down with!
Frank Bruno's Unsuccessful Married Life:
Although Frank's relationship with his wife, Laura Mooney did not end on good terms, there's no denying that they had come a long way in their journey of love.
Back in the 1980s, Bruno met his now ex-wife, Laura at an ice skating rink in 1980. Frank even defined his first encounter with Laura as the most important part of his life.
After enjoying a live-in relationship for around ten years, they got married back in 1990 at a small church in Hornchurch, Essex. Frank and Laura shared three children together, two daughters, Nicola (35), and Rachel, (30), and a son, Franklin (22).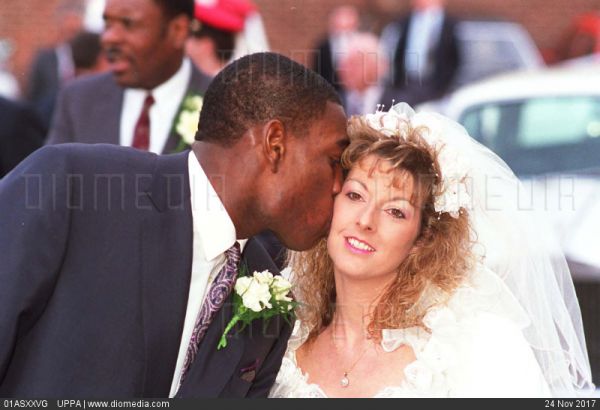 Caption: Frank Bruno and ex-wife Laura Mooney during their wedding.
Photo Credit: Diomedia.com
Later, Laura became Frank's manager to handle his finances and business projects after he received wide recognition for winning the WBC World Heavyweight Championship against Oliver Mccall in 1995.
However, his skills fell weak against opponent Mike Tyson in the year 1996; he was severely beaten, and doctors even said that 'one more punch in the head could blind him.'
Caption: Frank Bruno vs. Mike Tyson in February 1996 which Frank lost and indeed became the reason for further misery in life. (Published on December 1, 2015)
But little did he know that more struggles were on his way!
After his painful loss, Frank had to retire from the sport of boxing after being warned that one more punch in his head could cost his eyesight and turn him blind. As a result, he poured his frustration and anger upon Laura. He later confessed his guilt as,
'The worse I felt the more I took it out on my wife,'
But, Laura didn't endure the domestic violence for long!
She got a court order in November 1997 against Frank banning him from "assaulting, molesting or harassing" her. The pair tried to resolve their problems and their lawyer, Henri Brandman expressed that despite 'experiencing marital difficulties,' they were not hinting a divorce at the time as they were still in love.
"Frank and Laura are still very much in love. They are trying desperately hard to resolve some difficulties that have arisen in their marriage, particularly with the welfare of their children in mind."
But Laura called it quit by June 2000 and knocked the doors of the court to put an end to their rows. As per Laura,
"I thought that, by going to court, it would force both of us to behave and to end our rows. We were tearing each other apart with our rows. They were growing increasingly ferocious and I was scared of the look in Frank's eyes. I've only seen that look before, in the ring. He would tower over me, waving his arms around, and I kept thinking, 'Oh my God, something's going to go bang here'."
The pair decided to end the decade-long marriage in divorce!
Frank Bruno and Laura Mooney's Divorce:
Frank and Laura's attempts to save the marriage didn't succeed as they finally confirmed their split in June 2000. The couple's joint statement read,
"It is with great sadness and the deepest regret that we confirm that our relationship has broken down. We will do everything as amicably as possible, and we ask that the media will respect our privacy for the sake of the children. We wish to make it clear that we will make no further comment."
The pair got officially divorced in the year 2001 at the London Divorce Court, where Laura was granted a decree nisi based on Frank's unreasonable behavior. Laura said she was in depression and was prescribed anti-depressants as well,
'The respondent's behaviour has made me anxious and depressed and I have been prescribed anti-depressants.'
She also stated that Frank 'refused to move out' of their eight-bedroomed house on a 76-acre estate near Brentwood, in Essex.
Meanwhile, Bruno denied his behavior as the cause of the broken marriage in a hand-written note.
''Although I am not defending the divorce, I don't accept that my behavior has been the cause of the marital breakdown.''
In the year 2003, Frank surprised the public when he made a comeback in his boxing career, with a challenge to fight against Olympic gold medalist Audley Harrison. However, Bruno's purpose of the fight was to pay a £5 million divorce bill.
Although the fight's prize was worth £10 million, Frank was entitled to hand all of what he received to Laura as per one of his friends. He explained the reason as,
"He has obviously been stunned by the size of the payout but accepts Laura is entitled to it. Frank's deepest desire is for all this to be settled amicably and his children to be well cared for. His idea is that he and Audley fight for a purse worth £ 10million and they split it equally whatever the outcome. At a stroke that would cover his divorce payout."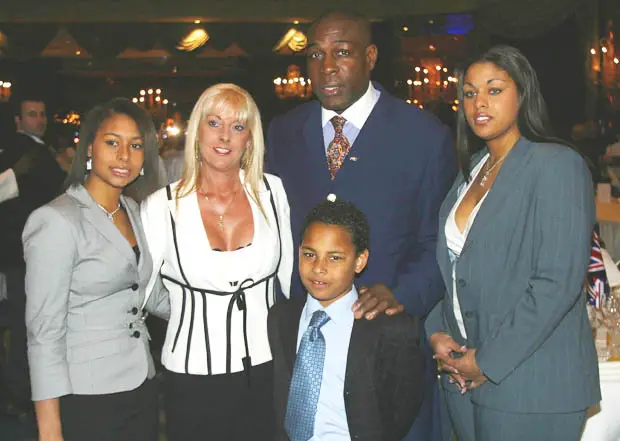 Caption: Frank Bruno with his ex-wife Laura Mooney and their children.
Photo Credit: dailystar.co.uk
But life moves on and so did Frank, embracing a new romance in his life!
Frank Bruno's Romantic Union:
After his failed marriage, Frank had a brief romance with his old friend, Yvonne Clydesdale and the brief association gave him his fourth child, a daughter named Freya Bruno, who was born in 2006.
Moreover, the reports of Frank dating a hairdresser Nina Coletta surfaced the media back in May 2012. The pair were reportedly introduced to each other in a wedding. The reports even claimed that Frank moved in with Nina in her Glasgow home. Nina played an essential role in Frank's life, who was named under the Mental Health Act in 2003, as she helped him deal with bipolar disorder.
Frank guessed about his then lady love Nina as,
"I've met someone else and I'm happy. She is a great girl. We're taking each day as it goes. I can finally see light at the end of the tunnel."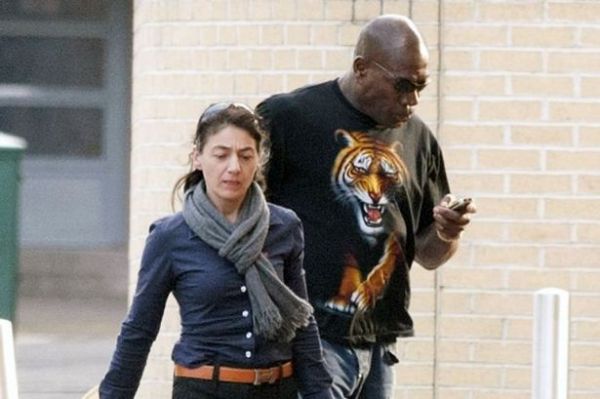 Caption: Frank Bruno with his former girlfriend, Nina Colletta.
Photo Credit: DailyRecordco.UK
However, the relationship could not survive more than four years and drifted apart in early 2016. In an interview, Frank shared,
"You always miss a little puddy cat until the right one comes along. I'm looking for a woman, a nice princess to settle down with. Every time I come to Glasgow I have good fun — I had a girlfriend here for about four years and she was very special. I also boxed in Glasgow and they were very warm and very nice people. They are straight people and if they don't like you they tell you and if they do, they tell you."
But, Frank hasn't publicly been seen with a new romantic partner since his affair with Nina and seems to be searching for a partner as of now!
Keep visiting to stay updated on the life of Frank Bruno!