Entertainment
Glenn Howerton - The A.P. Bio Star A Happily Settled Man With His Wife
We all have a bucket list filled with goals in our life that we wish to accomplish before a certain time. Well, it's one's preference, but usually, most people aim to have a successful career and get settled down with the love of their life.
Talking about the A.P. Bio star Glenn Howerton, he has successfully ticked off those goals in his life, as he has a rewarding career and is happily married to Actress/Producer, Jill Latiano. So, today let's explore the delightful married life of these lovebirds, while getting to know more about Glenn Howerton!
Glenn Howerton's Blissful Married Life With His Wife:
The joyful married life journey of Glenn Howerton and his wife Jill Latiano began after they tied the knot on September 8, 2009. Their wedding took place in Rancho Las Lomas, California and the ceremony was just as beautiful as the couple is!
Many guests along with the whole cast of the series that he starred in, 'It's Always Sunny in Philadelphia' attended the beautiful vintage-themed wedding. But, all the attention was just upon the happy bride and groom.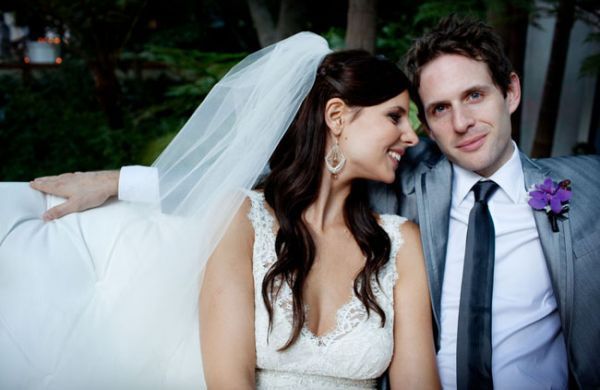 Caption: Glenn Howerton and Jill Latiano on the day of their wedding in 2009.
Photo Credit: greenweddingshoes.com
After two years of their married life, they were blessed with a bundle of joy, a son, whom they named Miles Robert Howerton on September 12, 2011. Additionally, Glenn was hinting that his beautiful wife was pregnant again in his Twitter post on April 11, 2014.
Their happiness doubled in August 2014, after they welcomed another baby boy named Isley Ray Howerton referring to the rock and roll band, 'The Isley Brothers.'
After having two sons, Glenn's wife, Jill told EOnline,
"We have little boys. And on one hand I'm glad I don't have a girl because there are so many things, but on the other hand there's just as much with the boys and teaching them how to respect women and there are just so many things with a child."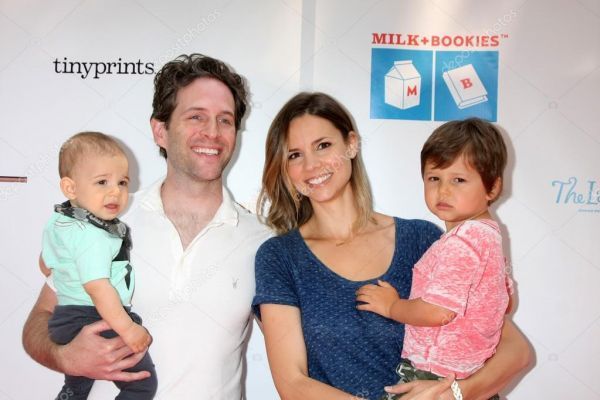 Caption: Actor Glenn Howerton with wife Jill Latiano and sons Miles (right) and Isley (left) at a children's event in California.
Photo Credit: depositphotos.com
A Short-Wiki Like Bio of Glenn Howerton:
Born on April 13, 1976, in Japan, Actor Glenn Howerton goes by the real name, Glenn Franklin Howerton III. Growing up, he had been to South Korea, London, and Alabama, where he attended Baldwin Junior High School. Glenn graduated from Jefferson Davis High School in 1994 and later, from Julliard with a B.F.A. in Actor Training Program.
Howerton, who enjoys a net worth of $20 million, started out his acting career by appearing in the sitcom 'That '80s Show' with the role of Corey Howard. Since then, he has flaunted his acting skills in numerous movies like 'Everything Must Go' (2010) and 'Coffee Town' (2013) along with series such as 'Family Guy' (2014-2015) and 'American Dad!' (2009).
As a matter of fact, he is most popular for his main role as 'Dennis Reynolds' in the series 'It's Always Sunny in Philadelphia,' which was written and executively produced by Glenn, himself.
However, around August 2017, Glenn was not clear if he would continue starring in the series, as Glenn was about to star in a new comedy show called 'A.P. Bio' which was yet to be picked up by NBC.
In an interview with UPROXX in August 2017, Glenn opened up saying he is open to the possibility of doing more, and his decision to star in a new show has nothing to do with any actors from 'It's Always Sunny in Philadelphia,'
" So… it's a little complicated. I may seem a little bit evasive here, and I don't mean to. It's not entirely certain whether I am or am not. I might be. I might be, but I might not be. That really is the truth. Just to be clear, to dispel any potential weirdness, it has nothing to do with my relationship to anyone on the show or Rob or Charlie or anyone like that. It's partially a creative and personal decision. We may be taking an extended hiatus between season 12 and season 13. So I'm certainly staying open to the possibility of doing more, but there is a possibility that I will not."
But, Glenn has now said goodbye to the series, as he is busy working on the show 'A.P. Bio' which has already released its first episode.
Caption: Glenn talks about his new show A.P. Bio. (Published on May 22, 2017)
The show depicts a philosophy scholar (Glenn) who has lost his dream job and becomes a high school A.P. biology teacher, who has no purpose in teaching biology at all. He then realizes the whole classroom is filled with smart students and later, uses them to his own advantage.