Entertainment
Grey's Anatomy Actress Tessa Ferrer Reveals No Problem Towards Dating On-Screen But What About Her Real life? Married Secretly?
Tessa Ferrer from the famous television series, Grey Anatomy as Leah Murphy is one mysterious woman who is keeping her personal life close to the chest, but we are here for a reason, to spit out the truth from her, or at least make sure you get the best out of the truth. We go through some of her illustrious past and presents and bring it to the light.
Not Even A Nibble:
The thirty-year-old American actress Tessa Ferrer playing as Leah Murphy made it first in season nine of "Grey's Anatomy" in 2012, is now marking her second debut for season 13. With an on-screen girlfriend already in place, she never has given comment on her personal life nor has she been seen dating a boyfriend. No ring on the finger also means that she was never married therefore never had a husband, she has, however, been playing a character who has a boyfriend or at least a complicated situation with the fellow actor in the T.V series.
Caption: A Kissing scene on the set of Grey's Anatomy on May 9, 2013.
Acting Is A Tough Business:
Tessa has not stated if she was gay, straight or a lesbian off the set of the T.V series, but is playing a character, known as Leah Murphy that has feelings for another woman, a role played by Jessica Capshaw, forty years of age, as Dr. Arizona Robbins. Things get hot and heavy as the two ended up making out on a different occasion, causing Leah to become somewhat obsessed with Arizona on the set of course. But recent events have Arizona subsequently getting a new love interest this season.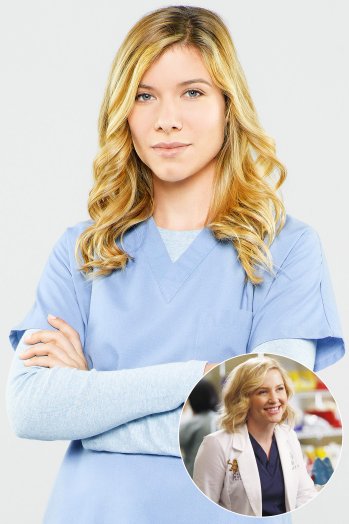 Caption: Tessa Ferrer and Jessica Capshaw who play the T.V series Grey's Anatomy OCTOBER 23, 2013).
Picture Credit: hollywoodreporter.com
Tessa Ferrer has starred in many other series and movies. In 2008 in the movie "Excision" playing as Pauline, she gained the award for "First Run Film Festival" in Best Actress and again granted in "ShockerFest International Film Festival" for Best Actress. She also starred in short films such as, "Nobody's Night" and "Rambling Round" "Modern Mad Men," "After the Triumph of Your Birth" and "Go for Sisters."
As not letting her height being an issue, she still continues to lead in the "Grey's Anatomy" as Dr. Leah Murphy as of present day.
Other than her blood relation with George Clooney, she has pretty much a solid alibi for her personal life. Not a boyfriend in sight, or girlfriend for that matter, and also no husband as well.