Entertainment
Gwen Jorgensen Reveals Skipping Training For Wedding Ceremony; Husband's Sacrifice And Diet Also Revealed
Discipline and dedication define an athlete's life, but sometimes one gets carried away with the joy of the wedding. Similarly, professional triathlete Gwen Jorgensen's reveals skipping training for the marriage ceremony. So let us find out more about it.
Skipping Training Being Overwhelmed By Joy Of Wedding:
Gwen Jorgensen maintains a blog, and she described her wedding with professional cyclist Patrick Lemieux on October 4, 2014, and said,
Patrick and I had a very big day on October 4th: our wedding. It was absolutely perfect!
Further, Gwen added,
Patrick and I were so blessed. The community and our family and friends pitched in.
Gwen and Patrick met on summer bike ride in Milwaukee in 2011 and the bike ride for two hours started their relationship. Amidst brewing romance and fights of Gwen and Patrick, their relationship evolved stronger as Patrick proposed Gwen on December 4, 2013. Gwen described the proposal in her blog post and quoted to be the best day of her life.
I had no idea Patrick had a ring and was completely shocked when he got down on one knee. It is a moment I will never forget, and something I cherish every day. I can't wait for the rest of our lives together.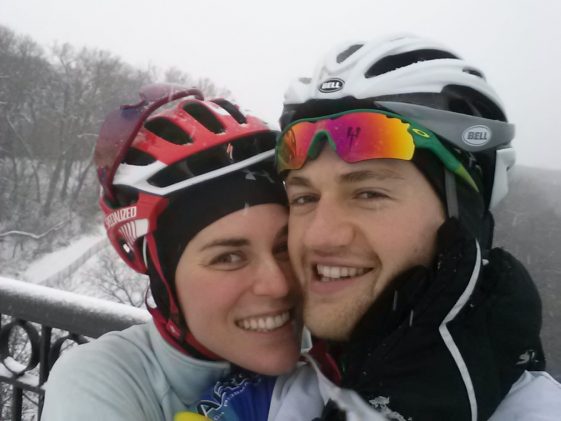 Caption: The day of engagement of Gwen and Partick on December 2013.
Photo Credit: triathelete.com
On October 4, 2014, Gwen and Patrick exchanged wedding vows, and Gwen claims her wedding ring to be her lucky charm. On January 30, 2017, Gwen announced her 13 weeks pregnancy via her blog post and soon to be Mom and Dad are eagerly waiting for the arrival of their baby in 2017.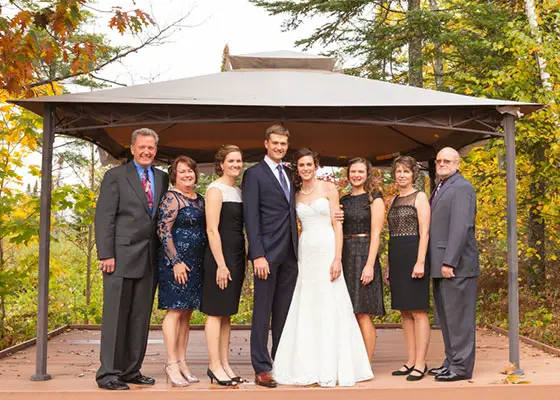 Caption: Patrick and Gwen's family come together for the wedding ceremony at The Rivers Eatery on Wisconsin (October 2014).
Photo Credit: gwenjorgensen.com
After the wedding according to her blog on October 21, 2014, she shared that she has not trained herself enough and is trying to keep in shape for the UWC Triathlon Bahamas on November 9, 2014. And wrote,
Relaxation, joy, and love have filled the past few weeks and months. I am still trying to keep in shape for the UWC Triathlon Bahamas on November 9th with one of my sponsors, Mark Holowesko, but my form is not anywhere near peak. I train once or twice a day, when convenient, and I am usually joining others in their workouts. I've been able to ride with Patrick almost daily, run with Olympian Carrie Tollefson and other local Minnesota runners, and swim at the University of St Thomas. In order to push myself, I've been entering some local running and cyclocross races. The most enjoyable race I did was a 50 mile gravel road race (the Filthy 50).
Husband's Sacrifice And Diet!
In today's time, many people prioritize career over a relationship. And it's amazing to know that Gwen's husband Patrick has left his career due to his least growth as a cyclist and more to become a stay at home husband for Gwen. And being a cyclist himself, Patrick knows what an athlete needs and Gwen is a world class athlete. So, if she needs to be taken care of 24*7 to maintain herself, then, he willing became a stay at home husband.
As a full-time caretaker, Patrick is an in charge of Gwen's diet which includes oats with egg breakfast, carbohydrate, and protein rich meal, rice cake bar with peanut butter, jam or honey as snacks before workout and muesli after the workout also usually they prefer potato dish with salads in dinner. Patrick also goes to the extent that when they travel, he turns their hotel room into the kitchen and use his knife, cutting board and rice cooker to cook.
A Short Bio Of Gwen Jorgensen:
Gwen Jorgensen was born on April 25, 1986, Wisconsin in U.S. She did Masters in Accounting and passed her CPA exam to work as tax account in Ernst & Young. But destiny had different plans for her, and after being encouraged to become a triathlete she was selected in USA Triathlon as Rookie in 2010 and 2011, she won silver at the World University Triathlon Championship in Spain.
She has won many competitions and among them are ITU World Triathlon Series Champion in 2014 & 2015 and represented the United States in Triathlon at 2016 Summer Olympics then won the first ever USA's triathlon gold medal with the time of 1hour, 56 minutes and 16 seconds. Being an Olympian, she has won many competitions, but her net worth has not been disclosed yet.