Entertainment
Happy Mother of IVF Twins Sage & Kellan, Kyra Phillips' Pregnancy Battles: Married To Husband John Roberts Since 2010
"Don't judge a book by its cover."
This famous phrase reminds us of people's nature of judging others without knowing them fully. Most of us presume that media personalities always live a happy life. And, if you have watched reporter Kyra Phillips live, you might feel the same way. But what you will read here can potentially change your perspective. Former news reporter and an anchor of CNN, Kyra Phillips has struggled a lot in both her professional and family life.
Currently working as a news reporter in HLN, Kyra never thought about having a child until she reached the age of 30. She focused on her career in her 20s. At that time, she was getting a divorce with her then-husband.
In an interview with foxnews.com, she has revealed a bit about her past.
"Years went by, I'm covering the war in Iraq, I'm going through a horrible divorce, my house floods, I lose everything, and I'm sitting on my porch thinking, 'Oh my god. Major panic attack, anxiety. I don't have a family, I don't have kids, I don't have the whole package,' which is what I desperately wanted. There is nothing out there to show women what they can do now to preserve their fertility."
She found the love of her life at the age of 42. She got engaged to John Roberts, a senior national correspondent for Fox News Channel, in 2010. Because of their age (Kyra was 42 and John were 54), they decided to have children by means of IVF. She gave birth to the twins (Sage Ann and Kellan Clay) on March 15, 2011. Aren't they looking happy in the picture?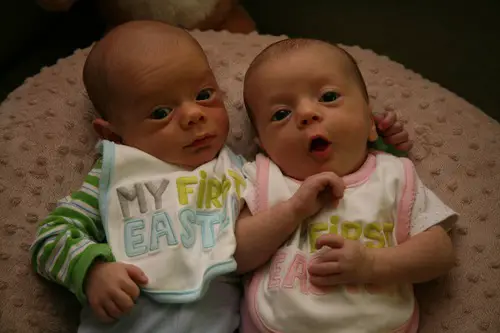 Caption: Phillips' twin angels Sage Ann and Kellan Clay.
Source: celebritybabyscoop.com
You might think that why Kyra went for a normal IVF? It's a genuine question which popped up in our mind as there were other alternatives such as "Egg Freezing." Kyra wasn't aware of that when she was in her 30s. So, she underwent all the procedures of IVF. During the process, she had two miscarriages. The twins were born in the third attempt. To share the knowledge of egg freezing and fertility, she has co-authored "The Whole Life Fertility Plan," where she has discussed how women can save their fertility for future purpose.
Caption: Kyra talks about Fertility, Reproductive Health and her new book on Trending with Tantaros
Winner of four Emmy Awards and two Edward R. Murrow Awards, Kyra experienced the scenario which most women don't want even to consider. She has become stronger from her struggles. She is now happily married with John with two children. Doesn't her life story motivate you?
Kyra Phillips talks about children with Down Syndrome
Phillips, The global ambassador for the Global Down Syndrome Foundation, seems quite fond of children with Down Syndrome and why wouldn't she be? One of her twins, Keegan, has Down's Syndrome as well but for her, he is all the more special.
At the 2014 Global Down Syndrome Foundation Gala in Washington D.C., Kyra talked about her views on children with Down and showed how compassionate she was towards them. During the event, while holding her son Keegan she was quoted saying,
"Oh, you know what? Here's what I say to that, is that if you meet a child with Down Syndrome you realize their potential, you realize how smart they are -- but look at Keegan here -- how loving they are, how energetic, inspiring they are. They are beautiful human beings and that's why I'm here tonight"
She doesn't seem a tad bit unhappy about her child's condition, and furthermore, she has embraced it as his nature and specialty which is how a reasonable person's response to children with Down Syndrome should be. After all, we do live in the 21st century, and it seems morally wrong to discriminate a child because of a congenital disability.