Entertainment
Heimo Korth Wiki: Age, Family with Wife and Daughters and Journey Of The Who Lives On The Raw Side
As the world is getting more materialistic day-by-day, people are just too busy to make their life as comfortable as they can.
Everyone in every corner of the world is constantly amid people, but when you know someone who lives out of the digital world in the mountains without any means for comfort, you want to bow down in respect.
Some of those exceptional personalities, who deserve that respect are making a living out of nothing in the polar region.
The stars of mountain men like Eustace Conway, Tom Oar, Morgan Beasley, and Marty Meierotto are not just surviving in the bone chilling temperature, but also leaving a message about life beyond technology.
Meanwhile, we would like to relate the lives of people, who live in the wilderness, with another extraordinary human, who is no way near normal.
We are talking about the last human living in the Arctic National Wildlife Refuge Heimo Korth, who is possibly the most remote Americans, living an extreme life with wife and children in the Arctic zone.
Let's find out from where did this outdoorsman get inspiration to live in extremely low temperature in a wiki-like bio.
Life in Arctic with Family!
The American Outdoorsman, Heimo Korth has been married to Edna and is living together in the Arctic National Wildlife Refuge for more than three decades now.
In the freezing temperature which drops down to minus 58-degree Fahrenheit, the couple managed to sustain life just by hunting and fishing.
We are here, living in the moderately maintained temperature with all the gadgets, but Heimo and Edna are total opposites. Wondering about what would life be at the lower temperature? Heimo and his wife can give you a perfect answer to that question.
The couple is the parents to Coleen, Millie, Rhonda, and Krin. Coleen is the first child of the pair together, where else Millie is Heimo's step-daughter from Edna's past relationship.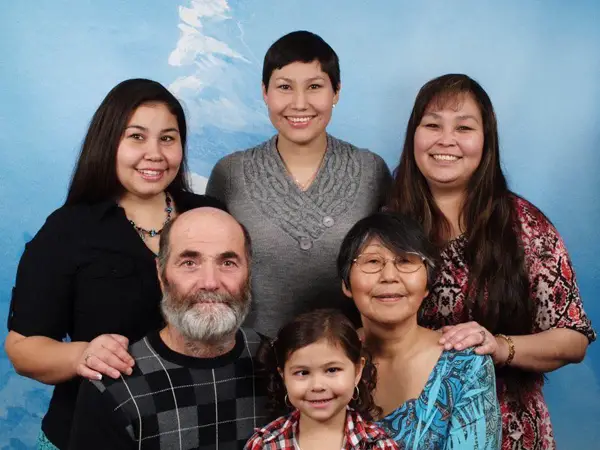 Caption: Korth's family sharing a smile: Heimo Korth with his wife, three daughters and grand daughter.
Photo Credit: The Heimo Korth Fan Club (Facebook)
Tragically, in 1984, the duo lost their first child, Coleen whom they named after Coleen River while canoeing. Coleen was just two years old.
Heimo Korth left the Blue-Colar during his teen age and went to live in the mountains and never looked back. After he lost his first daughter, his friends and relatives insisted him to come out of the bush, but he refused to do so.
In fact, the death of his daughter somehow provoked the couple to continue living a life out of nothing.
As of now, the couple's youngest daughter, Krin is living a happy married life with her Marine stationed husband, Scott.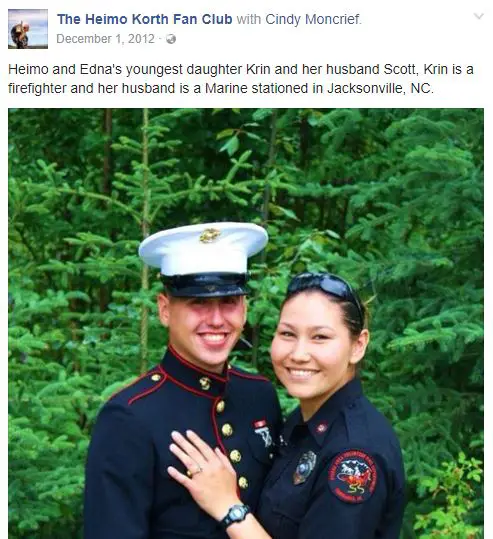 Caption: Heimo Korth's youngest daughter Krin is happily married to husband, Scott.
Photo Credit: The Heimo Korth Fan Club (Facebook)
Caption: Heimo and Edna visit their old cabin with Rhonda and her daughter. (Published on April 21, 2016)
Heimo and Edna's daughters don't live with them, as Heimo wants them to live with human civilization; but their daughters make sure that they visit their parents for over for a week once a year.
More About Heimo Korth:
Heimo Korth's hard and tragic yet adventurous life in the 400 miles away from the civilization has dragged the interest of many, resulting in him to be the center character of books and documentary.
The nomad, who is in his early 60s, caught public's eye in 2004, with James Campbell's book titled "The Final Frontiersman: Heimo Korth and His Family, Alone in Alaska's Arctic Wilderness."
In 1992, he was also featured in PBS's "Braving Alaska." In 2009, a documentary titled "Surviving Alone in Alaska" was produced by VBS.tv, filming the lifestyle of the Final Frontiersman.
From there we found out that he is no Luddite, but does use some of the modern tools for his livelihood.
Moving on, the family of Heimo came up on the small screen on the Discovery series "The Last Alaskans," which premiered in 2015.
While living in the wilderness miles away from the human civilization, Heimo must have managed to sum up some decent amount of net worth from the documentaries. However, he remains adamant when it comes to revealing about the property he beholds.
Stay with us for further updates on Heimo Korth!