Entertainment
Hot Actress Angelica Bridges's Married Life Ended With Her Husband, Having Disputes After Divorce?
Angelica Bridges did end her married life with the husband because of troubles and hoping for it to end after the divorce but little did she know that she would be facing problems even after the split with her husband. Let's know who the trouble maker here is. Is it Angelica herself or is it her estranged husband.
No Longer Married Life and Husband!
Angelica got married to her then-boyfriend Sheldon Souray, who is a former professional ice hockey defenseman in 2002. However, in 2007 the marriage ended because of Sheldon's changed behavior towards her. Before 2007, the couple was already on the verge of going through a divorce after Sheldon did not consider Angelica's warning to file a divorce if he got engaged with any other women.
Angelica filed for divorce claiming that her husband physically as well as emotionally abused her. She was later granted a temporary spousal and child support of $39,000 per month before reconciling with Sheldon thinking that he had changed to be a good man.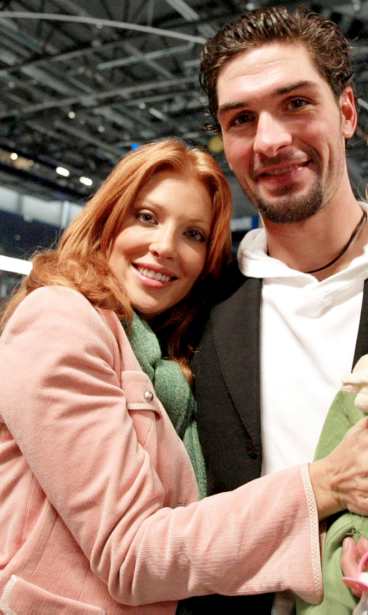 Caption: Angelica Bridges with former husband Sheldon Souray.
Source: sbnation.com
Finally, in 2007, Angelica again filed for a divorce citing unfaithful behavior of Sheldon towards her and their relationship and filed a Marvin v. Marvin to cancel the marital settlement agreements which she signed in 2006, a month before Sheldon signed a 5-year contract with the Edmonton Oilers worth $27 million.
After the divorce was finalized, the war still continued for full child custody of their two children who were treated inappropriately by Sheldon.
However, Sheldon's lawyer said that their two daughters, Valentina and Scarlett would be kept away from her until she left the 'Fantasy' which was basically a revue at Luxor in Las Vegas.
Angelica later explained the reason why she was being forced to leave it saying,
"He said living in Las Vegas was an awful lifestyle for them, and he didn't want the children in Las Vegas. The truth is it has nothing to do with that. He has tried to win me back, but because there is no reconciliation, he has vowed to ruin my life. He's threatened me, saying he'll ensure I finish up penniless and out of work."
So clearly, according to Angelica, Sheldon planned on destroying Angelica and leaving her to be broke. It was announced that later on that week that she would be leaving the production temporarily.
Angelica eventually got her children's custody and resumed her work at Las Vegas. She is currently single whereas her ex-husband got married to professional wrestler Kelly Kelly (Barbara Blank) on February 2016.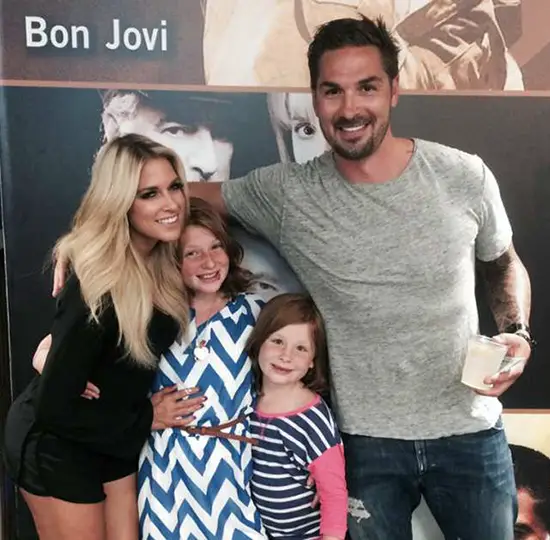 Caption: Sheldon Souray with his current wife Kelly Kelly and two daughters from his marriage with Angelica Bridges.
Source: montrealgazette.com
Angelica Bridges who is probably famous for her famous hit series 'Baywatch' is currently working as a lead singer of a pop band named Strawberry Blondes and stands tall with a net worth of $5 million dollars.