Entertainment
Hot Actress Nicole Eggert: Was She Really Married To Her Actor Husband? Weight Loss To Get Young?
The confusion regarding the celebrity's life starts when they provide only the partial information to the media and fans. Likewise, the actress we are talking today is someone who speaks about her life but in a way that there always exists a missing part which media fills with assumptions.
An American actress, Nicole Eggert has a perplexing personal life. She has two little babies but the name of their daddy is not clearly disclosed. She even openly dispelled the news about her rumored husband in social media. So, we will be dealing with her husband, children and the secrets of her gorgeous looks in our story.
Nicole Eggert's Married Life: Husband and Children
The actress of series "Charles in Charge", Nicole Eggert married Justin Herwick in 1997. They shared a conjugal relation for some years and then separated in 2002.
Well, this was what people previously believed about Nicole. Nobody ever tried to check the authenticity of this information unless Nicole openly said that Justin was never her husband. Along with revealing this, she also condemned the social sites which provided the false information regarding her on her twitter post.
Tweeters please HELP me & RT! @IMDb my daughter's name is Dilyn Eggert & I was never married to Justin Herwick!!! Get it right please!!!

— Nicole Eggert (@NicoleEggert) April 16, 2013
Instead of satiating, her revelation has increased the curiosity of media and fans. If she never married Justin than who the father of her children is.
Yes, Nicole Eggert is blessed with two lovely daughters Dilyn and Keegan. Dilyn was born in 1998 when Nicole was linked with Justin. Perhaps Nicole does not want her daughter to be recognized with her ex- beau's surname, therefore, made people aware through the post.
Meanwhile, Keegan was born in 2011. During those days, Nicole didn't have a boyfriend nor was married. Even the rumors about her affair or secret marriage weren't heard. Therefore, the birth of the Keegan startled everyone. The single mother hasn't still disclosed the name of her sweetheart and her daughters' father in the media.
Caption: The daughters of Nicole Eggert, Dilyn Herwick and Keegan Eggert.
Trying hard for Weight Loss:
The actress with $500 thousand net worth, Nicole Eggert was well-known for her hot swimsuit figure in the '90s. She had those perfectly toned curves which were envied by lots of ladies.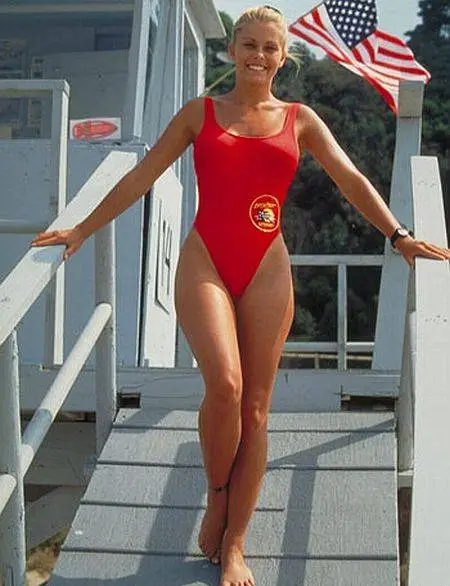 Caption: The young and stunning Nicole Eggert from the series Baywatch (1992-1994)
Source: wikia.com
But after having her first child her body took another shaped. She became fat and looked older than her age. In 2010, Nicole competed in the show, "Celebrity Fit Club" and lost 10 lbs. Soon after, she gave birth to the second daughter and again regained the weight.
Then in 2013, she competed in a show named "Splash" where she mastered the art of diving. Prior to the show, the actress, Nicole lost 35 pounds. Nicole not only became happy for the weight loss but enjoyed the process.
She shared with People magazine in 2013 that the workouts have become her passion lately. She has,
'The more I do these things, the more I realize I have a passion for it. I think I missed my calling in life and maybe I should have been an athlete'
Lastly, Nicole's goal for getting a stunning body is still going on. In 2015, she was found doing squats in the Santa Monica neighborhood of Los Angeles accompanied by her trainer Natasha Fett.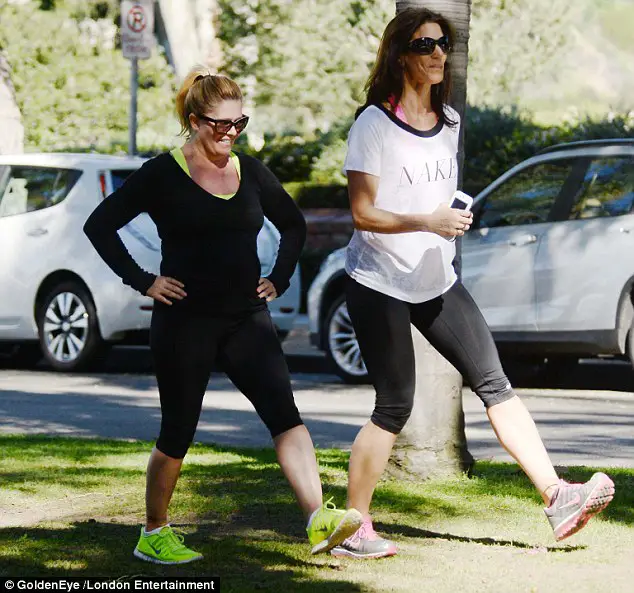 Caption: Nicole Eggert doing squats with her personal trainer Natasha Fett in 2015.
Source: dailymail.com