Entertainment
Jake Quickenden Distracts Himself With Girlfriend From The Fact That He Lost His Brother And Dad
Jake Quickenden, the 28-year old X Factor contestant, shows off the girl of his dreams, Danielle Fogarty after the recent loss of his family members Jake continues his life to the fullest and expresses his thoughts on living every day like his last. He also speaks up about his death of his little brother and how it affected his life, more on that below.
Who is his new girlfriend?
The dashing singer, Jake Quickenden with his 23-year-old, long-term girlfriend, Danielle Fogarty is up and living the dream as adorable couples that some can only hope.
The cute couple was seen together multiple times on many occasions, but they were struck first by the arrow of cupid when Jake started appearing at "I'm A Celebrity. Get Me Out Of Here's" in which Hello magazine had an interview with both Danielle and Jake about their after party where they first met, Jake first said,
"It's crazy how it happened, I didn't go to Australia looking for a girlfriend."
He continued saying,
"We only spent a little bit of time together at the after party, but of course she's a beautiful girl and I'm only human so I was attracted to her!
Danielle too admitted she was attracted to Jake from watching him on ITV1 reality show and in the flesh and at the party but supporting her father, she said,
"Jake is really easy going. He cares a lot about me, about my family. And obviously he's quite good looking!"
Their romance had blossomed before their Christmas party, Danielle, daughter of jungle king Foggy. The couple took a turn when the two spending an evening in the family's Black burns home where Jake was staying for two days before returning from Australia to the U.K. a source told;
"They've grown very close and really like each other. They are taking it very slowly because they don't want to ruin their friendship and he's just come our of a relationship."
and Danielle commented after,
"He keeps coming up to the family home. He's part of the family now."
Jake making the first move had made the friendship into one of a romance novel, he has since then been in a relationship with Danielle since 2014 with no word yet on the new couple tying the knot putting in a three years relationship so far, and he has given a comment in where his relationship is heading with her in an interview in OK! Online Jake said,
"It's always in the pipeline, but we're both really happy with the way things are going."
Again they were headed out together and this time catching a James Bond movie together with the same get-up and as a modern day spy with blackish matching jackets but not before taking a few camera flicks for Twitter,
They soon after seen in many dates together including going to the beach two years ago in 2015 hitting it off, posing pictures in social events and posting openly and publicly through their social media as if it were not obvious enough.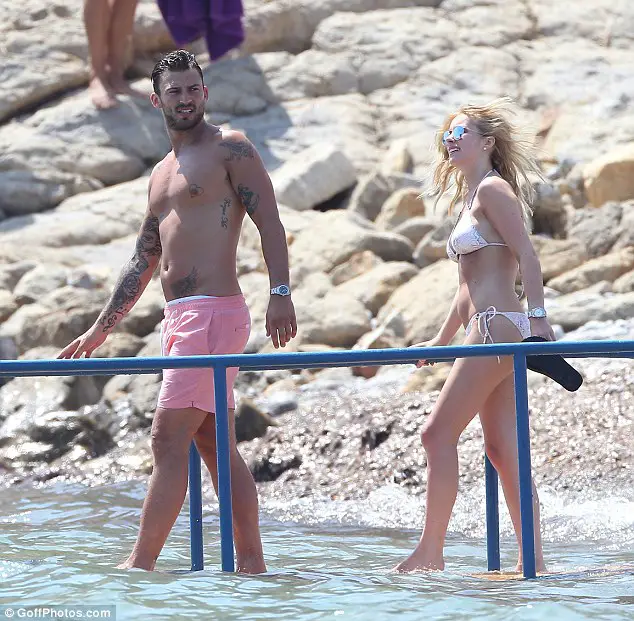 Caption: Jake and Danielle both were spending the day in the sun at the beach two years ago in 2015.
Photo Credit: dailymail.co.uk
Two losses in the family:
The singer, Jake has had much trouble in the household losing both his father and brother to bone cancer which led to gaining an unbearable drinking habit. He had an interview and talked about his problem he had during that time on Loose Woman in March of 2016.
Caption: Jake shares his battle against his drinking problem on Loose Women on March 9, 2016.
Jake lost his father, Paul who was 52 at the time, to osteosarcoma, a bone cancer, in 2008 and soon after his little brother, Oliver who was only 16, was also diagnosed with osteosarcoma. Jake interviewed by aTeen, he said,
"Losing my dad and brother was a roller coaster of emotions and I was extremely angry.These b*****d illnesses need to be overpowered. I am so proud of what charities like Cancer Research have achieved and we as society will stand up and beat it."
He added
"Losing somebody is always hard. I felt lost at sea for a long time, not knowing what to do. I wanted to be strong for my mum and so I probably did grow up faster but like anybody that has been through this, you find the strength within and slowly piece yourself back together."
He claims that the women in his life were the supporters for his strive to move on and his tragic loss during the hospital with the whole family together was in the hospital as moment before Oliver drew his last breath Jake said,
"It was devastating. But it was good he had everybody who loved him around him. It made it easier that everyone was there and we all got to say our goodbyes."His breathing changed that morning. My mum said, 'Everyone needs to be here now.'
He added on to explain how Oliver had died,
"It was quick. He just stopped breathing and that was it. It was just disbelief at the fact he had gone and everyone loved him so much. He was everyone's little hero. I don't think we will ever get fully over it."
He is now happy and living his life to the fullest through the struggles of his past, and he found a new profound meaning to life with his girlfriend Danielle with the help of his mother he explained again,
"I am lucky to have such strong women around me and at my weakest, they gave me the power to come through. It was a long process and one that I can never get over, but there are a lot of people in the world that have lost a loved one and all we can do is support each other."
Gay fan base:
Many have speculated before his public relationship with his girlfriend that Jake may be gay and hiding it. He was interviewed by Attitude if he had any gay experience during his school years or if he is, in fact, gay at all he gave a humorous reply saying,
A lot of people had speculated about my sexuality, and quite honestly I have never batted an eyelid about it. If I was gay, I'd shout it through a megaphone, but no teen experiments for me.
An English songwriter and a television reality celebrity such as X Factor UK in 2014 and becoming a finalist on the X Factor. Starting off as a pub singer and now a regular on a contestant on the reality TV series "I'm a Celebrity…Get Me Out of Here" since the November of 2014 Jake has a $1 million in net worth, with his current tour going on.
Caption: Jake as he talks about his tour on Loose Women on May 17, 2016.