Entertainment
Janine Turner Reveals Remorse Over Failing To Turn Boyfriend Into Husband; Has A Daughter But With Whom?
Not every dream gets accomplished and not every love story has a happy ending. Actress Janine Turner though started her career with a beautiful love story abruptly ended her relationship before turning her boyfriend into husband but regained her happiness through motherhood.
Is the principal cause of declining the white veil due to the existence of infidelity or was it due to the fear of failure in her emerging career? Well, let's find that out.
Unsuccessful Love Story Once But What About Now?
At an early age of 20, actress Janine in the audition of the show "General Hospital" had met her love, Alec Baldwin. Though it was not the lady who had fallen head over heels with the man first instead it was Alec who had weak knees before the beautiful girl, so later they were definitely into one another and got engaged.
Caption: Janine recalls her love life with Alec in Oprah's show "Where Are They Now"(2014)
Janine confirmed the news of their engagement during an interview with the Huffingpost. She said:
"I was a good ol' Baptist Texas girl, so we became engaged."
Unfortunately, their relationship could not sustain long enough to get them married. Despite having planned everything for the wedding, Janine and Alec called their relationship off under a mutual consent. Opening up about the matter, Janine shared,
"We had the dress, the invitations, the church, everything. And then we called it off. Mutually called it off."
The break up completely shattered Janine, but when talking about the primary cause for the breakup, Janine expressed her drinking problems to be one of the issues for the downfall followed by the existence of incompatibility. Expressing her break up experiences, she exclaimed,
"I think it's a good life lesson. A lot of times, people are put in our lives for reasons. Maybe it doesn't come to fruition in the way we anticipate. It was through that experience that we both found a way of life that is miraculous."
Well, the actress did move on as she got linked with Sylvester Stallone. Though no exact details of their relationship got revealed, there is a likely possibility for them to date while they were filming together for Cliffhanger in 1993, or maybe due to their on screen closeness, they were linked up as an off-screen pair.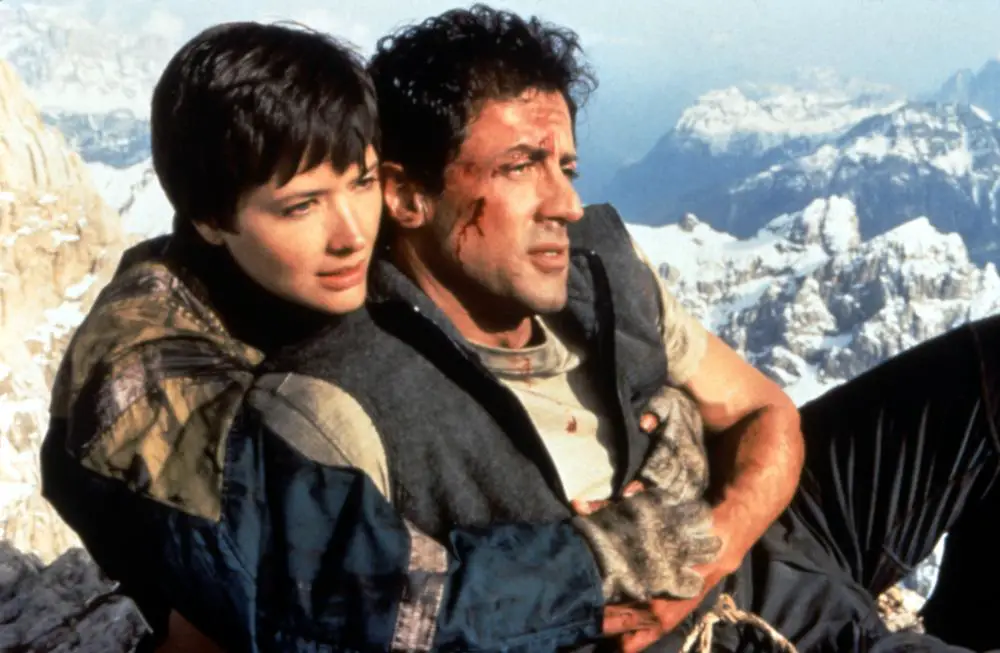 Caption: Janine with her rumored man Sylvester Stallone on the sets of the movie "Cliffhanger" (1993)
Photo Credit: cineplex.com
Neither Janine nor Sylvester clarified about their relationship, so the truth remains with the pair. At present, Sylvester is married to Jennifer Flavin since 1997.
Back in 1997, Janine was said to be in a relationship with Jerry Jones Jr, the son of Dallas Cowboy owner. The pair were definitely in a relationship as they together had started their own organization "Constituting America" which aimed in teaching people about them finding their identity. The relationship must have failed to sustain due to their busy schedules and hectic career.
Similarly, the actress was linked with former Chicago Cubs first baseman Mark Grace, Troy Aikman, and Mikhail Baryshnikov.
Caption: Janin Turner with Mark Grace together in an event (1990)
Photo Credit: famousfix.com
Janine has one daughter named Juliette Turner born on November 22, 1997. However, the mother has confined the name of the biological father of Juliette.
Caption: Janine with her daughter Juliette go on a ranch together at Texas on 2014.
Even in an interview with The Oprah, the actress kept herself silent with the name of the father but disclosed the fact of their distant relationship they share. She stated:
"I'm very, very close with my daughter. I would have loved for her to have a father figure in her life, but he's just not a part of our lives. I loved her father very much. It was not a healthy relationship."
Well, with a single daughter and her career ahead, Janine is surely living a happy single life. Maybe after becoming a mother, her dating perspectives have completely changed. However, she must be in search of a safe and stable partner who would love her and her daughter with no conditions. Hopefully one day her search and patience will be justified!
Know More About Janine And Her Wealth:
Janine was born as Janine Loraine Gauntte to a real estate agent father Janice Loraine and Texas-based mother, Janine was born on 6th December 1962 at Lincoln, Nebraska. She has a brother named Tim who has been kept away from the limelight.
Janine started her acting career from the movie Young Doctors in Love in the year 1982 but only came to highlight through her character as Maggie from Northern Exposure. Since then the actress worked in several movies like Cliffhanger (1993), No Regrets (2004), Bride and Bogy (2009) and Occupy Texas (2016) and series like Primal Doubt (2007) and Friday Night Lights (2008-2009). She also won the title of "Best Young Actress in the Daytime Series" from General Hospital in 1983.
From all her contributions in the movie and television, Janine has the total net worth of $35 million which we are sure would multiply if she takes up any projects.
Stay with us for latest updates on Janine Turner!