Entertainment
Jasmine Arteaga Sorge Age 33, With 2 Baby Boys & Husband Cherishing Smallest Things
While there lie many ways to come to limelight, Jasmine Arteaga Sorge brought huge fame and fan followings after giving birth to the baby on the show, LIfetime's Little Women: LA.
The reality star has been giving family goals along with her husband and children both, in and out of the show. She has been leading blissful family life along with her husband and two sons, which sums for a happy family.
Want to know all about her blissful family life, then cherish the below article with a big smile!
Sixth Wedding Anniversary; "Lucky" To Be Mother Of Two Sons
Born as the only little person in the family, Jasmine Arteaga Sorge got married to Chris Sorge on 4 September 2011. The couple has not disclosed other details regarding their wedding, however, her social media comes to the rescue to shed lights on her married life.
One of such instances was in September 2012, where also the hairstylist, age 33, shared a throwback image of her wedding with her parents on her Instagram. She uploaded the wedding image, a year after they got married, where Jasmine flaunted her white bridal gown while Chris looked dashing.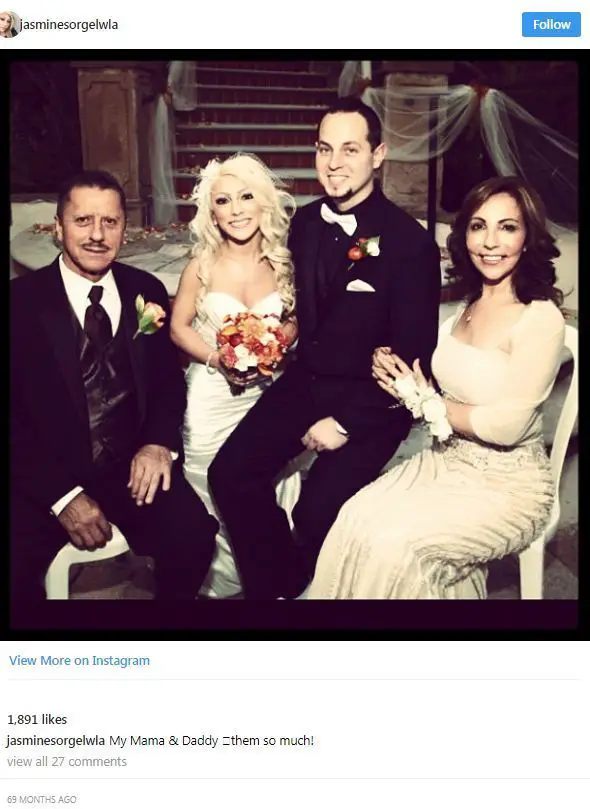 Jasmine Sorgela and Chris Sorgela on their wedding day (Photo: Jasmine Sorge's Instagram)
On 2013, the couple celebrated their two years of wedding anniversary. Quoting his wife as the "most beautiful women in the world," Chris posted the glimpse from their second wedding anniversary on his Instagram, captioning:
"Two years ago today, I married the most beautiful women in the world. I'm proud to call you my best friend, my everything and most importantly, MY WIFE! "
On the same year, the family of two flourished into the family of three, after welcoming their first child, a son, named Mason in 2013. Likewise, Mason became the big brother after the arrival of Benjamin in late February 2016.
During her second pregnancy, Jasmine was observed strictly throughout her pregnancy period because of the low immune system that puts her at a higher risk for leukemia. Also, she gave birth to her second son on the American TV series, Lifetime's Little Women: LA but the episode aired a few months after Benjamin's birth on 1 December 2016.
With their family gets blossomed into four, she regards herself as the "lucky" for being the mother of the two beautiful boys. She stated:
"I don't know what I've done in my life to deserve to be mommy to my beautiful boys, but I will spend a lifetime dedicating everything to them."
The arrival of Benjamin made their bond stronger as they celebrated their sixth anniversary in September 2017. Chris wished Jasmine via Instagram post where he gushed that "he is truly blessed to have her in his life."
Jasmine posed for a photo with her husband and two little toddlers.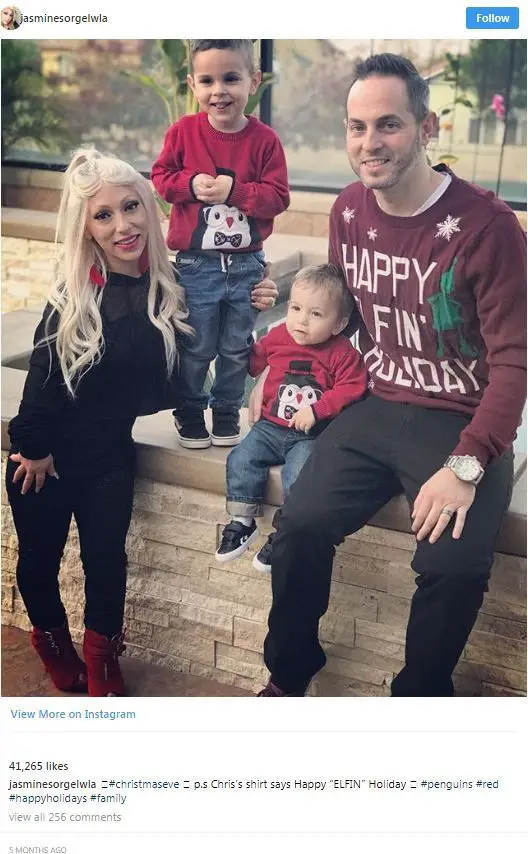 Jasmine Sorgela with her husband and two sons in December 2017 (Photo: Jasmine Sorgela's Instagram)
Notably, like her husband, her elder son, Mason is also an average, but the couple has not revealed whether Benjamin is little or average height. Before entering into the reality show, she had a career as a hairstylist. But Little Women: LA is not the only TV reality show she has taken part in. She was in the Top 100 in the American Idol
Following her well-praised career from the reality show, she might enjoy a good net worth, which she had kept it hidden till date.