Entertainment
Jay R. Ferguson's Untold Personal Life: Married Man With Wife, Family & Eerie Ideas
American actor Jay Rowland Ferguson Jr., who is most known for his role as Stan Rizzo on drama series Mad Men, timely hits the headlines for his new projects and work.
With more than decades dedication to the entertainment world, Jay earned himself stardom and fame. But despite being in the limelight, Jay has kept his personal life very low-key. He is married but is rarely spotted with his wife. Instead, he can be seen sharing the strange ideas of being a supervillain.
So, Let's shed some light on the personal life of Jay and get acquainted with the whole story!
Family Life Too Private?
Jay, who is one of the pros in keeping personal life away from the media and all the paparazzi, is a family guy in real. He is married to Lorena Ruiz and has even fathers three children with her.
However, the wedding date of the pair and the information related to their children remains confined to date. He has also not mentioned his wife and children in any of his social media accounts, giving a very reserved and low key look to his married life.
Not just that, Jay is rarely spotted with his wife. However, the couple was photographed together once when they attended the AMC, BBC America, IFC And SundanceTV Emmy After Party at the BOA Steakhouse back on 20 September 2015.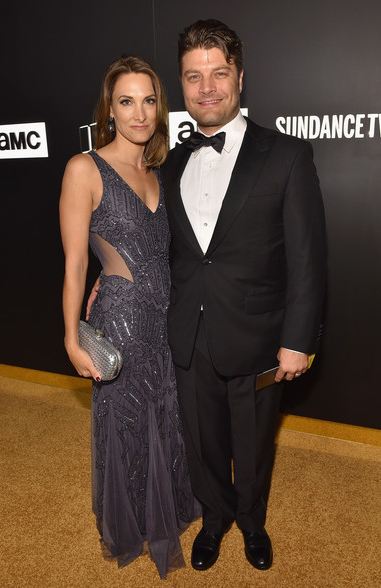 Jay R. Ferguson attends the Emmy After Party at the BOA Steakhouse back on 20 September 2015 (Photo: zimbio.com)
The pair has not had a dual appearance in the media after the party to date.
Furthermore, Jay also mentioned his children once when he had an interview with the avclub.com on 30 March 2015. When the interviewer asked Jay if he had collected anything in life, Jay replied that he had a collection of Star Wars stuff until his children played with them and destroyed them all.
"For a while there, I collected all my Star Wars stuff, which I still had until my kids destroyed it all."
Though Jay keeps his family details away and never talks about them in social accounts, he talks about his projects and new works. Back on 8 October 2015, Jay twitted to praise his wife of on-screen and wrote,
"My television wife is no joke, preach it @MarthaPlimpton!"
Jay's low profile family hints that he is applaudingly capable of keeping his personal life under the wraps. And it appears that we will all have to wait until he opens about his family himself.
Fantasies About Child-only-Planes
Jay, who has a net worth of $3, has strange imaginations of being a supervillain. In the interview with the avclub.com on 30 March 2015, Jay quoted that if he were ever to be a super villain, he would make a rule for all the children to travel without their parents.
He added that he would make a separate plane for kids under age 21 and people older than 60. Jay also implied that the reasons for him doing so is because he feels like the children under 21 are "disrespectful with their loud music and stuff on the plane" wheras the older people are not very conscious of things they do.
Jay also admitted that the motive of his plans is to give the people, between the age 21 and 60, an enjoyable flight and a good time.
Looks like, Jay has already had an experience of his kid othering him during his flights. Or Perhaps, it is just a random weird idea that struck his mind.