Entertainment
Jennifer Metcalfe To Leave Show After Revealing She Is Pregnant With Longtime Boyfriend
Pregnancy is a unique experience for any woman. Even better, it gives you an excellent excuse to take a break from your fast moving career graph. It is also a break to spend time with your child, giving you an opportunity to witness your bundle of joy growing in front of your eyes and a lot of memories to cherish later in life.
Going through a comparable phase is actress Jennifer Metcalfe who is leaving the show "Hollyoaks" as she is pregnant and is expecting her first child with her longtime boyfriend, Greg Lake.
Jennifer Metcalfe in a Maternity Leave!
During an interview with "Loose Woman" on May 17, 2017, the 'Hollyoaks' actress, Jenifer Metcalfe revealed her plans of taking a maternity leave for a year, starting later in the year 2017.
Caption: Jenifer Metcalfe reveals her plan to go on a maternity break with "Loose Women" in May 2017.
Jenifer has been a part of "Hollyoaks" for 11 years now, and she shared her excitement of taking a break for a year. She stated,
"I'm taking a year off! I've been at 'Hollyoaks' for 11 years now - 11 amazing years."
With the arrival of the baby, Jennifer and her boyfriend of four years have moved in together earlier in this week. Jennifer will be cohabiting with her boyfriend, Greg for the first time but she expressed she is not worried about that.
"I'm so excited, we're best mates, I think I should be [worried], but after four years, I know he's got plenty of bad habits.He leaves boxers all over the place.I don't feel nervous because I trust our relationship. It's fantastic, like being with my best friend all the time."
The excitement of soon to be parents is evident through the images of the babymoon shared over Instagram back on March 26, 2017. In the picture, Jenifer is taking the snapshot while Greg puts his hands on Jenifer's belly. She further shares that she is in the third trimester, which suggests that arrival of the baby is near.
Jenifer announced her pregnancy in February, and during an interview in May 2017, the couple shared that they haven't determined the sex of their baby and they prefer the suspense until the delivery.
"We haven't found out what it is, I need something to get me through that final push and have something to look forward to at the end,"
Pregnancy has its own share of difficulties, and sharing her difficulties during the time, Jenifer divulged,
"I feel like I've had an eight-month-long hangover, everything from nausea to lack of sleep and constipation. I said to Greg that all I want to do is be able to sleep, poo and eat."
Moreover, Jenifer shared that she has not been to the classes for the preparation for the delivery.
"hasn't been to any ante-natal classes"
Jenifer further added,
"don't have a birth plan, I trust my body and trust my instincts,"
Jenifer and Greg are welcoming their baby soon but are they getting married anytime soon? Will Jenifer turn her boyfriend, Greg, into a husband?
Responding to the question, Jenifer said,
"I don't know, he's definitely the person I'm going to be with, so definitely soon. It were always the kids thing, we definitely both wanted kids and I feel very secure with him."
Recently on May 15, 2017, Jenifer made an appearance during the BAFTAs and flaunted her baby bump in a stunning gown and was radiating in the glow of pregnancy.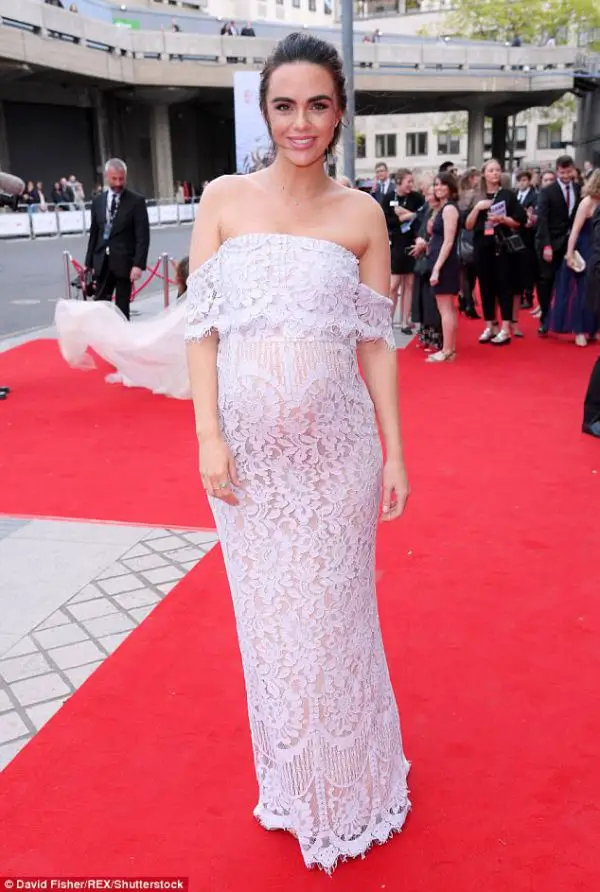 Caption: Stunning Jenifer Metcalfe walks the red carpet of BAFTAs flaunting her baby bump on May 15, 2017.
Photo Credit: Daily Mail
Jenifer has a great bonding with her onscreen sister Claire Cooper, and their great bond can be witness off screen as well. In July 2010 they were spotted spending quality time. They enjoyed a sunny day during a weekend and had lunch together at popular The Neighbourhood Café in Liverpool. Moreover, they together run the clothing rental boutique named "The Closet" in Liverpool opened in April 2010.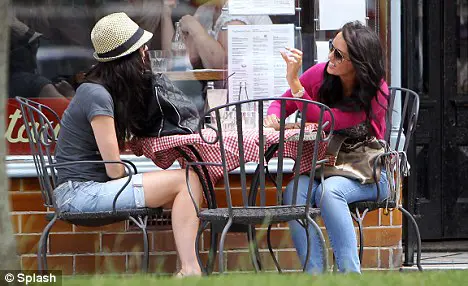 Caption: Jenifer Metcalfe and Claire Cooper enjoying a lunch date on a sunny day.
Photo Credit: Daily Mail
Jenifer's television credit includes Where the Heart Is, My Parents Are Aliens, At Home with the Braithwaites, Emmerdale, Hollyoaks, Hollyoaks Later. She also appeared in Television movie Birthday Girl. With her hard work and passion, she has accumulated an impressive net worth, but Jenifer is yet to reveal the exact figures to the media.