Entertainment
Jennifer Williams, 43, Fears From Her Once Perfect Dating Affair With Boyfriend
Not everyone can maintain a friendship after the end of a relationship. May not be correct in every case, but it sure is when it comes to the relationship of reality TV personality, Jennifer Williams.
Jennifer, who had dating affairs with another reality TV star, James Tim Norman, has already broken up with Tim. And we have covered the post-breakup period of Jennifer Williams! Keep reading.
Love Turned Into Legal Battles!
The reality TV personality, Jennifer Wiliams, who is 43 years of age, met James "Tim" Norman through one of their mutual friends and the romance between them blossomed soon after.
As Tim is a cast of the reality series 'Welcome to Sweetie Pie's' presented on the Oprah Winfrey Network, the duo's love life made it to some of the show's episodes: including their date to Tim introducing Jennifer to his family.
Jennifer Williams, Tim Norman enjoy their date (21 Jan 2017 )
However, the romance could not pass the test of time; it has now turned into legal battles in a courtroom after Tim first filed for a restraining order against Jennifer in December 2017.
According to Tim's legal documents, Jennifer was violent repeatedly and showed rage time and again in different forms. Tim's reports cited that Jennifer had slashed Tim's car's tires, tried to run him down with her car once, broken into his pad, sent him harassing texts, and threatened him saying he's "playing with the wrong one."
Jennifer, who claimed that she and Tim parted their ways in September 2017, too, countered by filing a restraining order against Tim. Claiming Tim is violent and abusive, she appealed on January 29, 2018.
Jennifer presented new legal documents declaring Norman's long history of abusing her. She pointed out the incident back at a Drake concert in September 2016, where Tim not only verbally abused Jennifer but also threatened to beat up a random guy who was looking at her.
Following the incident, Jennifer revealed a screenshot of the text message Norman sent.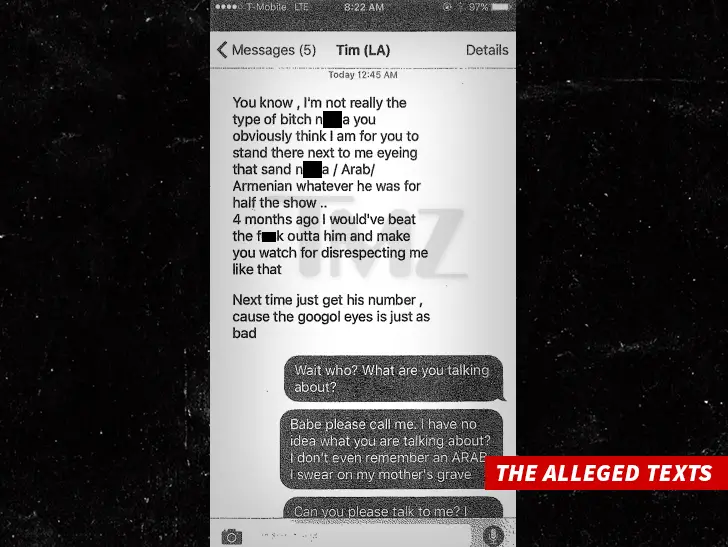 Tim Norman's alleged text threats to Jennifer Williams (tmz.com)
Jennifer further claimed that there are many examples of Tim's abusive behavior. She contended that Tim even went as far as to harass her friends so that he could get in touch with her. She also quoted that Norman is
"purely to harass and stalk me, and possibly to drum up attention for himself and his television show."
Moreover, Jennifer has a witness, Evelyn Lozada, a fellow 'Basketball Wives' star. Evelyn filed a declaration that states Jennifer was extremely afraid of Norman due to his violent nature and called her scared on December 17.
Considering different allegations and a witness, Jennifer got what she wanted on January 29, 2018. The temporary restraining order against her ex-boyfriend would see that Tim Norman stays at least 100 yards away from her, at all times.
Because of the temporary nature of the restraining order, Jennifer stated that she is not yet satisfied and will be back in the court again.
Think we're missing something? Do let us know in the comment section below!