Entertainment
Jhonni Blaze Moved On From Late Boyfriend! Dating Status Looks Like This
Better known as the Twerk queen, Jhonni Blaze has had a stumbling relationship in the past. However, she has moved on from her late dating life. And many are curious to know what her dating life looks like now.
If you are eager to end your curiosity, then you have come to the right place. Today, we shed some light on the model Jhonni's dating life.
Jhonni Blaze's Dating Status
According to a report, VH1 reality TV, 'Love and Hip Hop: New York' star Jhonni was rumored to be dating 'Empire's' Bryshere Gray. The pair were spotted few times spending quality time together around March 2017.
Jhonni and Bryshere were seen getting cozy at an amusement park which was exclusively captured by The Shade Room. Similarly, a blogger Freddy O was also able to get some recording of the duo.
However, the pair has never confirmed about their relationship in their social media or interviews, yet.
Besides her rumored boyfriend, she had an abusive relationship with her former boyfriend who goes by the name @MISTERSTARQUALITY on his Instagram.
Jhonni, whose real name is Jzapal Jackson, in her social media claimed that her ex-boyfriend assaulted her in August 2016. On her post, it was revealed that she was missing a tooth. Jhonni also gave some background about what brought the fight. She stated that her ex-boyfriend had taken over the password of her social media and telephone as well.
Likewise, she continued that he tried to take over her life and destroy her as a person. Similarly, he also leaked some embarrassing photos of her to various blogs.
She also claimed that he told her to kill herself and also shoved a bottle into her mouth. However, her ex-boyfriend denied the accusation stating that he would never punch a woman. He even questioned that if he had abused physically then where were the bruises and blood.
"Where the bruises at? Where's the blood? Your friends you called to the house after it happened… did they come over and see you bloody and swollen? Prove it. You called them and gave that BS story because you know damn well the police ain't going to buy that bullshit story with no proof, Sway! This woman is sick and needs HELP!! This shit is sad, so much potential, so much talent being wasted. It's hard to just be quiet while y'all trolling, but I can fall back let her come with accusations and prove every one of them to be a LIE."
After such alleged assaulting the pair finally called it quits. Before such relationship, Jhonni was in a relationship with her then-boyfriend, late Brian Washington.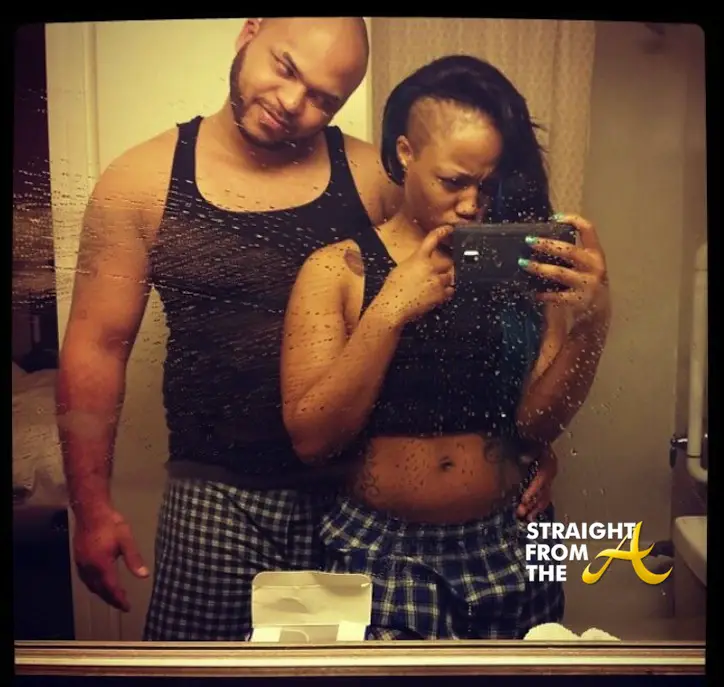 Jhonni Blaze, late boyfriend Brian Washington (Photo: straightfromthea.com)
On December 2013, Jhonni's boyfriend was killed in front of her eyes, and the star said that it was the worst moment of her life. She then continued and stated that it was the worst thing as she lost her best friend, her love, her boyfriend. Jhonni also said that it affected her and was the bad experience of her life.
"It was a bad experience for me losing my dude because people see it as 'Oh you lost your dude but your still talking to other guys. Like I'm a very loving person. I hate being alone. I like being in love. I like loving a person and he was everything for me. He accepted my flaws, my background and I lost him and I felt like I lost a big part of me."
Although the sudden demise of her boyfriend shook her as evident in her statements, she was suspected to be involved in Brian's murder. Moreover, she was even asserted for being involved in the murder back in March 2014. And allegedly she flew to Houston; thus, she was charged with being a fugitive from justice.