Entertainment
Jon Montgomery Is Blessed To Be Married And Have A Wife From Same Field Of Work! Any Chance Of Divorce In Their Lives?
As life is long, we wait for the arrival of a perfect partner who can be with us in our good and bad times. Somewhere in between the journey, we might find a person perfect for us. And when we find the one, we can't wait longer tie the knot and start living a happy life with them.
You feel blessed when you realize that the decision of loving someone was right. Not every person is fortunate enough to get a lover who could understand them very well.
A Canadian skeleton racer and television host Jon Montgomery is one of those lucky individuals who are blessed enough to enjoy a wonderful married life. Take a peek to know what we're depicting to!
Montgomery's blissful Married life!
Who wouldn't wish for a loving and supportive partner?
Well, thirty-eight-years-old Jon Montgomery's wish for such partner has come true. He is so blessed that his girlfriend-turned-wife is also a skeleton athlete, who inspires him to achieve more.
The reigning Olympic champion in men's skeleton, Jon Montgomery got married to fellow slider Darla Deschamps on August 6, 2011, in a romantic wedding ceremony at a vineyard near Kelowna, B.C. Montgomery tied the knot with her after dating Deschamps for around five years.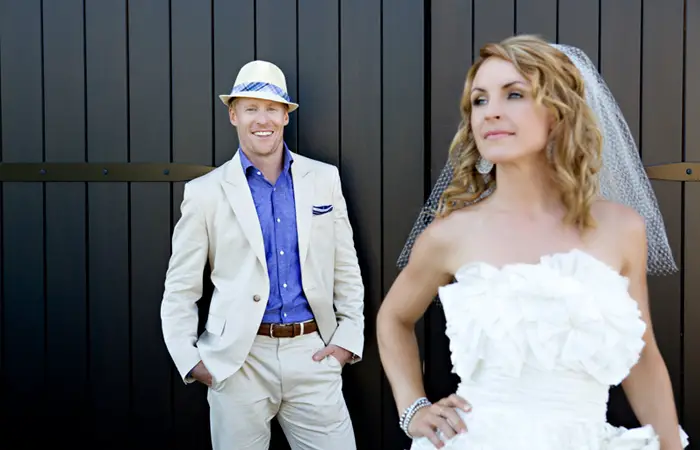 Caption: Jon Montgomery married his lady love Darla Deschamps on August 6, 2011, at a vineyard near Kelowna, B.C.
Photo Credit: Liverampup
Montgomery first met Deschamps in the year 2005 at the sliding track's start house atop Canada Olympic Park. Talking about the first meeting in an interview with Winnipeg Free Press in 2011, Montgomery said-
"I was looking at the start list and I saw a person by the name of Deschamps on there. I looked around the room and she was the only girl I didn't know. There was a fella from back home who I grew up with named Deschamps. I introduced myself to her and told her 'my buddy's name was Deschamps and I called him Dish, so I'm going to call you Dish too."
In the same interview, Montgomery stated that having a wife from the same field motivates him to pursue more success. He explained-
"The best thing about having your partner with you, involved in the same sport and with me on tour last year is that you've got somebody by your side who understands the unique dynamics we go through.It lends itself to a stronger relationship because you're both involved in the same goals."
He continued-
"I think what having a great partner enables you to do is to have as much drive as you're ever going to have because you have someone supporting you. Any victories or progression you make is that much sweeter, having somebody to share it with, as opposed to it just being a solitary mission. I am really happy we do the same sport and we are able to sit down and de-brief with another, not only as teammates but as a couple sharing the same passion."
Isn't Jon Montgomery lucky to have such a supportive wife who also loves cars and racing like him?
Though Montgomery has been married since 2011, he doesn't have any children with his better-half. The pair, who have been living a blissful married life since they are hitched, show no any hints of divorce.
Along with the blissful married life, Jon Montgomery enjoys a prolific career. Popular as the host of CTV's The Amazing Race Canada, Montgomery has won his first World Cup race in the year 2008 in Cesana, Italy.
He later won the gold medal at the 2010 Winter Olympics in Vancouver in the men's skeleton event.
Similarly, at the 2008 FIBT World Championships in Altenberg, Germany, he has won two silver medals.
From the career as a professional skeleton racer, Jon Montgomery can accumulate incredible earnings. However, his earnings and net worth are still under the wraps.