Entertainment
Does Josh Martinez From Big Brother Have A Girlfriend? Any Thoughts On Building A Dating Relationship?
Josh Martinez, now, is probably the name which resides on everyone's lips as he has survived one of the most contentious seasons in Big Brother history and even emerged as a winner.
On Wednesday, the September 20th, this 23-year-old Miami native walked away victorious with a $500 thousand grand prize from Big Brother 19 house. But what about one of his wish of having an experience, which he mentioned before entering the house? Yes, we are here talking about his wish for a relationship.
So, does this champ now have a girlfriend besides the monetary reward? Let's dig in to find out the answer.
What Is The Current Relationship Status Of Josh Martinez?
Josh spoke to 'The Hollywood Reporter' in June 2017 and said that he was open to starting up a relationship with a houseguest. He expressed,
I'm not looking for a showmance, but if it happens, it happens. It's a long three months! Your boy already needs some love.
Contrary to the pre-show announcement, the houseguests and the viewers never got to witness that particular nature of Josh in the house; instead, he appeared to be a villain who bullied his housemates.
Consequently, Josh, who was single before the show, is still a partnerless guy lagging a prominent dating affair after the show. Well, his sexuality has been the matter of curiosity, and many want to know if he is straight and has a girlfriend to flaunt or belongs on the gay side, but the curiosity is yet to severed, and the matter remains unclear until the man comes forward and speaks on the matter, himself.
However, he got his first wish of winning the title fulfilled with his simple game strategy of lying, cheating and manipulating the housemates, whom he called the meatballs (aka losers).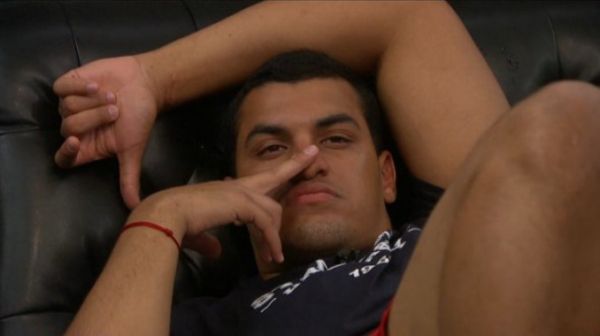 Caption: Josh Martinez, a thinker, being inside Big Brother house.
Photo Credit: bigbrothernetwork.com
Well, he is $500,000 richer now which is a shock for him, as he competed with the odds-on frontrunner- Paul Abrahamian and Christmas Abbott.
A Short Wiki-Like Bio Of Josh Martinez:
Josh Martinez is a young guy who currently ages twenty-three and is from Miami, Florida. However, he currently resides in Homestead and is haircare salesman by profession. His family includes his mom, dad, a brother and a sister.
Josh has an impressive height and likes to describe him as an ambitious, courageous and passionate person. Moreover, he enjoys playing sports and going to the gym.
Other favorite activities of this guy include reading, hiking, traveling, meeting new people, being an adrenaline junkie and having new experiences.
He loves to keep his life pretty simple by applying a theory; as he says,
"Play hard, work hard, and live your life the way you want."
Josh is a famous reality TV star now, who has gained fame through his appearance in the nineteenth season of Big Brother and extended it by winning the show. He had applied to be on Big Brother 17 and had even made it to the semi-finals before.
Additionally, Josh adores "Evel" Dick Donato from Season 8 amid the houseguests because he thinks that Evel had always spoken his mind and took a stand for his family.