Entertainment
CNBC's Julia Boorstin Wiki: A Bio Ranging From Age to Her Lessons with a Baby
The feeling of love is beautiful. But being in a relationship can be equally challenging and crucial when long distance and busy work schedules are involved. In a situation like that, love mostly fades away in a relationship.
But Julia Boorstin, a senior media, and entertainment correspond for CNBC, and her beau proved otherwise.
We are here to talk about a love story that made it to the altar despite the tumbling rocks. Let's find out how Julia Boorstin and her beau successfully kept their love alive regardless of distance and busy work schedule.
Julia Boorstin Wiki-like Bio:
Julia Boorstin is a senior media and entertainment correspond for CNBC. Beginning her career as a writer for Fortune magazine, she joined the CNBC team in 2006 as a general assignment reporter and got promoted only a year after that. She went to Princeton University and completed her bachelor's in arts majoring in history in 2000.
Talking about her personal life, she is married to the actor Couper Samuelson. It all started when his roommate dragged him to meet Julia. Couper first met Julia in Sundance Flim Festival back in 2004. He remembers their first encounter like it was yesterday.
"A phalanx of boring people in parkas parted, and there was this dramatic-looking woman wearing this dark leathery shearling coat. She was extremely attractive so I decided to play it cool. But to protect myself, I feigned, 'Oh, yes, I sort of remember we met.'"
And for Julia's part, she had no reluctance about admitting she had met Couper.
"He's 6-6 and cute. How could you miss him?"
Couper who has underdeveloped dating skills was trying hard to impress Julia. Both Julia and Couper spent time together like a normal couple. Couper took Julia to the screening of Napoleon Dynamite, and to return the favor, Julia invited Couper for lunch even though he was full.
"I figured it out when he barely ordered anything,"
They kissed each other and spent the night under the sky only to bid teary goodbye the next day at the airport. Both knew that they wouldn't see each other or at least they thought so.
Two weeks and endless phone conversations later, Julia visited her parent's house for her father's 60th birthday only to find Couper.
"And there he was in my parents' kitchen, holding our cat, this guy I barely knew with whom I'd had this PG-13 weekend, and it felt so natural. It sounds cheesy, but it was as if we were meant for each other."
After that, there was no turning back for either Julia or Couper. The couple took a yearly trip, together taking time out of their busy schedule, to spend quality time with each other. On their trip to Paris, Julia confessed that their long-distance relationship was worth fighting for.
And finally, while they were on their trip to Morroco in fall of 2006, it happened! Couper got to his knees after giving his secret camera to the stranger and proposed to Julia.
On the same year of December, they exchanged vows in front of 113 guests in Beverly Hills, California.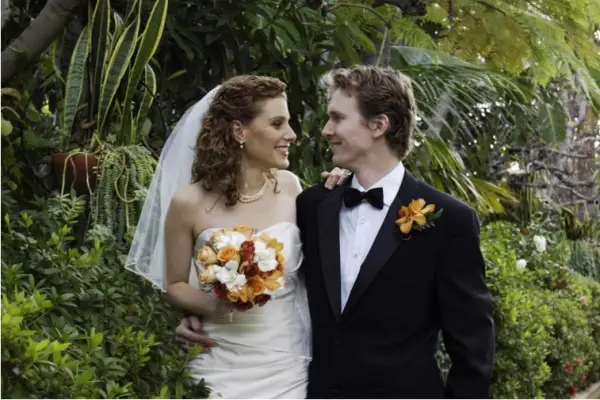 Caption: Julia and Couper as bride and groom on their wedding day.
Photo Credit: Belmont.wickedlocal.
Like most of the married couple, Julia and Couper welcomed their first child, a baby boy named Henry, on the 13th of July in 2011. With the addition of a new family member, it can be quite exhausting to bring lifestyle back to normal as there is added responsibility to look upon. Julia shared an interesting thought about traveling with a child on Linkedin.
The baby boy brought more happiness to the couple. She shared her ecstasy on her Twitter account when her husband won an Oscar the next year.
The 39-years-old Julia has a whopping net worth of $100 million dollars. We can assume her salary is enough for some people to spend their entire lifetime.That is a huge number for a woman her age and she is considered one of the richest people under 40.