Entertainment
Julius Randle Life With Wife, Juggling Career Like A Pro! Meet His Family
Ability is what you are capable of, motivation determines what you do, and attitude determines how well you do it. Julius Randle, an American professional basketball player in the similar scenario, has it all, the ability to take care of career and personal life simultaneously along with motivation and attitude to be a perfectionist at what he does.
Most of us are all aware of Julius' triumphant journey in the NBA, but the way he balances his personal front amid the hectic professional schedules is what makes him an all rounder personality.
So, today let's take a look at his prosperous married life and family and know about them a little bit more.
Julius Randle, Family Man With Wife
The Los Angeles Lakers' power forward/center Julius Randle is not just about his consistency on the court but is equally known for leading a family life like a pro. For all those who don't know, Julius is a married man and has a family with his wife, Kendra Shaw. Julius's exchanged vows with his girlfriend on 3 August 2017. Moreover, Julius calls wife Kendra his 'Queen,' and she even looked like one in their wedding's photograph.
Randle and Shaw started dating during Randle's 1st season at the University of Kentucky, and after few years of dating one another, Julius went on his knees, proposing his girlfriend on 20 June 2016.
The engagement ring was indeed huge! Kendra shared the glimpse of her ring while expressing her never-ending happiness with her fans.
Moreover, 2017 turned out to be an exceptional year for the Randle couple as the same year the couple married as well as celebrated their son Kyden Randle's 1st birthday.
The smile that they wear in the picture reflects their happiness of being together as a family!
Julius Randle's Contract, Salary
Julius, who is set as the Restricted Free agent for 2018's summer, got drafted by the Los Angeles Lakers in the 2014 NBA draft with the seventh overall pick. Due to cap issues, Julius and LA Lakers weren't able to agree, because of which both the parties didn't agree on a contract extension.
However, before that Julius signed a 4-year contract with the Los Angeles Lakers worth $ 13,545,962, which was guaranteed, along with an annual average salary of $3,386,491. In 2017-18, Randle was supposed to earn a base salary of $4,149,242, while carrying a cap hit and a dead cap value of $4,149,242.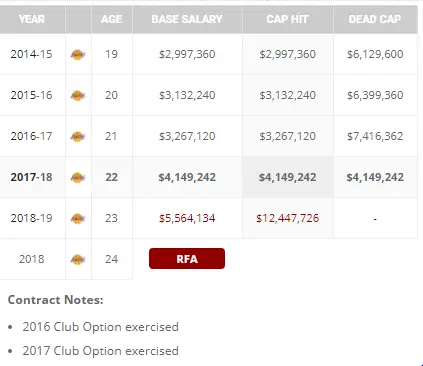 Julius Randle's contract, salary details (Spotrac.com)
Moreover, with the trade deadline approaching in February, rumors have it that the Lakers might trade Randle to Dallas Mavericks, but as per recent reports, he has not been traded.