Entertainment
Is Justin Fletcher Married? Talks About Wish To Have A Stable Personal Life and A Family
When a person shares a desire to have children and extend their family; people wonder about the possibility of having a girlfriend or even a married life with a wife.
Sharing similar situation is "Something Special" host, Justin Fletcher, who has expressed the same will. But is he yet to marry and settle down, or is already a settled man? Let us find that out!
Did Justin Fletcher Marry To Have A Wife? Or Has A Romantic Partner?
"Mr. Tumble" star Justin Fletcher is someone who has been shining in the showbiz like the moon in the night. But does he has someone to share the success? Did Justin get married to have a wife?
Well, back in an interview in 2012, he revealed that he was yet to get married and also opened up on his will to have a family of his own.
"I'm not married, live alone and have been single for a while now because I've been a workaholic filming Something Special, Justin's House and Gigglebiz.

"But I do want to free up some time for myself and my family.
Moreover, he added,
"I would love to have children so need to find someone who likes kids. A couple of kids would be lovely."
So it was clear that he did not have a girlfriend or a romantic relationship then, but is he romantically involved with some one now?
Well, thus far he has not revealed if he has found anyone who he can settle in with and have a family.
He could still be single and could be looking for someone to settle down. But at the same time, chances remain that he could have found someone, but is not willing to disclose it publicly.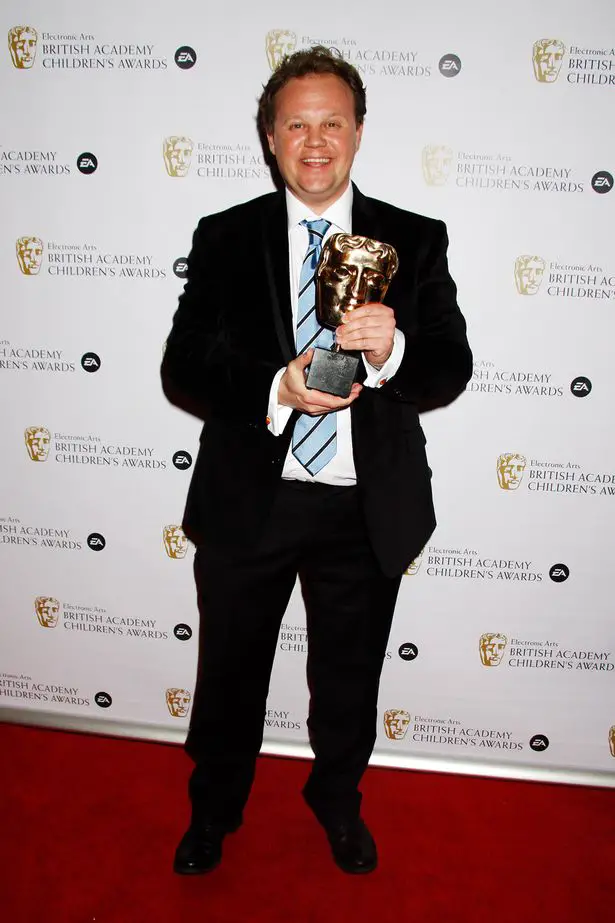 Caption: Justin Fletcher's at the EA British Academy Children's Awards on November 2010 held at London Hilton.
Photo Credit: Mirror
Nevertheless, his fans are hoping to learn about the romantic aspect of Justin's life soon in the future!
More You'd Like To Know About Justin Fletcher:
Justin Fletcher, who is currently 47 in age, was born on June 15, 1970, in Reading, UK. Justin is an actor and presenter on the BBC's CBeebies channel, a channel where he is known for his slapstick routines and several other impressive ranges of characters in programs like "Something Special" and "Gigglebiz".
Justin has acquired many BAFTA Children's Awards for his work. He won it for Something Special, in the years 2008, 2010 and 2012.
Moreover, in 2008, he was awarded an MBE for lending his services to children's television. He resides in Berkshire with his pet cats, Freckles, and Muddles.
All of his work on TV has also helped him accumulate a handsome salary and net worth of $1.5 million, which indeed is a result of his hard work.
Stay with us for further updates on Justin Fletcher!