Who wouldn't wish to enjoy a blissful relationship along with a successful career? A person, who is committed to her profession, wants a companion by her side who would be with her both in her good and bad times while she is struggling for success.
But not every people are lucky enough to enjoy a successful career and beatific love life. The famous figure skater and ITV's Dancing On Ice show's judge Katarina Witt is one of them who couldn't enjoy her achievements with her first love. Do you know that her boyfriend was taken away?
Katarina Witt Opens Up About Her Unsuccessful First Love
The gorgeous and talented Katarina Witt herself has talked about her tragic love story. In March 2015, she revealed how East German secret police spied on her since she was eight years old and how her first real boyfriend was deliberately removed from her life.
At the age of eighteen, Katarina was in a relationship with a twenty-five-years-old guy who was a drummer in a rock band. According to Katarina, her boyfriend, who went around in stripy trousers couldn't fit into the East German world. She explained-
"He was also quite a bit older than me – he was 25 and I was 18 – and the authorities believed he might affect my concentration. In that respect, they were probably right."
Moreover, she added:
"So when it was time for his national service, they stationed him as far away as they possibly could, so far that it was impossible for us to spend the weekend together. The journey would have taken him two or three days. At the time I was in floods of tears."
Well, the possibility of gold awards was the main thing they genuinely thought about because of which they took Katarina's first love away from her.
Though Katarina's first love was unsuccessful, she has been linked up with different famous personalities. Some of the names that come along when one tries to look at her dating history are Ingo Politz (1984 - 1988), Alberto Tomba (1988), Richard Dean Anderson (1992), Rolf Brendel (1994), Danny Huston (1995) and Marcus Herrmann (1996 - 2002). Other names include Gregor Prächt (2002), Dave Hoffis (2002 - 2003) and Andreas Rüter (2008).
Recently she is rumored to be dating German Lawyer and honorary professor Christian Schertz. Well, neither Katarina nor her rumored partner Christian has confirmed their relationship. This pair is not even spotted together in public.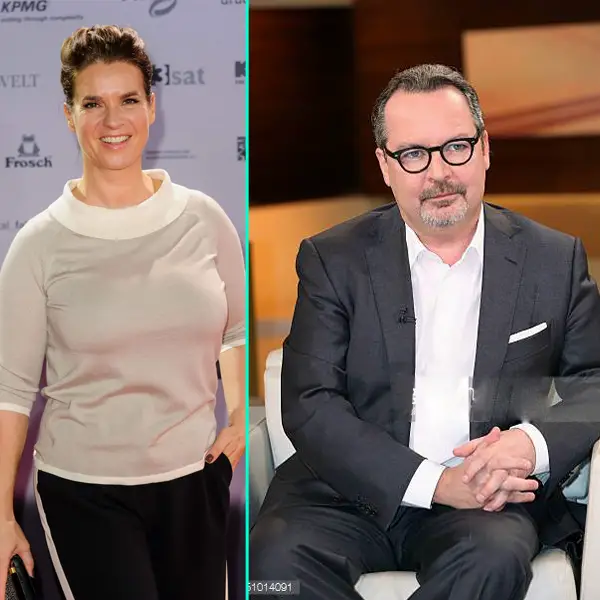 Caption: Katarina Witt and her rumored boyfriend, Christian Schertz.
Katarina has never confirmed any of her affairs but has said that she enjoys flirting. In an interview with Stern magazine in December 2015, Katarina was asked about her multiple relationships where she said that one shouldn't always believe what newspaper writes. Does this mean that the entire link ups mentioned above are false?
In the same interview, she has said that she doesn't like to talk about her private life.
It's been a long time since Katarina hasn't talked about her personal life. Her privacy has always made us wonder about her marriage and husband. "Is she married secretly?" is the common question that comes to most of us when she doesn't utter a word about her love life.
Well, it looks like we'll have to wait a little longer before our curiosity gets addressed!
Stay with us for latest updates on Katarina Witt!
#German Figure Skater
#The Biggest Loser Germany
#Christian Schertz
---