Entertainment
Kay Burley After Divorce With Husband! Personal Life in Control
Kay Burley, also called 'the high-heeled hellcat from Hounslow,' has made a name for herself being the longest-serving female news presenter on British television.
Similarly, Kay states that her personal life is on control even after having gone through failed relationships in the past. Curious to know more about what happened and how she got everything under control? Keep reading, and you'll find out!
Kay Burley's Personal Life
Kay has been married as well as divorced, twice. Kay first took her marital vows when she was 19 with a fellow reporter of the local paper. Besides that, Kay has not opened up about the name of her former husband. Moreover, Kay remains silent regarding their divorce and the reason as well.
Later, Kay took her second step towards marriage with football agent Steve Kutner, who once represented Frank Lampard. Kay has a son, Alexander, who is now 24, from a year-long relationship she shared with Steve.
Though Kay parted ways from her then-husband shortly, she shares quite a strong bond with her son.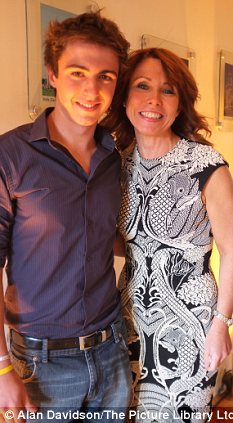 Kay Burley with her son Alexander (Photo: dailymail.co.uk)
Back in 2010, Kay opened up in an interview with The Telegraph, where she opened about her relationship with her son and how they spend the hard cash she gets together. She stated,
"I also treat myself and my son to regular holidays. We go on safari every year, usually to Richard Branson's private game reserve, Ulusaba in South Africa. We're both big animal lovers"
Furthermore, Kay as well shared a long romantic union with George Pascoe-Watson, who is a former political editor turned PR man. They were together for about five and a half years and ended their relationship back in 2009.
On a recent note, Kay was spotted embracing Jonny Knowlson, British Airways pilot, who she claims to be her good friend. So taking otherwise will just be a waste of time!
More About Kay Burley
Kay Burley, who had ups down downs regarding her family life, has a strong work ethic. She was taught to aim high by her parents even though they worked in cardboard box factory.
Raised with a working-class upbringing, she regards it to be her ticket to success in her career. Rising from the ashes, Kay took her career to the heights of success she dreamt of. With a progressing professional front that rewarded her with a salary of £500,000 a year, Kay enjoys her net worth with family of two.
Moreover, Kay, whose personality on-screen has everyone anticipate her as a tough one, possesses a soft heart for the animals. Dog-lover Kay is very much fascinated by these species of canines and believes that they have feelings just like any other human.