Entertainment
YouTuber Keemstar Reveals Cute Daughter Amid Married & Wife Questions; His Response
Daniel M. Keem, who is widely known as Keemstar, is a famous YouTube personality. He posts different trolls and drama videos in his channel, Drama Alert.
A controversial figure, Keem often lands into trouble for his insensitive and racist comments. He even had his previous YouTube channels suspended due to the controversies.
The celebrity, who kept his personal life under wraps, shocked his audiences after making a revelation about having a daughter.
Dating Life With Wife Like Figure
Back in 2017, Daniel had mentioned about having a girlfriend. He shared a post on 13 May, in which he wrote about his partner finding an old disposable camera. However, he has not revealed the identity of his girlfriend.
Although Daniel admitted being in a relationship, he denied rumors about having a wife. On 24 October 2017, Daniel revealed through a tweet that he is not married and would never get married.
He may not be married to his girlfriend, but they live together as a family along with his daughter Mia. On the Halloween of 2017, Keem shared a picture of his partner and his daughter dressed up respectively as a unicorn and a vampire.
However, Keem's girlfriend is not the mother of his child.
Talks About Daughter
Well, Mia turns out to be an adopted child of Daniel. However, he loves his daughter as his child. He has talked about his daughter Mia in social media on some occasions.
He first mentioned his daughter in a twitter post on 20 April 2014. A fellow Twitter user mocked the YouTube star for his frequent presence on the social media site and told him to take care of his family instead of wasting his time on Twitter. In return, Daniel insulted the user who went by the name Noteful. Daniel wrote in the tweet,
Replying to @Noteful_

My daughter Mia is 4 years old & has more money then you. @Noteful_ I think you can stop with the life tips ...
He came forward to talk about his daughter Mia. However, the identity of the of the mother was still hidden in the basement.
Daniel, who possesses the height of 1.78 meters, brought up his daughter in another discussion, a few months after the previous incident. When a Twitter user named Prazma Cannon called him a "virus" for not taking responsible care of his daughter on 28 August 2014, Daniel fired back stating Mia had more money in her bank account than the user's entire family's net worth.
Well, Daniel might have talked about his daughter on various occasions, but the identity of Mia including her appearance was a mystery to his followers. However, on 12 June 2016, he shared a small clip via Twitter titled "Mia Exposed," in which Daniel could be seen having fun with the daughter.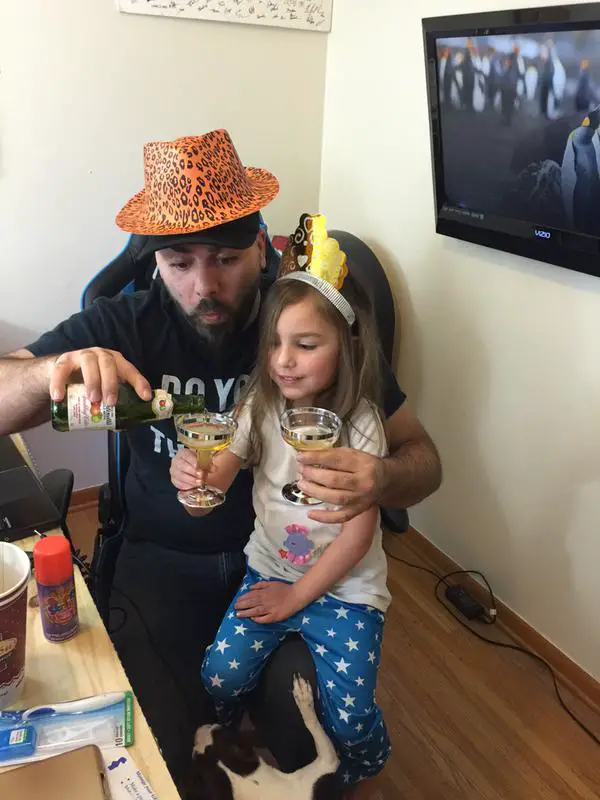 Keem serves fruit juice to daughter Mia (Photo: KeemStar's Twitter)
As of 2018, Daniel has kept his personal life low-key. Daniel, who possesses a net worth of $2 million, is probably busy focussing on his YouTube career to make a better future for his lover and daughter.