Entertainment
LaTavia Roberson Relishing Days With Cutest Daughter; But Who's The Baby Daddy?
American Pop singer, LaTavia Roberson, who is best known as a former member of Destiny's Child, gained immense popularity through her profession. As she already marked herself as a renowned celebrity, her fans keep wondering about her personal life.
About her personal life, her fans are acknowledged that she is a mother of a five years daughter. She regularly flaunts her daughter on social media, but she never shed lights on her baby's daddy.
Its likely that she is living happily with her daughter despite being a single parent.
Well are you curious to know about her daughter and relationship status, then go through it
Sparkling With Her Daughter
LaTavia Roberson was in a romantic relationship with American record producer, Rodney Richard, who also goes by the stage name Don Vito. When they were entangled with each other, they never shed light on their relationship.
However, all of a sudden, most of the people got surprised after LaTavia came up with a big belly as she was giving birth to her baby.
The 36-year-old singer La Tavia welcomed the daughter Lyric back in 2013 through the relationship with Rodney Richard. LaTavia and Rodney stayed only in a dating relationship, she never hinted about getting married and proclaiming as a husband.
Recently, on 2 Aprill 2018, Latavia shared a picture of her daughter and herself in her Instagram. In the picture, both the mother and daughter happily posed for a photograph.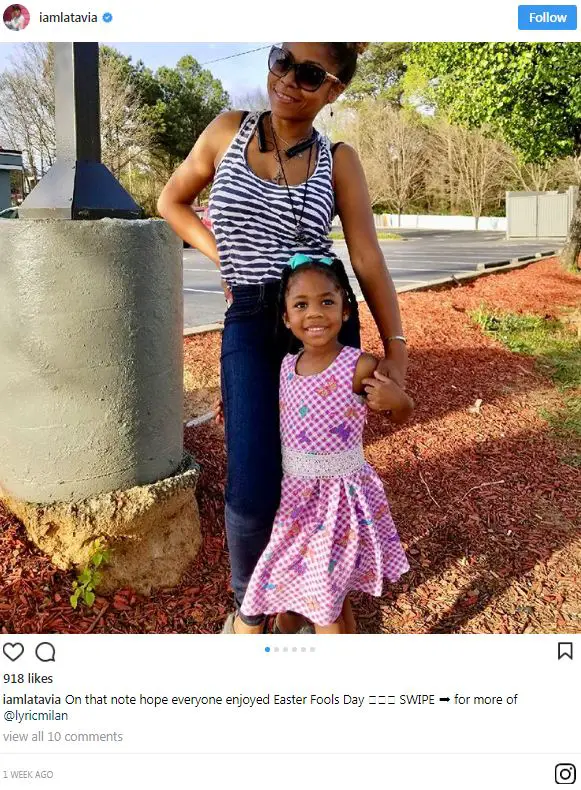 LaTavia Roberson and her daughter Lyric Roberson (Photo: LaTavia Roberson's Instagram)
Likewise, LaTavia also shared another picture of her daughter and herself on the same day on the auspicious occasion of Easter via Instagram where she captioned "Happy Easter Fools to my Lovers from @lyricmilan and Me."
Besides that, LaTavia's daughter shared the picture of her daddy back on 12th February 2018 via her Instagram account. In the picture, Lyric and her father were sharing time togetherly in the weekend by watching a live basketball match.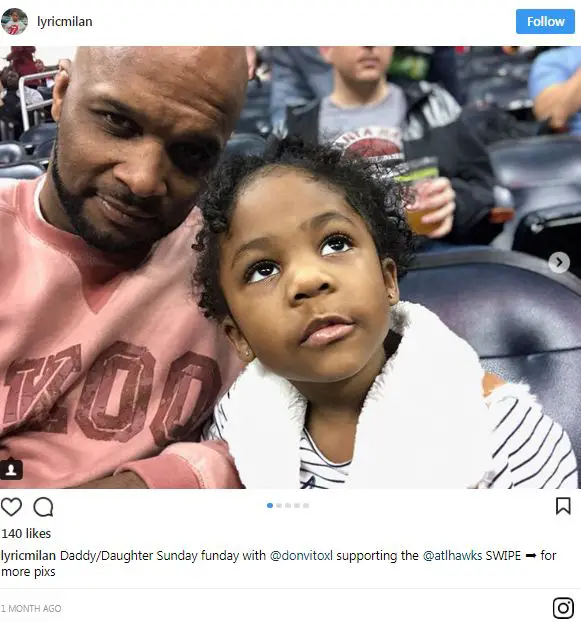 LaTavia Roberson's baby and her baby daddy (Photo: Lyric Roberson's Instagram)
However, LaTavia and her baby daddy Rodney Richard are no more in a dating relationship. But they still share the parenthood jointly for her five years daughter.
Lost Her Second Baby
LaTavia not only became pregnant once, rather she was pregnant for the second time too. However, she passed through the heartbreaking miscarriage during the pregnancy period for the second child. She lost her second baby in the summer of 2016 as she was having pregnancy complications which left her in hospital.
LaTavia was three months pregnant when she had a miscarriage. LaTavia was on a brink to welcomed her second child through her dating relationship with Georgia producer and member of the R&B group Jagged Edge, Brandon Casey.
Shortly after the griefing moment of the second daughter, while giving an interview to People, Latavia affirmed that
I have two daughters. Even in the death of my second daughter, her spirit has guided me to stay true to who I am, to be a lot more ambitious, to take more risks," adds the singer and reality TV personality, who will release her first memoir, I Am LaTavia, in the spring of 2017. "Her spirit has definitely given me a different meaning on what it is to have life
Besides her personal life, while gushing about her professional life, LaTavia first began singing songs when she was only ten years old. She and her singing partner Knowles gained a strong local following as they highly appreciated their singing.
As of now, LaTavia has marked herself as a renowned singer, she owes a significant amount of net worth of 2 million dollars from her profession and living blissfully with her daughter.