Entertainment
Did Layla Kiffin, 42, Get Divorce Because of Husband's Affair? There's a Chance
Life has taught; you can't control someone's loyalty. Being good to them doesn't mean they'll treat you the same. Sometimes, the people you love the uttermost, turn out to be the people you can trust the least.
Sharing a similar scenario is Layla Kiffin, who disintegrated her relation with her husband at the age of 42. After being together for nearly two decades, what might have caused the stumps? Is it because of Layla Kiffin's husband's Judas kiss?
Keep on reading to find that out!
Layla Kiffin's Married Life: Husband's Extra Affairs Led To Divorce!
In the year 1999, American football coach Lane Kiffin went to visit his father, Monte, at the Tampa Bay Buccaneers facility where he first met Layla Kiffin. The duos, Lane Kiffin and Layla Kiffin, dated for just three months before getting engaged.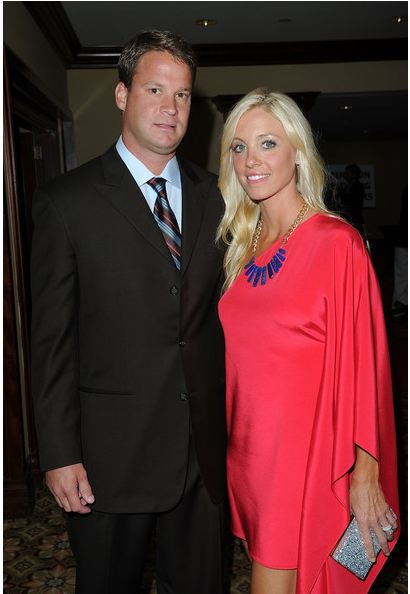 Caption: Lane Kiffin (left) and Layla Kiffin (right)
Photo Credit: zimbio.com
Layla Kiffin's father, Dan Reaves, described how Lane Kiffin asked for his daughter's hand;
The receptionist at my office buzzed me and said Lane was here to see me. I thought he was going to say that he was getting out of coaching and wanted a job. Instead he asked if he could marry my daughter. I called her to ask her, 'Is he serious?' (laughs) I wasn't supposed to ruin the surprise. They bought an engagement ring that same day.
Nearly after four years, Lane and Layla Kiffin tied knots in July 2004 at Florida Atlantic University.The couple welcomed three children during their relationship, Landry Kiffin in 2005, Pressley Kiffin in 2007 and Monte Knox Kiffin in 2009.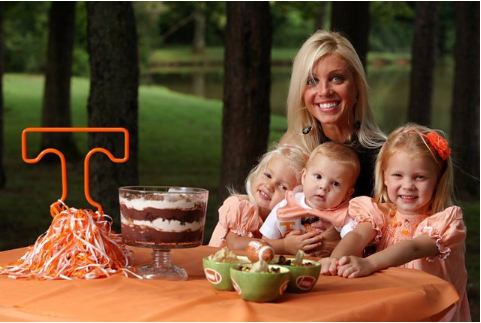 Caption: Layla Kiffin with her children.
Photo Credit: knoxnews.com
Though Layla Kiffin didn't anticipate to be a home mom, she centered her whole time on raising the children and didn't presume of doing anything else.
I loved what I did and was really happy with the way my career was going. But since they have arrived I can't even imagine working. It's just not for me. We've said we want more (kids), but I don't know. I'm very happy with what I have right now.
Facing all the ebb and flow, the couple Lane and Layla Kiffin have gone through many stages of their life together, but it was the time to face the internet.
Back in August 2015, rumors started swirling in Tuscaloosa that Alabama offensive coordinator Lane Kiffin slept with Nick Saban's daughter, Kristen.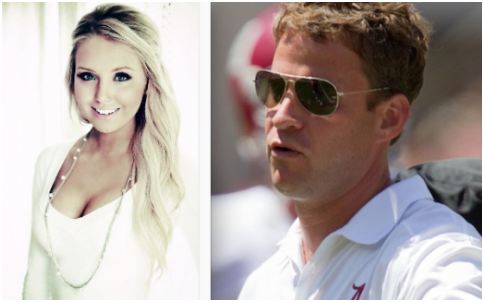 Caption: Saban's daughter (left) and Lane Kiffin (right).
Photo Credit: totalprosports.com
The rumors also claimed that Lane Kiffin was planning to resign from his job as Alabama's offensive coordinator. Nevertheless, the director of communication for Alabama football, Josh Maxon, told TMZ sports that Kiffin hasn't quit or been fired and that he won't comment on 'stupid' or 'crazy' rumors.
But unfortunately, Layla Kiffin pulled the trigger and filed for divorce against her husband Lane Kiffin on February 28, 2016, citing irreconcilable differences. However, the couple later affirmed to Fox Sports' Bruce Feldman;
After a lot of careful thought and consideration, Layla and I have mutually decided to divorce. We are fully committed to our kids' future being our No. 1 priority. We will maintain an amicable relationship with respect for each other as we raise these three wonderful children. We will have no further comments and appreciate respect for our family's privacy.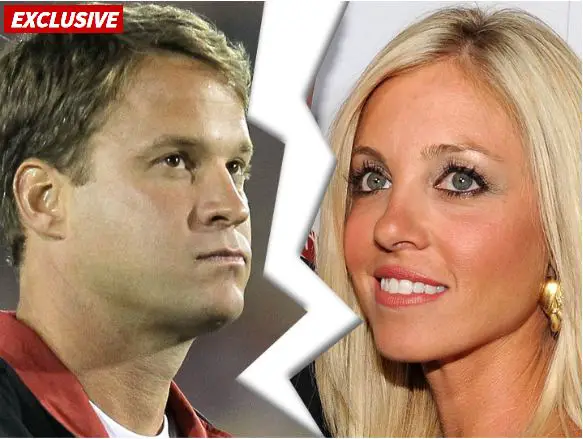 Caption: Lane Kiffin(left) and Layla Kiffin(right)
Photo Credit: tmz.com
Anew, by the end of 2016, there was another story, where Lane Kiffin tried to make himself a victim, complaining about not making any money. Kiffin told in the 'SI Feature' with Pete Thamel;
"I figured it out. I really don't make any money, I pay around 52% in taxes. Layla gets 34.5% in the divorce, and [agent Jimmy Sexton] gets 3%. I make [about] 9% and I'm living in Tuscaloosa.
As per Layla Kiffin's bio, she is living in Manhattan Beach, Calif with $10000 per month rent with her three children. Layla, till this date, has never been seen with anyone besides Lane Kiffin, so she remains single in the eyes of fans and media.