Entertainment
Does Levy Tran Have A Dating Affair Or A Boyfriend? Free From Both Relationships & Controversies?
Not only the main lead and supporting characters of a movie are charming, but sometimes, an actor who makes a cameo is able to mark their place in the film as well.
In this context, we will be talking about Levy Tran, who managed to grab enough attention through her appearance in Furious 7 as a hot and sexy race starter. But have you ever wondered about her life off-screen? Are you curious to find out whether she is single or is dating secretly?
Well, if are one of those wondering about the same, worry not, as we are here to provide you with the answers you thrive for!
Is Levy Tran Single or Dating Secretly?
The thirty-four-years old Levy Tran is undoubtedly gorgeous, but has anyone managed to captivate her heart?
Although being active on different social networking sites, Tran has been very private regarding her love life. Thus, her current relationship status remains unclear as of now.
However, when we take a thorough look at Levy's different social media accounts, we have come to know that she was involved in a romantic dating affair in the past.
Four years ago, in March and June 2013, there were posts which suggested that Tran was in a relationship. She took Twitter and Instagram to reveal that she is enjoying a quality time with her boyfriend.
However, there aren't any pictures of the guy, whom she was referring to as her boyfriend, in the post.
On March 2013, Tran took her Twitter to reveal that she is enjoying a dinner with her roomie and boyfriend where she wrote,
Likewise, in July 2013, she shared a picture of an old couple, where she revealed that she spotted them while enjoying lunch with her boyfriend in Westwood.
Levy couldn't stop herself from sharing this picture, as she found this old couple cute enough to make her day.
Since then, Tran hasn't flaunted her love life with her boyfriend. Nevertheless, she shared a picture with her mother.
The love and guidance of parents hold a special place in everyone's heart, and Trans is no different. She shared a sweet moment via Instagram, showing her gratitude towards her mother.
Although Tran hasn't talked about her relationship and affairs, we can't say that she is free from the relationship, because she might be dating secretly.
Levy Tran's Share of Controversies:
In the year 2013, Tran was surrounded with controversies after she appeared on a music video called "Asian Girlz." The tabloids covered the news and stated the music video as the racist video.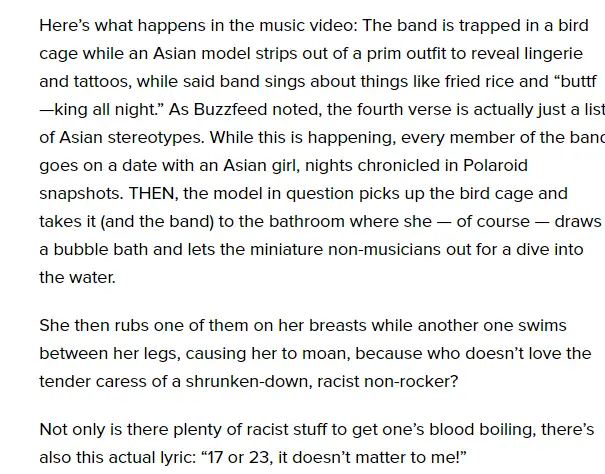 Caption: The description of the music video "Asian Girlz" as per Huffington Post.
Photo Credit: Huffington Post
Tran later apologized for appearing in the video via Twitter, stating that it wasn't her intention to show racism through the video, but was meant to be light hearted and fun.
I sincerely apologize to all who feels that I set Asian women back 50 yrs. I know I lost respect from a lot of ppl. It wasn't my intention

— Levy Tran (@MissLevy) July 31, 2013
It was meant to be light hearted and fun. Satirical. They are sweet boys and not at all racist. That is all I will say. I'm sorry once again

— Levy Tran (@MissLevy) July 31, 2013
Well, it raised a lot of buzz in the past, but that's long gone after the apology from Levy Tran.
A short Wiki-like Bio of Levy Tran:
The gorgeous actress and social media sensation Levy Tran was born on April 8, 1983, in California. Talking about her siblings, she has a sister named Chi.
The thirty-four years old beauty, who has inked different tattoos on her body is known for appearing in the 2015 film Furious 7. She has also appeared at Vy in the television series Gun Girl.
Likewise, she has made a guest appearance in the MTV2 series Guy Code in the year 2012, followed by the performance in Female Fight Squad in 2016.