Entertainment
Linda Sarsour Keeps Her Husband In Shadows; Maintaining A Family Amid Of Protests And Being Arrested
These days street protests and marches have been seen carried out on a frequent basis, and one of them who has been in the center of such protests is Palestinian-American political activist Linda Sarsour. She has been making her demonstrations on the streets and has been making quite the name as the woman who is not afraid to make her voice heard.
But while she has been carrying her work of an activist, she also has been handling her family well and takes good care of her husband and children, but many are unaware of her family life. So today, let us address the family life of this activist.
The Family Life of Linda Sarsour:
Linda has not been that vocal about her husband and her married life, and she has kept her husband's identity far from the spotlight. She got married in an arranged fashion when she was just at the age of 17, and as a result, she had her first child at the age of 19. She, along with her husband, Maher Abo Tamer are now the parents of three children. Her son, Tamir, is 16 while two daughters namely Sabreen and Sajida, are 14 and 11 respectively.
Unlike her husband, she has been gushing about her children over on social medias.
She has often been open about how her kids are sometimes excited by the work their mother does.
Glad to know that she has such an emotional and happy relationship with her kids.
Let us hope that she does reveal some details about her husband in the days to come.
Linda Sarsour's Demonstrations, Protests and Arrests!
It was March 2017 when Linda was arrested in front of Trump Tower located in New York City as part of the Women's Day #DayWithoutAWomen protests.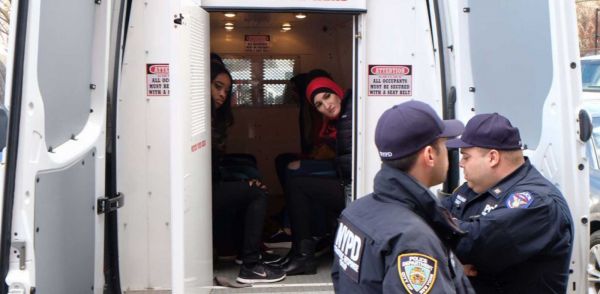 Caption: Linda Sarsour arrested for disorderly conduct in March 2017.
Photo Credit: dailywire.com
As per the reports of Isaac Saul of A Plus, Linda, along with other women, was given the warning to clear the area and disperse out of the vicinity but the refusal from those women led to the arrest.
To be clear, Sarsour and others were told they would be arrested if they didn't disperse from the road. Many refused, they arrested ab 12.

— Isaac Saul (@Ike_Saul) March 8, 2017
Police gave several warnings to disperse. Sarsour and others refused, one was taken to the ground but other than that pretty smooth arrest. https://t.co/oPjB3bUtLk

— Isaac Saul (@Ike_Saul) March 8, 2017
However, the arrest led to the Women's March applauding the efforts of Linda and other women.
But this was not the first occasion when she made a name for herself as back in 2015, she made some very controversial comments about Israel in a tweet that pictured a child holding rocks and was captioned, "the definition of courage #Palestine."
Her comments and hatred on Israel do not end here. She has taken some serious shots at the Israeli PM Benjamin Netanyahu and often called him a "bigot."
Netanyahu is a waste of a human being.

— Linda Sarsour (@lsarsour) October 22, 2015
With all of these, she has made quite the name for herself and has been drawing people's attention to her in an ample amount.
A Short Wiki-Like Bio of Linda Sarsour:
Born on March 19, 1980, Linda Sarsour is a Palestinian-American political activist who proclaims herself as progressive. Speaking of her early life and education, she attended the Brooklyn College and Kingsborough Community College, and she planned to be a high school English teacher in her career.
But after the devastating 9/11 attacks, one of her father's cousins named Basemah Atweh asked her to come over and work as an organizer at the Arab-American Association which Ms. Atweh had just opened with a local obstetrician and the deliverer of Ms. Sarsour, Dr. Ahmad Jaber.
Since then she has been making her voice heard regarding the system that has been doing good for the people who she cares.