Entertainment
Louis Walsh Is Married And Suspected Gay Man! With Reported Wife - How Can It Be?
TV personality Louis Walsh who is well known to the audience as a judge on the television music competition The X Factor (UK) is very clear about what he seeks in an aspiring singer.
But, when it comes to his personal life, he has confused his fans regarding his relationship status as well as his sexuality. Some people believe Louis is married whereas some people still aren't sure about his sexual orientation.
If you are confused too, worry not, as we are clearing all these suspect below. So, keep scrolling!
Louis Walsh's Personal Life
The rumors shined on the internet about Louis Walsh and Caroline Flack who is the presenter of The X Factor, when both of them were seen getting married sealing their romance with a kiss in September 2012.
Louis Walsh married Caroline Flack in September 2012 (Photo:dailystar.co.uk)
But, it was just a fake wedding! The team of The X Factor circulated a press release about the event saying it was just a promotional stunt in a spoof sequence for Xtra Factor.
Only if the wedding was real, it could have swipe away the gay rumors for Walsh, but unfortunately, it wasn't the case!
Meanwhile talking about gay rumors, Louis' veiled love life isn't the only thing that raised the speculation about his sexuality. The context of Louis being called gay popped out when Simon Cowell seemingly alluded to Louis' sexuality on one of an episode of X Factor in 2017, leaving X Factor's viewers to baffle. After that, fans started questioning the sexuality of Louis taking Twitter by storm.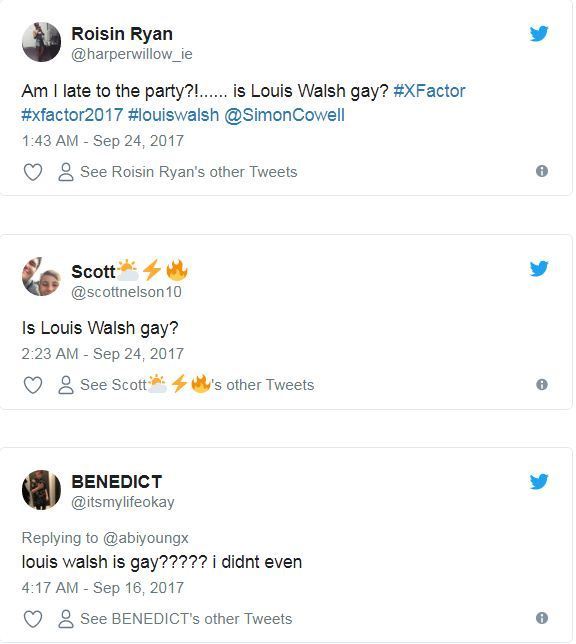 Fan questioning sexuality of Louis Walsh (Source: Twitter)
Well, if you think that came out of nowhere, you don't know what we are about to state next!
Louis himself admitted that he married Stephen Gately one of the singers of Boyzone back in time. However, he planted the fake stories to cover up the sexuality of Boyzone's Stephen Gately. Walsh said,
"That is true, I married Stephen Gately off to so many people, because Stephen didn't want anyone to know he was gay at the start."
Not just that, previously, in 2011, Louis was unluckily deceived in the controversy of sexually assaulting a man Leonard Watters in the toilets of a nightclub in Dublin. The Sun newspaper published false news about him which stirred the rumors like haywire.
However, Louis Walsh came clean against the assault. He was indeed innocent, and the accuser landed himself in jail for six months for making up the claims. Louis told the Sunday Independent,
"I thought I was finished in the business, especially dealing with boy-bands and girl-bands and all that," .'People are going to think that there's something not right here.
Moreover, he was about to contemplate suicide as he was helpless.
'I thought: "I can't go home! What if no one believes me?"' I saw bottles of pills and thought of taking them.'
Furthermore, Louis added,
"It wasn't about the money — it was about clearing my name. I wanted them to apologize, and I wanted revenge, to be honest. I wanted them to suffer, and I wanted people to know what they did to me."
Well, Louis indeed came clean about the sexual assault allegation, but his sexuality isn't in the clear yet. Louis at the age of 65 is supposedly single and doesn't seem to have a partner/wife. Having said that Louis has some clarification to make amid his fans to help them know the fact behind his single life relationship status.
More About Louis Walsh
The 63-year-old Michael Louis Vincent Walsh (Louis Walsh) was born on August 5, 1952, in Kiltimagh, Ireland. Talking about his family, he is the second oldest son of Maureen Walsh and Frank Walsh out of nine siblings.
Louis who stands at the height of 1.75 m (5 feet 9 inches) moved to Dublin to get a start in the music industry. His family supported him for his decision. He first began working as a music manager at the tender age of 15. Louis had been involved with some of Britain's biggest pop bands, like Westlife( 1998 to 2012) and Boyzone(1993 to 2000)
Later on, he appeared on many reality series, including You're a Star, Popstars, and Britain's Got Talent. Louis has been a judge on The X Factor since the show's inception in 2004. He also featured as a guest judge on Britain's Got Talent sometimes and on The X Factor USA in 2012, and even a judge on the current season of Ireland's Got Talent.
Despite all his controversies, Louis enjoys enormous fame and wealth, as he has garnered a staggering net worth of $150 million through his ever progressing career.