Entertainment
Maci Bookout Married Life In Jeopardy? Seeks Counseling With Husband After Having Three Kids Together
Not even a year has passed by, that the Teen Mom star Maci Bookout McKinney got married to husband Taylor McKinney; and the couple is already seeking for marriage counseling!
Despite the fact that their relationship isn't practically over, Maci ended up admitting that things have been stressful lately, to a friend on Monday's episode of Teen Mom OG.
Talking about the stress, she told her friend Kelly,
"Obviously, having three kids is catching up to us, Eighty-five percent of the time, we're good to go. The rest of the 15 percent, it's hell. It's like all of our stress and emotion and everything … we take it out on each other."
Caption: Maci Bookout talks about the need of visiting a counselor (Published on Jun 5, 2017).
It was October 8 of 2016, when Maci and Taylor decided to seal their relationship, through marriage. The wedding was commenced in a private ceremony in Florida.
The couple shares two children together, a daughter named Jayde Carter (born on May 29, 2015) and a son named Maverick Reed (born on May 31, 2016).
Alongside, they are also parenting Bentley Cadence Edwards (born on October 27, 2008). Bentley is Maci's 8-year-old son from her previous relationship with ex-boyfriend Ryan Edwards.
The couple underwent the therapy and sought help with methods of communication, Bookout expressed to their counselor,
"All of the little things build up because neither of us ever communicate them, then all of a sudden, we're mad and we don't even know why we're mad."
McKinney added,
"We just get snippy with each other a lot more often"
After having revealed all the problems, Maci confronted that she is an easy person and doesn't need much to feel appreciated,
"To be honest with you, he could go the rest of our lives and never tell me 'thank you' or you're awesome, Just grab my ass every now and then and give me a kiss."
It's not been long since the couple started taking counseling. Hopefully, it will help them recover from all the problems that exist between them!
More Insight On Maci Bookout's Personal Life:
Maci Bookout, whose birth name is Maci Deshane Bookout, has been one of the most liked actors of the show Teen Mom OG and is known as hardworking women. Mother of three, Bookout ages just 25, as she was born on 10 August 1991, Chattanooga, Tennessee, USA.
She married at the age of 24, with Taylor McKinney, a motocross racer on October 8, 2016. It was after three years of dating him; she finally could call him her husband.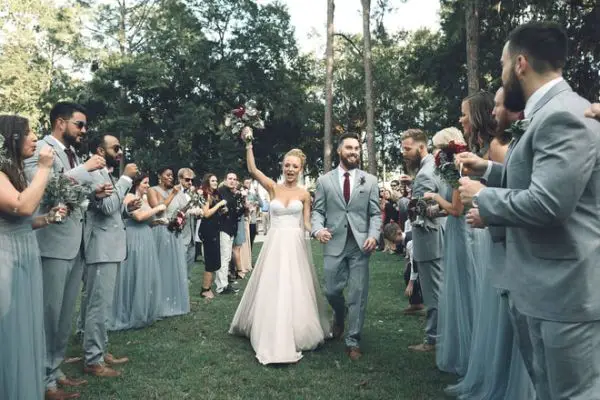 Caption: Maci with the groom, Taylor on their marriage, smiling as they walk down the aisle.
Photo Credit: Usmagazine.com
Furthermore, it was reported that she was pregnant with her third child before marriage and how she knew about her pregnancy two days before Taylor proposed her. She gave birth to the child on May 31, 2016, and later named him Maverick.
Maci has not given much information about her parents, but we do know who they are. Sharon Bookout is Maci's mother and also was the one, taking care of Maci and Maci's kids during her illness.
Maci reportedly suffered from a mystery illness back in 2013, and she tweeted describing the painful experience that the disease caused,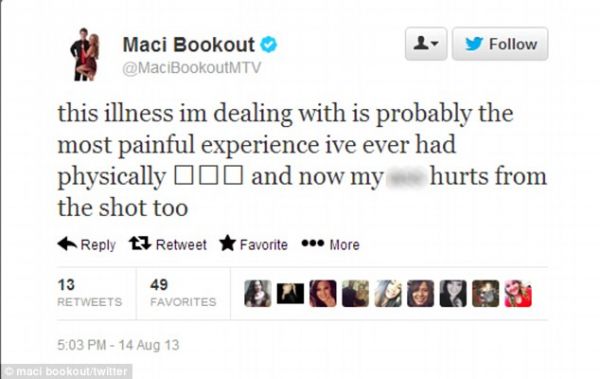 Caption: Maci's tweet about her illness
Photo Caption: Dailymail
Maci's father, Billy Eugene Bookout, also made it to the news in 2012 as he was arrested for writing worthless checks. The news reported; Billy was accused of passing a bad $668.74 check to a car company for auto parts. The case was later dismissed in April the same year after Billy paid $949.74 in fees.
Apart from her family and professional life, Maci loves taking some time out to relax. She was spotted frolicking in the Miami Beach, Florida back in 2014, where she was seen smoking cigarettes and drinking beer and cocktails alongside.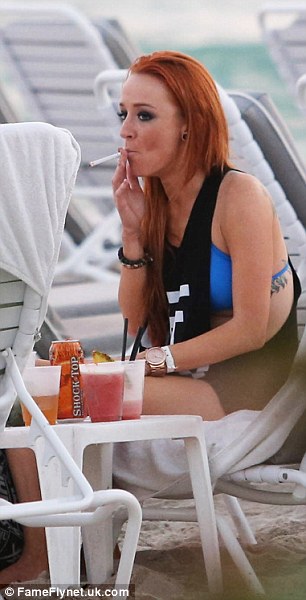 Caption: Maci smoking a cigarette at the Maimi Beach.
Photo Credit: Dailymail
However, the way she is enjoying her moment in the above picture, we wish her to get over her marital problems soon and enjoy every bit of her life to its best.
Stay with us for the emerging updates on the story!