Entertainment
Married And Divorced Once, Did Kathy Griffin Turn To A Lesbian Or Has A Boyfriend?
Marrying and getting divorced later on may leave some people in total despair because splitting away from the person who once meant the whole world could be a real pain. However, mourning over a dead relationship is a waste of time but is moving on that easy? Let us know if it is or not by looking at how Kathy Griffin coped up with her married life.
Kathy Griffin, a 56 years old comedienne who is quite famous for making people laugh has her side of sorrows deep down hidden. Kathy Griffin was previously married to Matt Moline on February 18, 2001. The husband and wife initially had a loving relationship as far as the media knows and Kathy even had tattooed wedding ring.
Marriage That went Sideways And Turned To Divorce:
Later on, luck flipped on the couple and Kathy came to notice that her bank account was getting thin and the reason was her husband stealing from her. She revealed the fact to Larry King and said,
"My ex-husband, without my knowledge, was sneaking into my wallet when I was asleep in the mornings and taking my ATM cards of my own private accounts and withdrawing money."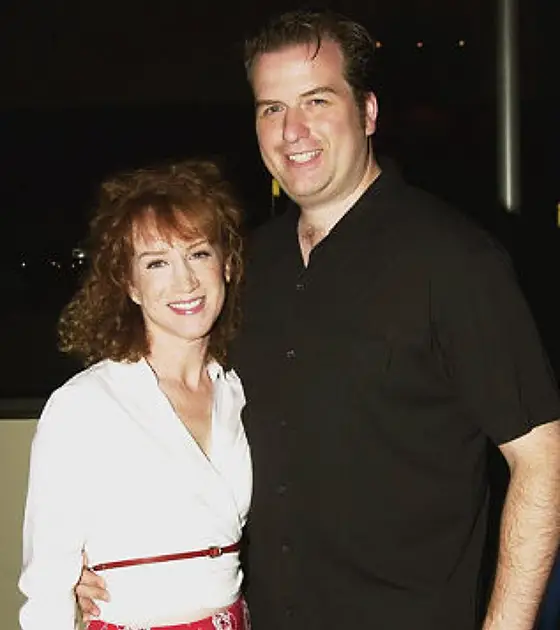 Caption: Kathy Griffins posing happily for a picture with ex-husband Matt Moline.
Photo Credit: nydailynews.com
Kathy was determined not to give up on her marriage just because of some money issues and went to couple therapy sessions but ALAS! Everything fell apart for the couple after an attempt to reconcile and got divorced from May of 2006 and also had her tattoo removed. She said,
"He admitted it and apologized and … we went to couples therapy. I really wanted to make it work."
Matt scammed about $72,000 from Kathy which led to some trust issues afterward. While Kathy decided to go public with her struggle her ex-husband had a different perception. He stated,
"Since our divorce. I have not made any public comments about my ex-wife or our marriage. It saddens me that she would choose to make such accusations at this time. I have no intention of engaging in a public debate over private matters."
At that moment, Kathy claimed that she was not dating anyone and solely dedicated towards her work. She mentioned,
"Eventually, I end up putting everything in the act. I kind of turn tragedy into comedy and I find that that's a great way for me to deal with it."
A Boyfriend Somewhere In The Corner?
Even though Kathy claimed that she was dedicated to working and was not dating anyone at that particular moment, it looks like she has found her way to love again. Kathy who vehemently supports gay/lesbian and same-sex marriage recently opened about her blooming relationship with marketing executive Randy Bick.
The 56 years old confirmed that her relationship with exec boyfriend is stronger than ever despite the fact that he is 18 years old younger in age. She said,
"Well you know I didn't think it would last [because] he's 18 years younger than I am!"
Caption: Kathy Griffins talks about how she met boyfriend Randy Bick (2016).
The couple has been together for five years now after meeting for the first time at a food and wine festival, a night that Kathy thought to be just a casual one night stand. She said,
"Because I thought he was just a man-whore if you will. So yeah, we've been together five years now, and we have a great time, and he's very sweet and very mellow. He's like a regular guy, you know, he's like a real guy. He's not like a Hollywood guy."
While talking about a relationship with boyfriend, Kathy also revealed that she has no intention to have a baby and does not expect the boyfriend to expect one too.
"But since I don't have children and hopefully am barren, and I don't think my young boyfriend is gonna be expecting kids anytime soon – because I told him if I have two eggs left, he can have an omelet, but that's all!"
Plastic Surgery And Other Complications
As the fit, sexy and full of confidence Kathy looks these days, she once was a victim to low self-esteem. With a not-so-much-perfect nose, Kathy was always recommended to have a nose job and to subside her insecurity; she did have plastic surgery for her nose. That's not the end. At some stage of her life, Kathy became obsessed with losing weight.
She went to the extreme and tried diet pills while starving body the whole day and it all brought her consequences. She later did manage to lose 15lbs following her big break infamous sitcom Suddenly Susan. Now, realizing everything, Kathy maintains her weight with healthy lunch, well-balanced diet, and exercise.
"Staying in shape is a struggle. I struggle with it every day. I just came from a very healthy lunch but the whole time I was having the healthy lunch I wished I was having cupcakes. It's not a simple thing. I have to watch what I eat, and I have to work out quite a bit."
Gapping her appearance from the TV screen, Kathy recently appeared in Lopez (2016), and Shane & Friends (2016), and does not have any pending projects whatsoever.