Entertainment
Martha Higareda Hushed Up On Married Life With Partner! Getaway Bliss
Mexican actress, Martha Higareda, acclaimed her fame with the very first movie, Amarte Duele (2002) which awarded her with the title of Silver Goddess, 'Revelation Actress' and MTV Latino Movie Award for the Favorite Actress.
Well, it has apparently, earned her with a big fan following and probably, have captured the heart of many fans. But the startling news is, she is in the committed relationship with her husband.
So, are you in a dilemma about her married life, then you have dropped in the right place.
Martha Higareda Changed Her Dating Life To Married!
The Mexican actress, Martha Higareda was in the dating relationship with the actor Cory Brusseau since the year 2011. They met through their mutual friends back in 2011 in Los Angeles.
Being in the same field, the couple has also worked together. While working together, the pair was so close to each other that their friendship turned into a love relationship. Martha and Cory then appeared together in the video clip of Jesse & Joy, 'Who does the dog stay with?'.
Martha starring opposite to Actor Cory in video of Jesse & Joy's, 'Who does the dog stay with?' (Published on 8 Oct 2012)
However, the things did not go smoothly in their relationship. After spending years in a long distance romance due to Martha's travel's, the couple decided to end their relationship in April 2015. It was a time when they decided to take distance, however, the couple almost after six months, retook their vows of love.
Well, Martha Higareda revealed that she wanted to give another chance to their relationship and has found the perfect partner for her.
"I am happy, I had given myself some time but now I came back, we took up the relationship, the truth is that I have known him for a long time and we are best friends and that makes you have a very solid base"
They returned to their old-self and consolidated their relationship and unite to get married.
The Mexican actress Martha Higareda got married to her longtime boyfriend, the American actor Cory Brusseau on the island of Hawaii, US, back on May 8, 2016. The marriage ceremony took place in a low-key wedding ceremony. The Hawaiian ritual lasted eight hours in the presence of close friends and family, in a beautiful garden by the sea.
These were the words that the actor Cory dedicated to Martha on their wedding ceremony.
I want to share everything with you, it seems that I am crazy, but our friends are here to help me tell you what I really love you.

I think it is one of the deepest days of my life, because I know that I love you, I know you understand what I want to communicate, what I feel for you, I love you and I am crazy for you!

I promise you with all my soul that I will always be by your side, like a true man, like a great leader.
The marriage ceremony of Martha Higareda, Cory Brusseau (Published on 15 Aug 2016)
It seems that the couple is supporting each other and are rejoicing their life. Well, the actress Martha was even present on the red carpet with her hubby Cory at the premiere of his film, 'Live for Me.'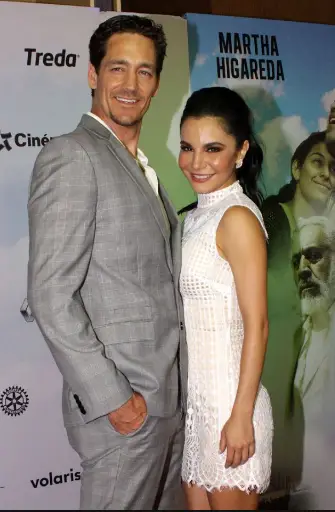 Martha Higareda and her husband, Cory Brusseau on the red carpet premiere of 'Live for Me.' (Photo:Yahoo)
Well, before indulging in the relationship with the actor Cory Brusseau, she was linked with her Street Kings' co-star Keanu Reeves, back in the year 2007.
Likewise, she has also worked in the movie Casa de Los Babys (2003), 7 Dias (2005). Similarly, for her role in the film, Sex, Love and Other Perversions (2006), she was again nominated for the Silver Goddess. Her performance in the movie, Charm School, back in 2007, broke the blockbuster records and help her receive Mexican Academy Award nomination for best blockbuster records in 2007.
Martha's recent filmography includes 3 Idiots (2017), Steven Universe (2017) and Altered Carbon (2018).