Entertainment
Martyn Lawrence Bullard Life With Gay Partner! Their House Of 'Changes'
English Interior Designer Martyn Lawrence Bullard, who starred in the famous Bravo series Million Dollar Decorators, has found love not only in his works but also in a person he adores dearly.
The Lewisham native has spent much of his life with his partner, who shares some unforgettable moments with him.
Mature Gay Love, Parents To Baby Girl
Martyn Lawrence Bullard, who has his creative mind presented in the homes of celebrities, not only has a jaw-dropping career but also contented love life. Martyn shares a solid chemistry with his gay partner Michael Green, a television and film producer.
He has been in a romantic relationship with Micheal for a very long time. He has been living with his partner-in-crime since 2007. The pair celebrated their ten years anniversary in April of 2017.
Martyn Lawrence Bullard Celebrates Partner Michael Green's Birthday on 21 April 2018 (Photo: Martyn Lawrence Bullard's Instagram)
However, it has been still a mystery how they first met and fell for each other.
While going through their Instagram accounts, they seemed to be living a life filled with love and romance. Martyn has been on tour with his long-time partner to various parts of the world. The pair has traveled together to Las Vegas, Italy, Greece, and few other places.
Adding to it, Martyn has not missed out on appreciating his partner. Martyn frequently plans romantic dates with Michael; the dates are usually well planned and luxurious.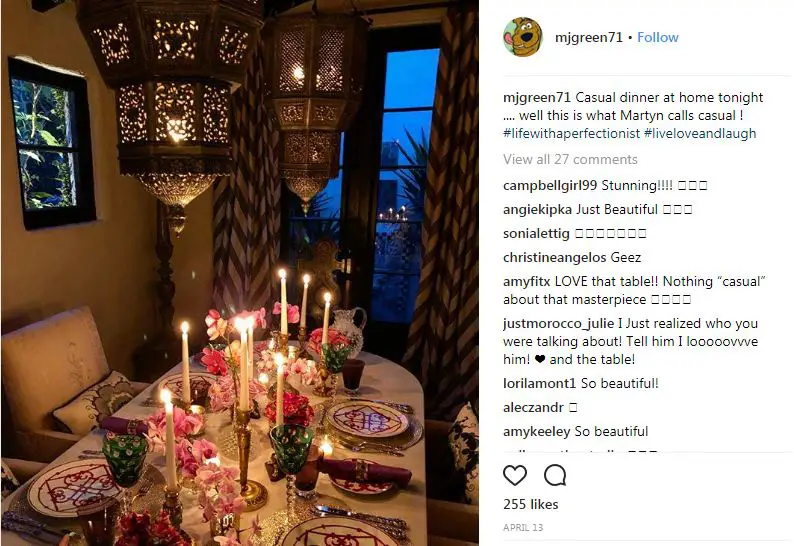 Martyn Lawrence royal-like dinner date with boyfriend Michael Green in 2018 (Photo: Martyn Lawrence's Instagram)
Martyn also shares a pet together with his live-in boyfriend. The pair has a dog named Daisy whom they consider their baby girl. They take care of Daisy as if they were parents to a human baby.
Well, surely Daisy is cherry on the top of Martyn's blissful love life.
Dynamic Partner Meets Simplisist
Martyn Lawrence Bullard, who has been named one of the world's top 100 interior designers by Architectural Digest, lives together with his long-time boyfriend Michael Green in a Twenties-Mediterranean-style villa in the Hollywood Hills.
Martyn, who has a net worth in millions, not only considers his house a living place but also his experiment pad. Martyn likes to try out his creative new ideas in his house first.
While Martyn keeps his creative juices flow and tries out new things that result in frequent changes in their lives, his other half Michael prefers a constant life.
Martyn while talking with Evening Standard opened about the time Michael moved in with him and said he had to replace Michael's yellow toothbrush with a black one because it did not go well to their bathroom. Quite a perfectionist himself!
Despite Martyn's dynamic personality which brings a constant change of fabric or the jewels in their living room, he has found love and a family with his partner Michael.