Entertainment
Tatto Artist Megan Massacre Reveals Dating Essentials; Meet Ideal Boyfriend
American female tattoo artist Megan Massacre has been kissing the fame way before she starred in the tattoo reality TV series, NY Ink (2013).
Besides career, her dating life has a different story of its own as well!
She had a boyfriend, who cheated her with her best friend. Besides, Megan, who seems possibly single, has also revealed dating requirements in one of her interviews.
Well, don't you want to confirm whether the qualities Megan desires match with yours?
Tag along to know the dating requirements of Megan Massacre along with her bio-related information.
Boyfriend Cheats With Best Friend
Megan Massacre, born 8 September 1985, was dating Joe Letz, the drummer of Combichrist back in 2011 and kept her dating life transparent on social media. The Philadelphia born native was in love and did not miss to wish her boyfriend on his birthday. Taking her boyfriend's birthday to social media, Megan tweeted on 2012 quoting,
"Happy Birthday to the best boyfriend in the whole world."
Similarly, she wished her boyfriend again on social media in 2013 via Twitter, writing:
"Happy Birthday to the best boyfriend in the world and the love of my life."
Megan's social media helped disclose not only sweet birthday wishes but the update on her dating life as well. She tweeted on 31 October 2013 claiming the couple has been together for two years.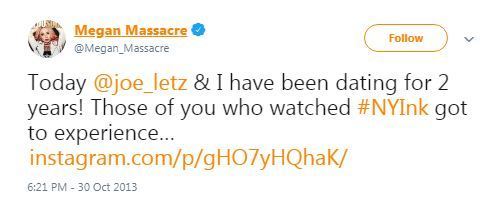 Megan Massacre reveals she has been dating Joe for two years (Photo: Megan Massacre's Twitter)
The couple also celebrated 2014's Valentine's Day together at Rockefeller Center, which Megan tweeted the same day.
Despite such affection, the couple later removed all their adorable Instagram images, which first hinted their split. Later, she confessed that she found her boyfriend cheating on her with her best friend, which became the dealbreaker.
Well, Megan has separated with her boyfriend since the cheating and wanders with her "single" tag.
Ideal Boyfriend's Qualities
The successful female tattoo artist, Megan is much more than the reality TV starlet.
Megan has charmed around many people but it seems no one has been able to charm her. However, Megan, who seems to be waiting for true love, has opened up about the qualities that she is seeking on her ideal date.
In an interview with maxim.com in May 2017, she was asked about her ideal date, to which she replied,
"One that shows that the guy has paid attention and remembers things you said you liked, and surprises you with those things."
Despite such revelation, it seems she has not found her perfect partner as her social media seems empty in regards to dating anyone. She might be aspiring towards her career from the Australian Netflix series Bondi Ink Tattoo Crew keeping aside the relationship goals for the time being.
Keep Visiting to stay updated on the life of Megan Massacre!