Entertainment
Melinda Messenger Revealed Being Ready To Get Pregnant With Boyfriend While Moving On From Ex-Husband
Pregnancy is life altering decision for any woman, and it takes a lot of conviction and courage before committing and revealing it publically. And going through similar feeling in life is Melinda Messenger, and it's distinct that she is ready to be a mother again with her boyfriend while moving forward from her ex-husband.
Looking forward to becoming a mother!
Melinda Messenger met her boyfriend, Warren Smith in a reality show 'The Jump" in 2014, where Melinda Messenger was a contestant, and Warren Smith was her ski coach.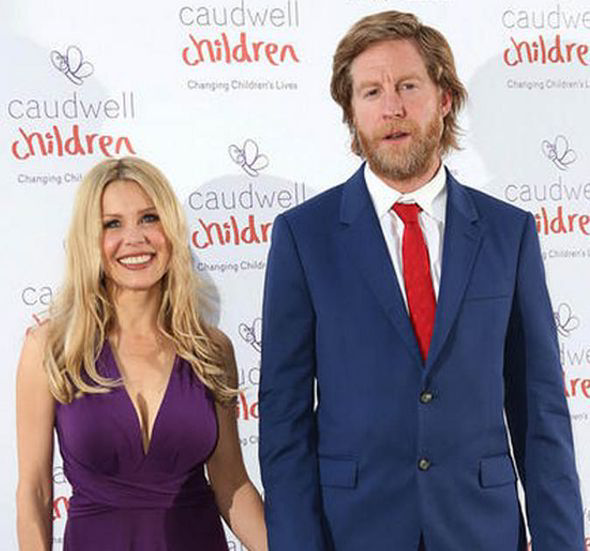 Caption: Melinda Messenger with boyfriend Warren Smith arriving for the Caudwell Children Butterfly Ball at The Grosvenor House Hotel, in London on May 15, 2014.
Photo Credit: express.co.uk
The couple admitted in an interview with Hello! Magazine that they were surprised when they started to develop feelings for each other. Melinda in an interview with the magazine said;
"It was absolutely the last thing either of us was expecting when we signed up for the show,"
she further said;
"But we got to know each other over cups of tea and hot chocolate in between training and it was uncanny how much we connected."
Also, Warren Smith expressed similar feelings in the same interview, and he said,
"Obviously there was a strong physical attraction between us, " "But I definitely knew pretty quickly that I'd met my match mentally, too. She had got into my head".

Warren Smith further added, and said,
"To me it feels like we're best friends, who laugh all the time and make one another happy. The friendship, the humour, the honesty and the shared values we have is what holds it all together. And I think that's a pretty good starting point."
After a couple of years, on December 18, 2016, a joint interview with Melinda Messenger and Warren Smith with Hello Magazine, Melinda expressed her feeling on getting pregnant to have a baby with boyfriend Warren Smith. And elaborated herself and she said,
"All the kids are desperate for Warren and I to have a child together and it's certainly something we've talked about a lot. Warren's very keen, too,"
she further added;
"I would love to, but there's no escaping the fact that, even though I keep myself fit and healthy, I would be an older new mum and that does worry me."
In the same joint interview, Warren Smith totally agreed with Melinda Messenger, and further said,
"I love Melinda and what label our relationship has doesn't matter to me, but I do think it would be lovely to be husband and wife and I know it's something the kids want."
Further, the couple Melinda Messenger and Warren Smith in the interview gave an insight into their family life, where Melinda said,
"The friendship and love our children have developed for one another is just gorgeous to see. They are a really strong little pack and that's not something either Warren and I have forced."
Moreover, feeling happy she said,
"We've all been finding our feet, that's the nature of stepfamilies – but we've come through the other end and the payback is tenfold."
Melinda Messenger has three children with her ex-husband, and Warren Smith has a son, and together they are strong, and their bond has grown beautifully, and it has been captured really well in this picture.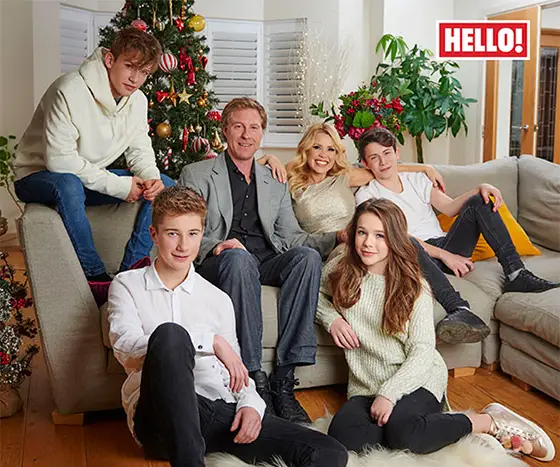 Caption: Family of Warren Smith and Melinda Messenger posing together for Christmas 2016 for Hello!
Photo Credit: Hello Magazine
Earlier Melinda Messenger's she has suffered Post Natal Depression after the birth of her second and third child with ex-husband Welshman Wayne Roberts and concluded not to have any more children after that.
But now surprisingly she is looking forward to becoming a mother to Warren Smith's child. Thus, it's distinct that Warren Smith has been a positive influence in her life.
Faced Failure in Past Married Life.
Previously Melinda Messenger met Welshman Wayne Roberts- a plumber in Swansea nightclub, and their teenage romance replicated into marriage on 26 November 1998 in Bali, Indonesia, and together they share three children Morgan Kelly(born 2000), Flynn Jefferson (born 2002) and Evie Brooke (born 2003).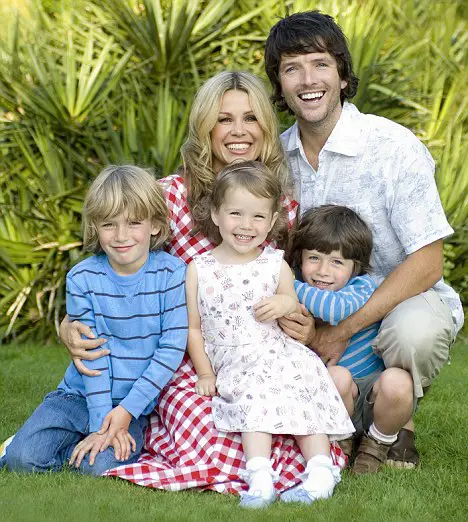 Caption: Melinda Messenger with her ex-husband Welshman Wayne Roberts with two sons and daughter together.
Photo Credit:dailymail.co.uk
However, the couple ended their decade-long marriage and finally got divorced on April 15, 2008. They divorced for good and maintained an amicable relationship thereafter for the sake of their children. In an interview Melinda said,
"Our break-up was more about growing apart. Now we have a good friendship. He's totally supportive and involved with the children. It's working fine."
Born on February 23, 1971, Melinda Jane Messenger, is an English Television presenter, glamor model and page3 regular. She has also appeared in "Celebrity Big Brother," "Live From Studio Five," "Celebrity Swap," and "Dancing on Ice."