Entertainment
Melissa Rycroft Wedding With Husband Turned Out To Be The Best Decision! A Look At Her Family Of Five With Three Kids
The family is always an important part of everyone's life as they are connected to us by birth. Similarly, life partner is the one who helps us create a new family; and It's lucky enough to have a partner who understands and supports you throughout the journey.
Melisa Rycroft, a woman who has such an understanding partner, said that marrying her husband was the best decision of her life. Today, let's take a look at her married life with her husband along with her relationship with children.
Wedding Turned Out To Be The Luckiest In Melisa Rycroft's Life!
A perfect wedding, that too with a loving husband who stands there in every path of life is a dream of every girl. And that is what happened in Melisa Rycroft's life!
Melisa is married to Tye Strickland, which she claims to be the best decision of her life. They tied the nuptial knot back on 12 December 2009 at sunset in a beach ceremony in Isla Mujeres, Mexico after they remain engaged for six months.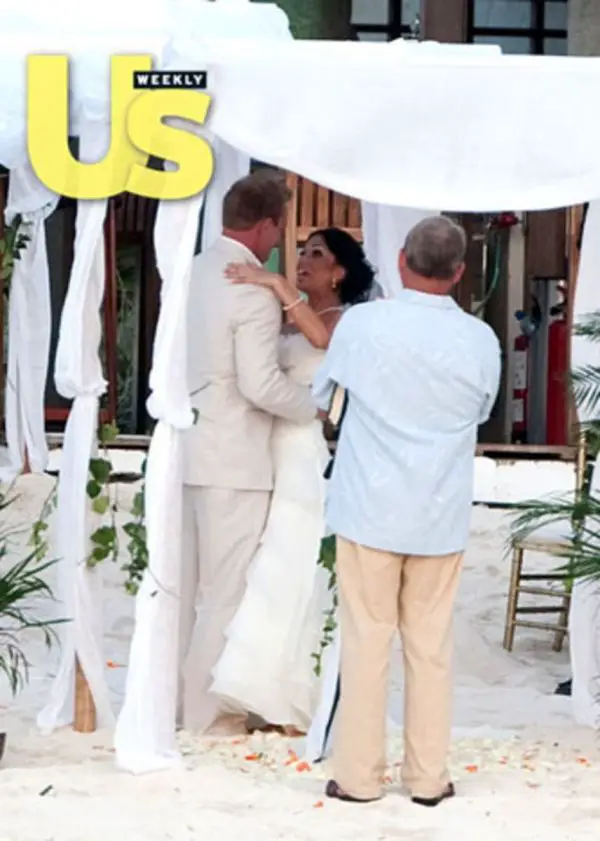 Caption: Pictured during Melissa Rycroft and Tye Strickland marriage ceremony.
Photo Credit: usmagazine.com
Melissa ad Tye share three kids together. Their first baby, Ava Grace Strickland, was born back on Feb 16, 2011. After three years, they conceived their second child, a baby boy, Beckett Thomas on 20 April 2014. Finally, their third child, Cayson Jack was born on May 18, 2016.
According to Melisa, the names of children are the signs that tie them together. Rycroft explained,
"As corny as it sounds, once we had Ava and Beckett, we were like, 'We have A and B, it would be kind of cool if we had C,'
She further added,
"I've picked the right guy and we've made the right choices in life and we're being rewarded with this amazing family,"
Moreover, some reports suggest that she also suffered a miscarriage between the births of her first two children.
Melisa seems to be enjoying her parenthood to the fullest, as she loves sharing pictures with them and her partner on her Instagram.
An example of that was visible back on May 14, when Melissa shared their family photo on the occasion of The Mother's Day.
Not only that, she shares images with her husband and children on many other occasions as well.
Moreover, talking about Melissa's past love life; she had a seven-year relationship with a boy back in her school time. They split when they reached college, while after two weeks of break up, the boy married another girl.
Then she met a guy named Jason Mesnick, on The Bachelor. She was engaged to him, but the guy dumped her as he admitted he was in love with the runner-up, Molly Malaney.
As of now, her love life is going in smoothly with Tye Strickland.
Let's hope their relationship lasts life long!.
More About Melisa Rycroft:
Melisa Rycroft, a beautiful woman, handling her personal and professional life beautifully was born on March 11, 1983, Dallas, Texas, USA. She is a daughter of Bob Rycroft, a managing director at TDn2K and Mary Rycroft.
Back in 2013, Melisa bought a new house and shared the picture, while she was shopping for the house through Instagram.
Throughout her life, she indulged herself in many fields of profession. Previously, she was the Dallas Cowboys cheerleader. Moreover, she was a sales representative from Dallas, Texas.
Later, she became a special correspondent for Good Morning America since June 2009 and is also a guest correspondent for Entertainment Tonight since February 2010.
Although she is yet to reveal the exact figures of her net worth, it is estimated to be $1.5 million.
Stay with us for the latest updates on Melissa Rycroft!