Entertainment
Mike Tirico Not Only Possess a Humongous Net Worth And A Beautiful Wife But A Dark Past Many Men Are Afraid To Have
Everyone has the past, but not as similar as pro-broadcaster Mike Tirico's have to face. Having his feet as a media personality, he does have an awful history, Stunned? Hold that for a while because in our story today; we will make you well-known about the very topic of Mike Tirico.
Blissful Marriage Life Yet Amid Gloomy Past:
With the golden voice and a charming appearance, Mike Tirico is famous among many. He is also known for his punditry as a sportscaster. With dynamic personality, he impressed Debbie Tirico with whom he got married.
There is no any exact date of the couple's marriage, but they share a healthy marriage life with two children and resides in Ann Arbor, Michigan since 1999.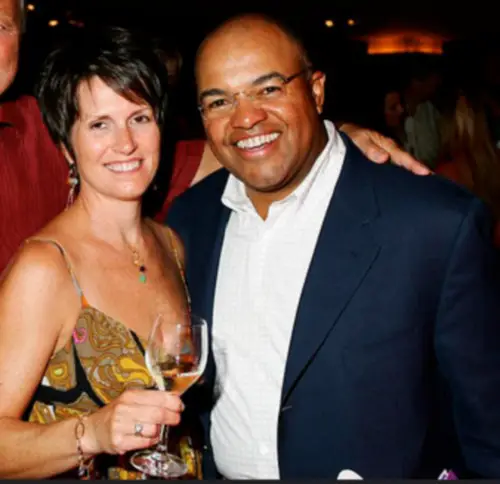 Caption: Euphoric marriage life of dynamic personality, Mike Tirico with his wife, Debbie Tirico (2014).
Photo Credit: theballerlife.com
After joining ESPN in 1991, he got surrounded with sexual harassment controversies. He was said to be involved in ragging and stalking his female co-worker, that incident of his spread like wildfire in media. The incident was of the early 90s in a get-together party of the ESPN family. Following that incident of Mike Tirico, he was even suspended for three months from his job.
The harassment case is said to be given life in the book of ESPN: The Uncensored History (2000) by former New York Times sportswriter Michael Freeman and 2011's These Guys Have All the Fun (by James Andrew Miller and Tom Shales). As per These Guys Have All the Fun, the book said,
"One of the most notorious cases to arise was that of Mike Tirico, who became very unpopular with some of the women on staff."
The case is traveled in The Uncensored History, which has given the detailed explanation of the incident. According to the book, Mike had to go through a case, but later the apology made it up to the female which put an end to the case. Then, Mike Tirico got back to ESPN family and served till the contract ended in the summer of 2016.
However, taking no notice of the dark past of Mike Tirico, the couple is heading on with an unyielding bond, bind by the love and support.
More About Mike Tirico:
The American ethnicity sportscaster Mike Tirico publicly stated that he is neither black nor African-American. According to sources, he mentioned,
"because of his dark skin and ethnic features, most people assume he's black. But he's seen pictures of his father, his father's mother, and his father's sister, all of whom are white."
On that regard, referring to his parents, he said,
"The only contact I had growing up was with my mom's side of the family," And they are all as white as the refrigerator I'm standing in front of right now."
Adding more detail he stated,
"I know the story sounds like a lot of bull, but it's the truth. Does it matter to me? Yeah. I'd like to find out the truth at some point, so I can answer questions for my kids. But me? I'm living, I'm working, I'm leading an upstanding life. I don't worry about it."
Well, that is quite peculiar to know about one of the best sports announcers of all time.
Furthermore, Mike Tirico is best referred to as a sportscaster for NBC and multitude of programming for ESPN and ABC. Before, NBC he was a play-by-play announcer on ESPN's Monday Night Football from 2006 to 2015.
He was also one of the anchors of the FIFA World Cup 2014 by ESPN's coverage. He also broadcasts NBA games on both ABC and ESPN. With all his work as a broadcaster, he has an annual salary of $3 million and has a great net worth of $6 million.