Entertainment
Millie Bobby Brown's Sacrificed Her Long Hair To Be The Eleven But It Wouldn't Be Possible Without Her Family's Support
The way to success is not easy as it demands a lot of sacrifices. Moreover, the price of achievement doesn't distinguish between young and old age. Twelve-year-old Millie Bobby Brown whose name has been now the synonym of fame and success also had to make her sacrifice to gain the stardom that she is enjoying today. And it's the support of family through thick and thins that give us the strength to carry on in the journey of life. Similar is the story of Millie and her family.
Family Is The First And The Last Resort:
The success didn't come to Millie overnight as her family had to go through a rough financial experience; wherein the process of fulfilling her dreams, they almost went to the status of being bankrupted.
Born as a third daughter among four children to parents Robert and Kelly, her other siblings are 23-year-old, Paige, 18-year-old, Charlie, and four-year-old, Ava.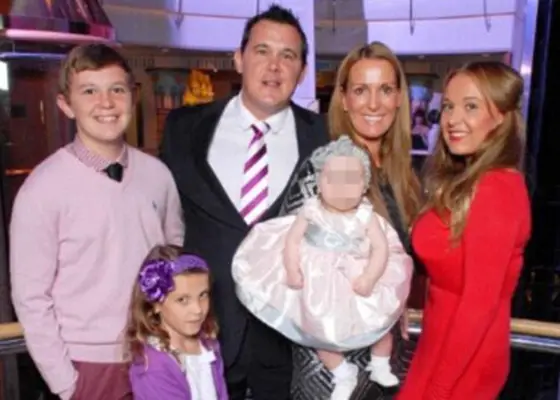 Caption: Millie's supportive family including her brother Charlie, father Robert, mother Kelly holding Ava and Paige from left (2016).
Photo Credit: dailymail.co.uk
From her early days, she had a keen interest in acting and says, to the daily mail,
"I did a lot of school plays. I was a drama queen."
Her father adds,
My other children would watch cartoons, but Mill watched musicals – Chicago, Moulin Rouge, Annie and Bugsy Malone. She'd belt out a tune. She was performing from day one.'
As she was born with the acting talent, she got enrolled in a weekend stage school. She recalls,
'It was acting, dancing, singing four hours every Saturday. There was a showcase and an agent said she wanted to represent me.'
When the agent said that they need to move to Hollywood, they sold their every possession in the U.K and flew to U.S.A.
Initially, though she got small roles in shows like Modern Family, Grey's Anatomy, she couldn't land in starring roles. So, things were beginning to be very tight in her family that they had to take money even from Millie's manager Melanie Greene to run the household and says,
'It was very hard,'. 'There were lots of tears along the way.'
Things even got worst for the family that they had to return to U.K where they stayed at her aunt's house. Millie tells,
I was devastated. I wasn't getting work. I thought I was done,'
Finally, she got a significant break in "The Stranger Things" that changed her life entirely. Today she is flooded with many films, and tv offers that she exclaims,
'I never in my wildest dreams thought this would happen.'
All thanks to her family as during the rough time didn't give up on her but stayed strong as a family. So, her family is the prominent reason that she is today living her dream.
Millie Shaves Her Head Despite Some Objection To Playing Eleven:
In the sci-fi series called "Stranger Things," the show's script demanded Millie to shave her hair to play the role of a telekinetic girl Eleven. However, her mother and grandparents objected this. Millie recalls to the mirror what was going in her mind at that time as,
"I read the script and I was so happy with my character and I thought: 'This is how it's gotta be'. My mom and my grandpa were like, 'No, you can't do that.'
It took me 12 years — well, 11 years — to grow something. [My hair] wasn't thick, but it was long. And then they shaved it all off and it was very hard for my parents. But I convinced them. I was like, 'Dude, it grows back. It's fine.'"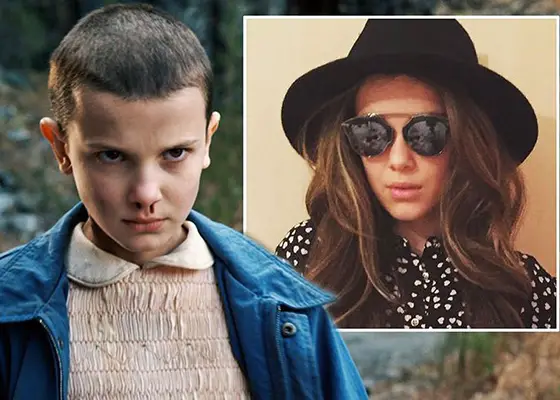 Caption: Child actress Millie shaves her long hair for the role of Eleven in Stranger Things (2016).
Photo Credit: mirror.co.uk
She also made the 2-minute clip of her hair shaved and shared it on Twitter.
Though fame has kissed her way bringing lots of fans in her life, she doesn't have a boyfriend. This is probably because she is too young to be in a relationship.