Entertainment
Openly Gay Mitch Grassi Gushes On Husband! Who Exactly Is He?
Mitch Grassi, the lead singer of the acapella group, Pentatonix, is famous for their cover of Queen's Bohemian Rhapsody. Mitch, who also identifies as an actor, has performed in various movies including Pitch Perfect 2 (2015), Bones (2005) and has also appeared in the famous talk show The Tonight Show Starring Jimmy Fallon.
Moving aside his professional career, John also has a gushing married life. But who is the lucky one? Let's talk about the romantic persona of Mitch along with other personal details!
Openly Gay, In A Relationship?
Mitch has been living an openly gay life and it seems like he has a romantic partner, whom he can identify as a loving husband.
Well, Mitch's beau is non-other than his bandmate Scott Hoying and they have known each other for a long time. The two first met at a theatre in Arlington, Texas, while performing their first lay together, Annie.
Although they got separated attending different schools, Mitch and Scott were reunited after about a year and a half.
When asked about his first impression of Scott, Mitch revealed in an interview with Billboard on 21 June 20,
I remember thinking Scott was really, really funny and very enthusiastic.
Mitch further went on to reveal that the two were comfortable in each other's company and even though they were both hiding in the closet at that time, both Mitch and Scott subconsciously knew that they were both gay.
Mitch and Scott, who co-hosts the Youtube channel Sup3rfruit, have never identified each other as boyfriends. Further, they only describe each other as best friends, however, looking at their pictures together it's hard to say that they are not dating.
On 30 October 2014, a Youtube account named KayCey Ray uploaded a video of them cuddling together.
Moreover, Mitch also uploaded a picture on his Twitter on 9 May 2017, where the two could be seen posing bare-chested and hugging each other.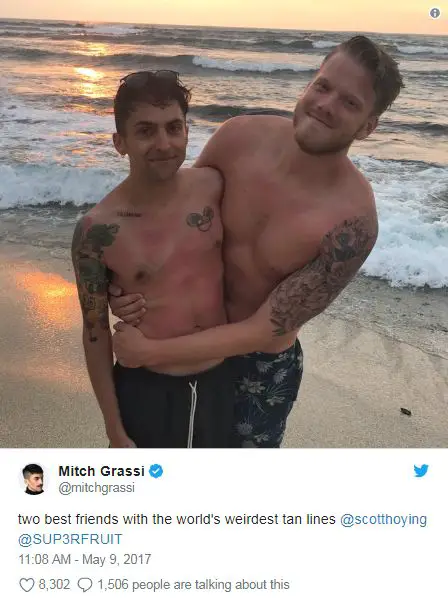 Mitch and Scott spend time together at the beach on 9 May 2017 (Photo: Mitch Grassi's Instagram)
Mitch and Scott are also known to address each other as "spouse" even though they are not officially married. On 24 July 2017, in reply to a tweet, Mitch introduced Scott as his husband via a post.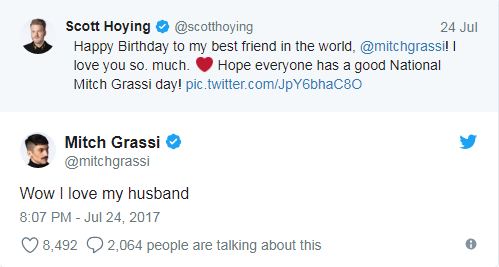 Mitch identifies Scott as his husband on 24 July 2017 (Photo: Mitch's and Scott's Twitter)
Mitch and Scott have never confirmed about their dating status. Mitch, who enjoys a net worth of $8 million, has not revealed much about his relationship with his male friend in the recent days. But hopefully, in the near future, the couple will tie the knot and finally pronounce each other as husband and husband.