Entertainment
Nicola Roberts Ended Things With Boyfriend; Having A Secret Affair With Partner With No Time To Get Married?
Famous English recording artist, fashion designer, and songwriter Nicola Roberts has made quite the name for herself when it comes to her professional life. She is most famous for being in the band "Girls Aloud" and has had her fair share of success with the girl group which she richly deserves to taste success.
But did you know that she once had a long run boyfriend who she split with? Also, what does her love life look as of now? Is she dating some new partner in her life and will she get married anytime soon? Let us find out!
Roberts' Love Life: Then And Now:
Roberts is beautiful, talented and smart and hence, she has been able to win over a lot of hearts around the globe. The hearts she has won have led to having many fans and those fans often wonder what the romantic front of Roberts' life looks like.
For those who you did not know, she was once in a relationship with her former boyfriend, Charlie Fennell who was an entrepreneur.
The two are reported to have begun dating back in 2007. The two were in a relationship for 6 years and the love between them was so dedicated that they even moved in together in 2010. They bought a home in Weybridge, Surrey in 2010 and had 2 pugs, Ronnie and Reggie who Roberts termed as "substitute sons".
But the fans were left in awe when the two secretly broke up during the end of 2013 citing the fizzing out of love between them as the prime reason. Sources say,
'Nicola and Charlie split at the tail end of last year.

'They just kind of grew apart - they had a great run but they both felt their relationship had come to an end.'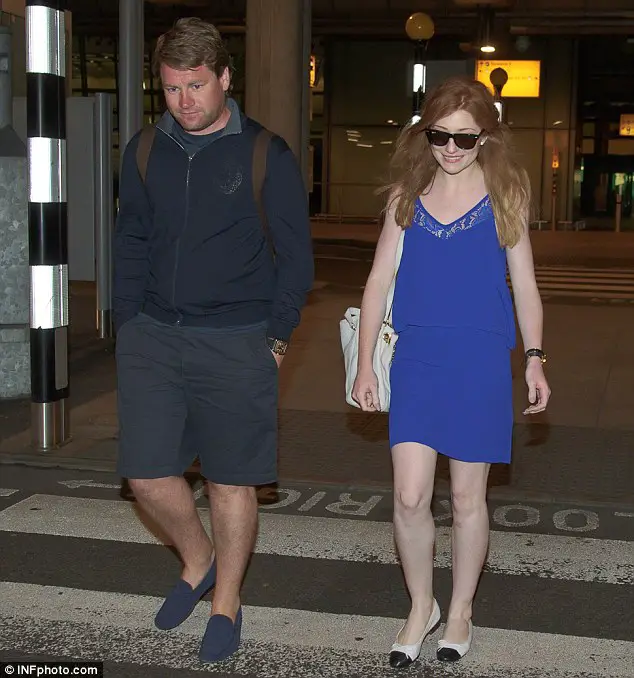 Caption: Fizzing out of love between them led Roberts and Fennel to end a 6-year long relationship (2013).
Photo Credit: INFphoto.com
However, the two involving parties have kept their mouths zipped up regarding the demise of the relationship and it's fair enough as they might not want to discuss their personal matters with the media.
Nonetheless, Roberts was not going to go around dwelling over what happened with her love relationship and reports said, she was enjoying being single again. As per sources,
'Nicola is really enjoying being single again. She's been back out partying loads and is really enjoying making new friends and being out at showbiz parties.

'She's definitely still single, and she's not looking to settle down quite so much so soon.'
The statement gives a general giveaway that she is not yet thinking of having someone new in her life and thus, the talks for her to get married and have a husband in her life are also pushed away. Roberts who once said that she wants numerous kids also explained and justifies the cause with her own statement.
'It's in my future but not in my near future.'
But let us wait and see if she comes up with any exciting news on her love and marital life in the days ahead.
Makeup And Beauty Tips From Nicola Roberts:
Not only is she famous for her musical accomplishments, she also is a style icon and beauty inspiration for many. People often wonder what sort of makeup she does which makes her even more attractive than what she already is. For those who wonder the same, we have got IT all covered for you.
In an interview, when asked what beauty products she swears by, she replied,
"I love Elizabeth Arden Eight Hour Cream. I apply it liberally to my lips throughout the day and before bed. It's also great for your hands, especially in the winter. For those days when I do need a little more help, Rodial Dragon's Blood Eye Masks are great, along with the Dragon's Blood Hyaluronic Mask."
Also when asked what her essential cosmetics are, she said,
Charlotte Tilbury Light Wonder foundation and Magic Cream, as well as her Supermodel Body illuminator. She understands fairer skin tones, because she has red hair, pale skin and some freckles. I wear my own concealer, from my Dainty Doll beauty range.

It's paraben free, so it's kind to my skin. I also swear by Eylure Naturalites Natural Volume Lashes in 020 for a really casual look and the Texture Lashes in 154 if I'm going out.
Furthermore, she said that she does not use makeup every day as she feels more comfortable naturally. Also, for those willing to get some beauty tips from her, she said,
"It's no great revelation, but for me, less is more."
There you go, ladies!