Entertainment
Nicole Ari Parker Casually Talks About Her Relationship With Husband; Also Reveal How Strong Their Daughter Is
Hollywood, a place where marriages normally don't last that long but some relationships are an exception case. One of those exceptions is Nicole Ari Parker and her married life with her husband.
However, enjoying her time with her husband is not the only thing that Nicole does as she also sets relationship goals while casually talking about husband and the bond they share.
Setting Some Relationship Goals!
Nicole Ari Parker is setting some serious relationship goals with her actor husband Boris Kodjoe, to whom she got married in 2005 in Germany.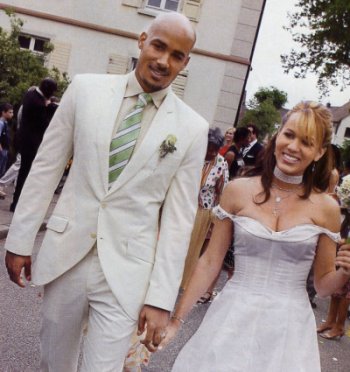 Caption: A look back at Nicole Ari Parker and husband Boris Kodjoe's wedding ceremony in Germany (2005).
Photo credit: mahoganycafe.com
However, getting married is a big step for any couple but the stuff that comes next after getting married is crucial, but in Nicole and her husband's case, that is not a problem.
On May 21, 2016, Nicole and her husband completed a milestone of 11 years with their married life. The 11 years include being parents of their two kids, baby son Nicolas Neruda Kodjoe and a daughter Sophie Tei-Naaki Lee Kodjoe, a strong girl who unfortunately suffers from spina bifida. The couple celebrated their special day away with a dinner date in Spartina LA.
The first spark!
Nicole and husband Boris met for the first time on the set of TV series Soul Food. Nicole who shares an African-American ethnicity relived the moment and shared how she felt when she saw Boris for the first time on the set. She said,
"When Boris walked into our first rehearsal, I thought of him as the really hot guy that got to play my boyfriend in the first couple episodes, but for some reason we connected and found it easy to talk to each other and laugh and be comfortable… and then I married him. Vanessa (L. Williams) called it from the beginning just like a sister would."
Nicole thinks that their relationship was a plan of God and that the couple was actually a little temporized with the thought of dating, given the fact that they were co-actors.
"At first we were very hesitant because we were aware of the cliché [of actors falling in love] and we didn't want to fall into that. We fought it until the whole crew begged us to finally get together." Said Boris.
After revealing that the couple kept everything under control until season 2, her husband also revealed the reason for getting married far away in Germany, which was to avoid an outrageous wedding.
"We had planned a very elaborate version of our wedding in LA. But it became too outrageous. You invite 350 people. Everyone has a plus one. I called my mother and I said, "I want to get married in my grandmother's backyard."'
Said the couple in a joint interview as they continued with the details,
"I always wanted a fairy-tale wedding and where he's from, it's like a storybook. A mountain town in the Black Forest. I was waiting for Hansel and Gretel to come out. I had a horse and carriage. My dad gave me away. We got married in a 900-year-old church. The women from the Bavarian houses with the wooden shutters threw roses on us as we walked through the cobblestone streets. We had 85 guests. Perfection."
That is when Nicole spilled out some other beans as she revealed that prior to getting married she eloped with then-boyfriend, Joseph Falasca and got married in 2001. However, her relationship could not last that long with Joseph, and the couple got divorced just eight months after.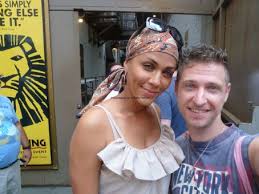 Caption: Nicole Ari Parker with then-husband of eight months Joseph Falasca (2001).
Photo credit: whosdatedwho.com
After all the talks, the secret of a healthy relationship according to Nicole is,
"In a relationship, you have to have compassion for your partner, but you also have to have compassion for yourself."
Strong married life and a strong daughter:
Let's turn around to speak of the little angel who unfortunately fell victim for Spina Bifida. The couple explained how their world turned upside down just like that and how they coped with the situation.
"We went from being the hot Hollywood couple with a perfect-to-be baby to completely devastated, shocked. It was something we couldn't possibly have ever anticipated. We were helpless, we were lost. It took us quite a while to find our bearings and get used to this new norm that we were facing."
No matter how devastated Nicole and Boris were with the thought of her having to deal with Spina Bifida for the rest of her life, they both had to stand strong in life supporting their daughter, and little Sophie's smile helped them do it.
"Sophie was actually instrumental in teaching us how to do that. Her spirit, her attitude was always, she was this little baby who was always smiling and she looked at us like, 'Why are you crying?'" he confessed. "So we figured, okay, this is what it is. This is our norm. She doesn't know any different and it's up to us to prepare her and equip her for this life that's hers and make sure that she has all options and all opportunities that anyone else would have. I think Sophie is so strong, but part of the anxiety was the normal mom worrying about the future."
Nicole is determined to help her daughter get pass all those obstacles by doing whatever she can. Be it checking on her in school at a certain time interval or asking someone to have an eye on her. As parents, Nicole and Boris will make sure that her daughter feels alright all the time. We hope for the best with Sophie.