Entertainment
Nigel Lythgoe Reveals He Isn't Ready For Married Life - Again! A Divorce That Hit Him Hard?
A person seeks different qualities in their partner, and when they find such person who meets every quality, they can't wait long to get married. But with time everyone changes, but the question is; will you be able to love the changed version of your partner?
Same is the case with a former dancer, television dance competition judge, producer, and director Nigel Lythgoe. Married to partner Bonnie Shawe, Nigel couldn't enjoy marital relation for more than three decades.
He says that he doesn't even have any plans of getting married, either. Let's have a look at his unsuccessful married life and find out the reason behind not getting married again.
Nigel Lythgoe's Unsuccessful Married Life:
Nigel was married to Bonita (Bonnie) Shawe, the judge on the Australian version of "So You Think You Can Dance" in the year 1974. Nigel first met Bonnie while he used to work as a choreographer for the BBC's Young Generation dance troupe.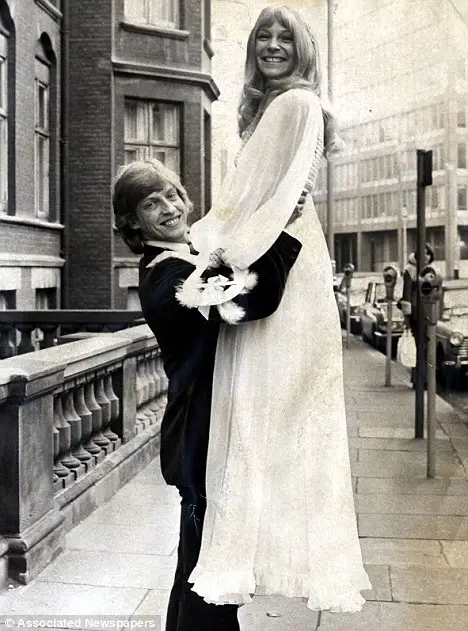 Caption: Nigel Lythgoe and Bonnie Shawe during their wedding day in 1974.
Photo Credit: Daily Mail
Talking about their children, they share two sons, Simon Lythgoe and Kristopher Lythgoe. Likewise, they have four grandchildren, Kyan, Dominie, Tighe, and George.
The couple, who were bound in a marital relationship for more than three decades, was separated in 2009. When Bonnie asked divorce from Nigel, he was not sure about the reason for ending the marriage.
However, he knew that she already had met someone. Talking about the separation in 2009, Nigel said that he tried to get Bonnie to reconsider for around three years. He explained-
"If you're constantly trying to seduce her, and you fail, it eats you away. It takes two to make a relationship, but only one to screw it up. She's bounced off the Lythgoe name for years."
He also revealed that he has no any thoughts of getting married soon, though he can consider that in the future. Nigel explained-
"I'd consider it. But I don't feel I could pin myself down. Bonnie leaving me took me by surprise. I've been upset because of it for a long time now."
He lightened the emotional moment by saying,
"Since I've been in the U.S. I've lost the back of my heart, 15ft of intestine and my marriage - and God, I miss my intestine."
In an interview with Reality TV Magazine in 2011, Nigel opened up about personal life and revealed his thoughts upon marriage.
"No. I'm married to my work."
Nigel added,
"It's totally unfair to have a relationship with someone at the moment that I can't be there for. It's tough enough looking after dogs.
Nigel, who spends his free time with his dogs Bonnie and Clyde, jokingly said,
My ex-wife was called Bonnie, so here was just another bitch who wouldn't do what I asked her."
Did Nigel Lythgoe Find A New Love Interest?
In May of 2015, 'So You Think You Can Dance' star Nigel Lythgoe was reportedly dating the founder of the Beverly Hills Cannabis Club, Cheryl Shuman. The rumor about their romance was verified when they appeared at the Ok! Magazine party, together.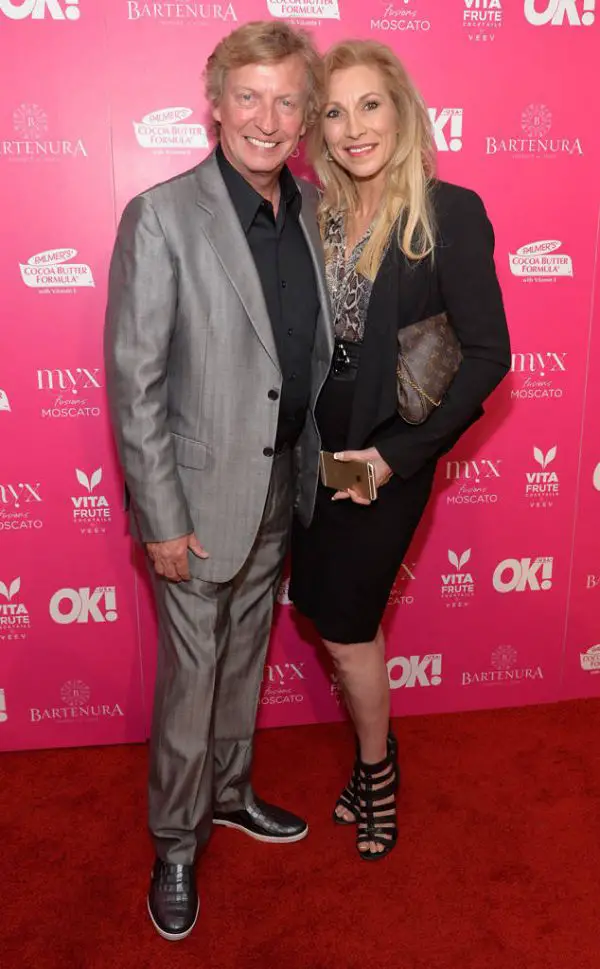 Caption: Nigel Lythgoe and Cheryl Shuman captured at OK! magazine party on May 2015.
Photo Credit: E! News
According to a source, the sixty-eight-years-old director gushed to partygoers, stating that he met Shuman on Twitter. According to E! News' insider-
"He tweeted her and she didn't believe it. She said, 'If you are the real Nigel Lythgoe send me your number.' He did, and now they are dating. All in the last week!"
Since then, the pair has not appeared together in public, but Nigel is still focusing on his career.
Nigel, who began tap dancing at the very young age, has always supported gay dancers. In an interview with The Daily Beast, Nigel mentioned that to acknowledge one's sexuality in public is one's choice.
"But again, how much do you show of somebody's life? Do you really want to say there're straight, they're gay, they're bisexual? What does that have to do with anything? That's up to the individual. If they want to say, "I'm gay!" I'm happy put it out there. If they want to say, "I'm straight." Ok. But why? I just don't get it. I think there are things that are just personal. If you want to come out, come out. If you don't want to come out, don't. I don't go to my dentist and ask him if he's straight or gay. You should take pride in who you are, end of story."
The producer, executive producer, and creator of the shows like Pop Idol, American Idol, So You Think You Can Dance, and Superstars of Dance, Nigel Lythgoe now enjoys the net worth of $110 million.
Stay with us for the budding updates on Nigel Lythgoe!