Entertainment
Ola Ray Has A Husband? A Daughter From Dating Affair With Boyfriend Or From A Married Life?
Being a celebrity, your professional life sometimes overshadows your personal life whereas sometimes grabs the attention of people around you. If you are one of the leading lights of the industry, it's obvious to have a number of fans and followers. While a large number of people admires a celebrity, a series of question regarding their personal life surrounds them.
In this regard, we will be talking about Ola Ray, who gained popularity as Michael Jackson's Thriller girlfriend. That was then, but now, is she married by the age of fifty-six or is enjoying a solitary life? Let's find it out.
Is Ola Ray A Married Woman?
You might know that Ola Ray is a mother of twenty-one-years-old daughter Iam Clark, but you might not be sure about Iam's father, as Ola had a very confusing love life.
Being one of the gorgeous and desired ladies of her time, Ola was rumored to be dating different males. However, three men have a vital role in her love life.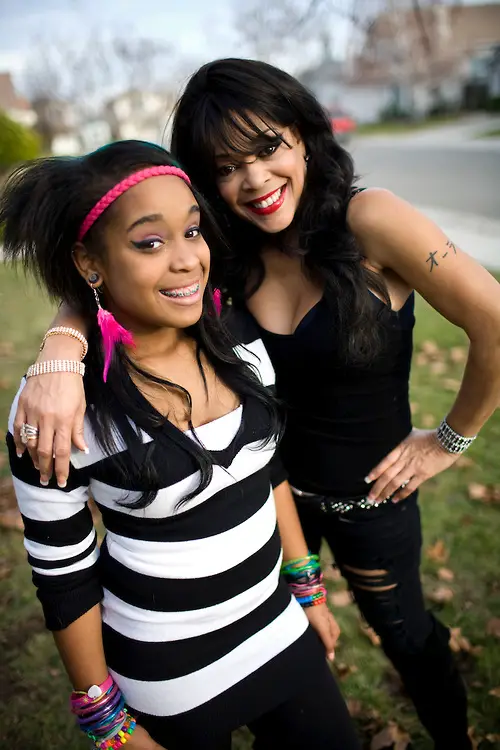 Caption: Ola Ray and her beautiful daughter Iam Clark photographed in 2009.
Photo Credit: maxwhittaker.photoshelter.com
Ola, who was addicted to drugs and struggled many years to overcome her addiction, is well known for her dating affair with football-great-turned-actor Jim Brown. Many people speculated that Iam was Jim's daughter, but that wasn't true indeed.
When Iam was born, Ola was living with an L.A. real estate broker boyfriend. For around three years, Ola thought that Iam was her partner's daughter, but then she started having doubt on it.
In an interview with PEOPLE, Ola said-
"because every time he'd pick her up, she'd scream."
Moreover, PEOPLE reported,
"DNA tests proved that neither he nor Brown was Iam's father. Ray then asked her longtime friend Terry Clark to be tested. "The baby turned out to be mine," says Clark, 47, a CBS cameraman. "It was a big shock to me." He and Ray, off-and-on lovers since 1987, had had a one-night stand around the time she and Brown broke up. Now he is paying more than $1,000 a month in child support. "I totally love my little girl," he says. "She did a good job bringing the kid up; it's made Ola a better person."
Hence, Iam was found to be Terry Clark's daughter. As of 2002, Terry pays more than $1000 a month as a child supports. Since then, Ola Ray has been private regarding her personal life.
Well, she has no husband, but now might be enjoying a conjugal life with her mysterious partner.
Born on August 26, 1960, Ola Ray began her career at the very young age. Ola is known for appearing in the films like Body and Soul (1981), 48 Hrs. (1982), Night Shift (1982), 10 to Midnight (1983), Beverly Hills Cop II (1987), and Toy Soldier (2015).
Ola, who is known as a model of Playboy magazine for the month of June in 1980 issue, has also appeared in some television series like Automan (1984), Gimme A Break! (1984), Cheers (1984), and What's Happening Now!! (1985). With all her earnings from her career, Ola enjoys the net worth of $500 Thousand.