Entertainment
Openly Lesbian Suze Orman Gushes Over Her Partner-Turned-Wife; Chooses Love Over Net Worth
Famous author Suze Orman is a successful personality in the field of her involvement. She has been able to do well in her works, and that has helped her earn a fair share of recognition.
But did you know that she is openly gay and has a partner in her life but who she is married with? Well, if you did not know, do not worry as we are here to educate you on this as today we take a look at her life partner her wife and discuss their relationship.
A Look At The Relationship Between Suze And Her Partner-Turned-Wife.
Suze, to some extent, shocked the world when she famously came out as a gay back in 2007. She did it by revealing she is a lesbian and had been in a relationship with her partner Kathy Travis for a long span of seven years.
Orman first revealed that she was in love with her life partner when she divulged,
"K.T. is my life partner. K.T. stands for Kathy Travis. We're going on seven years. I have never been with a man in my whole life. I'm still a 55-year-old virgin."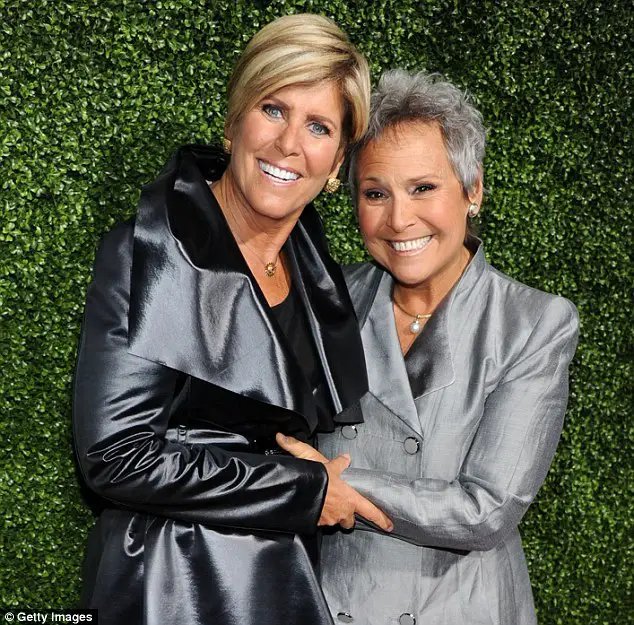 Caption: Suze Orman and her partner Kathy Travis, 2011.
Photo Credit: dailymail.co.uk
Coming out and accepting her sexuality was an excellent thing to do on her part and everybody should respect her courage!
Now that we know that she is a lesbian and has a partner, we shed some light on their relationship.
During an interview back in 2016, she called her partner who she got married to in 2010 "the light of her life," which shows that amount of love between them.
"I found KT at the age of 50, that was 15 years ago. KT is truly the light of my life. She keeps me going in ways that I never thought."
Moreover, she expressed that getting married to Kathy was her biggest happiness.
"the greatest joy was when we got married."
Though they met 16 years ago in 2001, the couple married in 2010 and have been happy ever since, with the book author saying that "the greatest joy was when we got married."
The love Suze has for Kathy is unlimited, and she is so head over hills in her love that she would even sacrifice all her money if she had to choose between Kathy and her money.
"Ask me the question: 'If you could keep all your money, or you could keep KT…? Bye-bye, money. Money, I could always make again. Will I ever find another KT? Never."
That is amazing to know that the love between them is bigger than the love for their money and it is beautiful to watch what this wife and wife pair is willing to do for one another.
Caption: Suze Orman discusses her life and her relationship with her wife, Kathy.
Video Credit: people.com
Inspirational Suze And Her Net Worth:
Not only is she a successful author, but she is also a financial adviser and is the very best at it. As per Orman, a lot of people fear about their retirement and she discussed her experience in providing people with pieces of advice in that regard. She explained many people come up to her with wrong questions.
"'How much do I need to retire?' is a stupid question! The real question is, 'What is the best way I can save for my retirement?'"
She also provided an excellent financial tip for everyone out there who is struggling with their financial plans.
"Own your own home. Get rid of your debt. Live below your means but within your needs,"
Caption: Suze Ozman fields people's financial plans.
Video Credit: today.com
She has gone through it all, she has served muffins to the people, and now she has made millions in her life and someone who has traveled that far in her career is the best financial advisor one can find.
She explained her penniless times in such words,
'Sometimes poverty is the greatest gift you can ever be given. Sometimes loss is the key that leads you to gain.'
A great lesson to learn!
She now boasts a net worth of $35 million, and it is her hard work and never say die attitude that is the key to it.
And if you ever feel down in your life, you might also take Suze as an inspiration as she has done superbly in providing people with pretty useful and inspirational quotes.
Stop saying yes out of fear about what others will think about you and say NO out of love for yourself! Money is such an amazing teacher: What you choose to do with your money shows whether you are truly powerful or powerless.
You must recognize, embrace, and be honest about what is real for you today and allow that understanding to inform the choices you make. Only then will you be able to build the future of your dreams.
Thank you, Suze for being such an inspiration for the people out there!
Stay with us for more news about Suze Orman!