Entertainment
Owner of Don Cherry's Restaurant: Claims He Enjoyed His Young Age Hockey Career
Don Cherry has done it all. He is a Canadian ice hockey commentator, retired professional hockey player, NHL coach and also an owner of a chain of franchised sports bars/restaurants bearing Cherry's name.
Franchised Sports Bars/Restaurants!
The first of chained franchised sports bars/restaurants branding Cherry's name was opened in Hamilton in the year 1985. Cherry then started as a partner in the business and has been able to license his name to the chain and that too without holding a significant ownership stake in the company. "Don Cherry's Sports Grill" has its ventures in Ontario, Nova Scotia, Newfoundland and Labrador, British Columbia, Saskatchewan, and Alberta.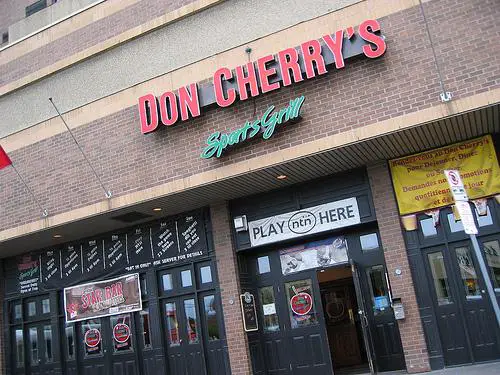 Caption: A Picture for Don Cherry's Restaurant at Alberta.
Source: ibegin.com
Hockey Carrer: As a Player As a Coach!
Cherry started his young playing career with the Windsor Spitfires and the Barrie Flyers and then turned pro with the Hershey Bears in 1954-55. Cherry spent that very season with the Bears but got a lifetime opportunity to join the NHL's Boston Bruins during the '55 playoffs.
After his short time with the B's, Cherry returned to the minors and that would be for the next fifteen seasons. With a celebrated workman-like career as a player behind him, he retired in 1969. Cherry then began working in construction but soon missed the thrills of the game and hence made a comeback in 1971, returning to the defense of the Rochester Americans. Surprisingly, by mid-season, Cherry was already coaching the club and often was criticized for being too friendly with the players he excelled as a coach and was named Coach of the Year in 1972.
With this success under his belt, Cherry made a comeback to Boston in 1974, this time as the club's head coach. Cherry made an immediate impact in Beantown, leading the team to four straight division titles. Cherry then won the Jack Adams Award as the NHL's top bench boss in 1976. With this grand success, he joined the coaching staff of the victorious Team Canada in the '76 Canada Cup.
Cherry's career in Boston hit a major upside down in 1979. In a playoff series versus the Montreal Canadiens, Yvon Lambert scored in overtime. Therefore, Cherry's fate was sealed, and he was let go at season's end. Cherry didn't miss a thing and was again named coach in the next season, but this time as head coach of the woeful Colorado Rockies. Alas, they stumbled to a last place finish, Cherry has fired again.
In 1980, Cherry made a cameo appearance on Hockey Night in Canada, and a third, unlikely stage of his hockey career was about to begin. Cherry continued his appearances, on a feature called "Coach's Corner" and rapidly grew in popularity with his massive fan base behind him.
Since, Don Cherry is a renowned Canadian ice hockey commentator, retired professional hockey player, and also an NHL coach and has a net worth of $12 million but his salary is unknown.
Donald's Short Bio:
Donald Stewart "Don" Cherry (born February 5, 1934) currently is a Canadian ice hockey commentator for CBC Television. He is a sports writer, a retired professional hockey player and also a former NHL coach. Cherry also co-hosts the "Coach's Corner" which is an intermission segment on the long-running Canadian sports program Hockey Night in Canada. He had a brief instinct for ESPN in the United States as a commentator during the latter stages of the Stanley Cup playoffs.