Entertainment
Parvati Shallow Engaged To Get Married! Meet Her Husband-To-Be
Getting engaged to the one you love is most probably everyone's dream.
Similarly, TV personality and the winner of the reality TV series, 'Survivor: Micronesia,' Parvati Shallow, was blessed with the fortune of getting engaged to her boyfriend! After spending three years with her beau, she got to experience the blissful moment of her life; a man with a ring, on his knees!
But, ever since the good news spread out, fans can't help but wonder 'who is Parvati's fiance?' Well, if you are one of them too, then stick around!
Parvati Shallow's Blissful Engagement:
It looks like life is treating Parvati very well after all! With a million dollars in one hand and a dazzling engagement ring on the other, Parvati is all smiles!
The happy lady got engaged in January 2017, when she was on a romantic vacation in London with her long-time boyfriend, John Fincher, a beer executive now, and a former Survivor contestant! Well, she even shared a photo of her wearing an engagement ring and posing with John via her Instagram along with a caption that said,
"Happy 2017!!! Cheers to all the love that is and all that's yet to be,"
But that's not it!
Parvati's fans got acquainted with all the scoop when she opened up to ET Canada about the unforgettable day when John popped the question,
"The first night, I met some of his extended family for dinner in the country. The next evening we planned to go to dinner just the two of us. On our way to the restaurant, he told me we needed to check out this "secret champagne bar" in the park. I love champagne and was very excited about this idea. But, as we were walking into the park, under the light of the full moon, he turned around to face me and admitted "there is no secret champagne bar," and he dropped down on one knee and asked me to marry him. Cheeky!"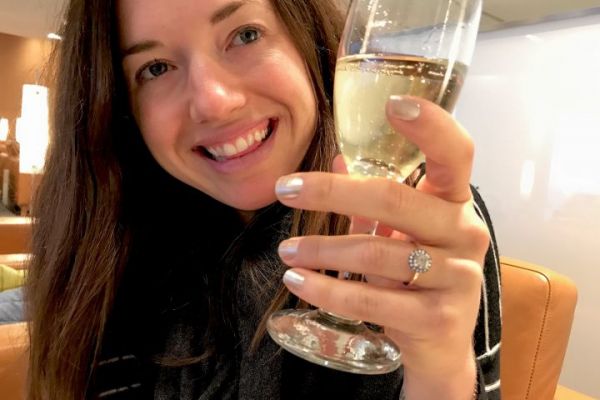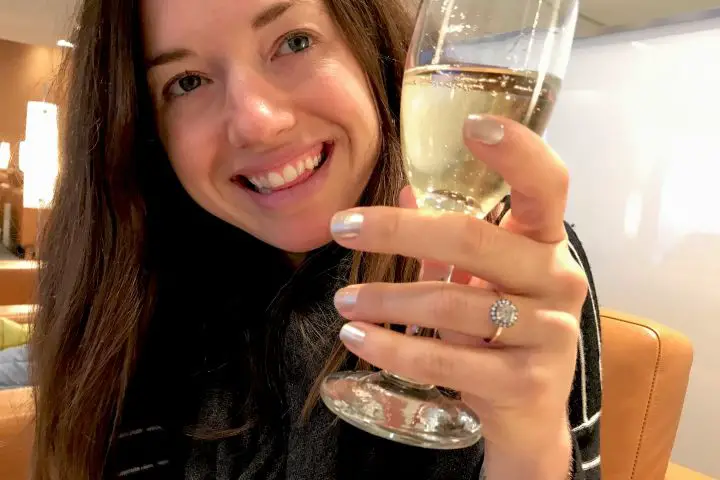 Parvati Shallow flaunting her diamond engagement ring (ET Canada)
Additionally, Parvati also said,
"things played out like an episode of 'The Bachelor' — dinner at Nobu, a rugby match at Twickenham, and a surprise flight to Paris the next day!"
Although the couple hasn't gotten married yet, Parvati disclosed that they were hoping to tie the knot in Canada and also explained how they want their special day to be,
"I do know that I want an outdoor wedding. Being surrounded by the natural beauty of the landscape, our favorite people on the planet, great food, and fun music are all we want. We're looking into finding a venue in British Columbia,"
Talking about how the beautiful relationship between the happy couple began, Parvati and John met each other via mutual friends of the coveted show, 'Survivor.' Parvati further added more insights into their relationship, remembering the time they first met each other,
"I met John in the carpool on our way to play in Ethan Zohn's Grassroot Soccer charity game in LA in 2013. Aras was driving, Nate Gonzales was riding shotgun, and John was sitting next to me. When we scooped up Ozzy, John slid into the middle seat, and I remember being struck by how comfortable he felt to me. I was drawn to him instantly."
As the time glided by, they started dating and appeared together at various events as an official couple. After enjoying romance for three years, the couple has made commitments to each other. Well, a must say that their relationship has escalated to new heights and soon enough, they will be sharing a beautiful husband-wife bond!
Introducing Parvati Shallow's Fiance, John Fincher:
As soon as the tabloids buzzed the town with the headlines of Parvati getting engaged, many fans were curious to know about the lucky man, John Fincher in depth!
Well, it appears that the 33-year-old John is a rocket scientist, all the way from Los Angeles, CA and also a former contestant who participated in 'Survivor: Samoa' in the year 2009.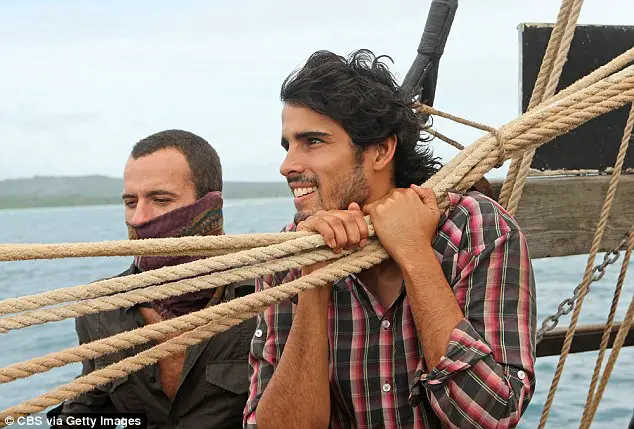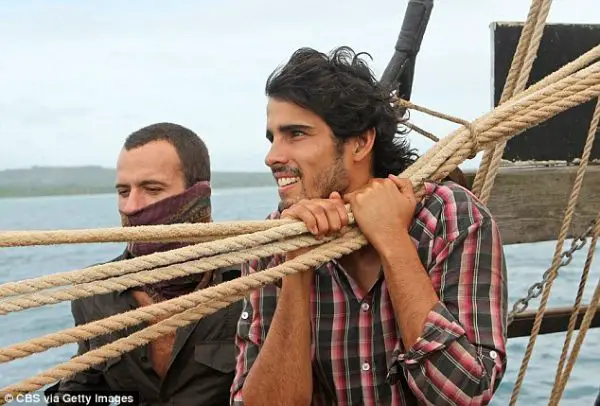 John Fincher in Survivor: Samoa in 2009 (DailyMail)
Although John once claimed that "winning' is his favorite hobby, he didn't win the title of the reality competition series. Along with losing the game, he also lost 20.7lbs of weight. However, during an Immunity Challenge which required the contestants to climb up the near-vertical wall, John wowed the crowd as he 'mastered' the task with a smart technique. As a result, John's tribe, 'Galu' won the challenge.
Moreover, John graduated on May 16, 2016, and Parvati made sure to share the proud moment via her Instagram.
Now that we have become quite familiar with Parvati's soon-to-be husband, John Fincher, hopefully, the fans won't have to wait long to witness them making to their nuptials.