Entertainment
Philip Rosenthal Family Memories In Series; Life With Wife & Two Children
American television producer Philip Rosenthal is best known for creating, writing and producing the CBS sitcom; Everybody Loves Raymond (1996-2005).
The best part of the Emmys winning series was its connection to the ordinary people and its depiction of an average American family and their struggles. The show's plotlines were convincing and were loosely based on the family stories of the creator's life.
Features His Family Story On Everybody Loves Raymond
The author of the aptly titled book, You're Lucky You're Funny: How Life Becomes a Sitcom, infused a leaf out of his own life in the storyline of the famous show, Everybody Loves Raymond.
The show revolved around Raymond Barone, a character based on Philip portrayed brilliantly by actor Ray Romano. The character, Raymond was a dryly sarcastic, beleaguered man who took nothing seriously. The show was centered around Raymond and his wife Debra's constant struggles with their family members.
Full of witty one-liners and comic exchanges between the lead pair and their nuisance-causing family members, the show was appraised because of its original depiction of an urban American Jewish family. Philip loosely based the show's on-screen family on his family's life story.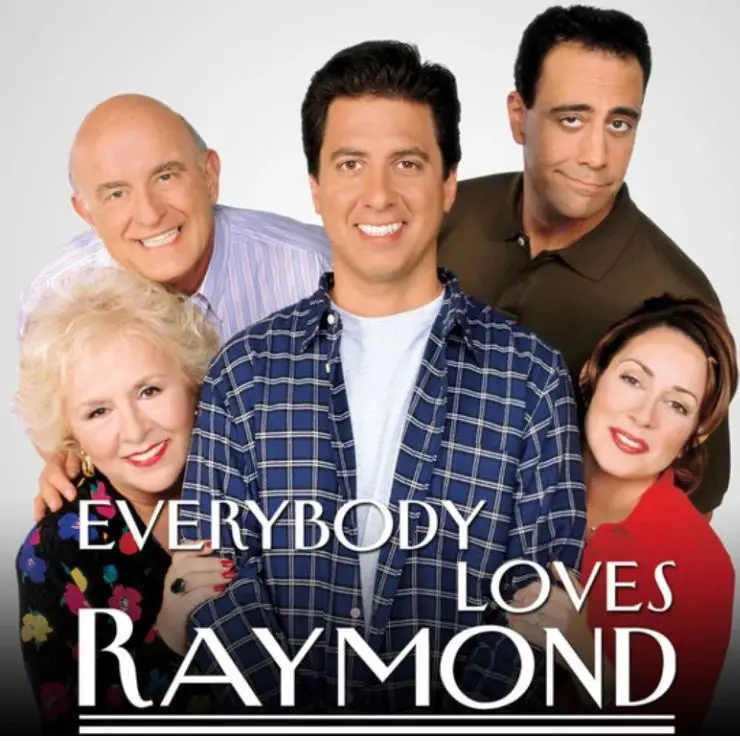 Cast and crew of CBS hit sitcom Everybody Loves Raymond (Photo: raymond.wikia.com)
Actress Monica Horan, the real-life wife of Philip also had a part in the series. She related her matching reel-real life experience when talking to the PEOPLE in 2002. She said,
"I'm hearing lines from conversations I had with my husband. Ray was telling Debra to take medication, and she was telling him she needed a hug. I was like, 'Whoa.' I was crying, then laughing, then crying. It was surreal."
Furthermore, the creator of the show, Philip added,
"Ninety percent of everything you hear on the show has been said to me or Ray Romano or one of the writers."
Apart from the husband and wife memories, Philip also created the character, Marie Barone, the mother of Raymond Barone. He derived the inspiration for the character from his mother, Helen Rosenthal.
Fancies Getting Married, Two Children
On 23 April 2018, the devoted foodie shared his wedding picture on Facebook on their 28th wedding anniversary and claimed that he and wife Monica had done something right in their married life. In the post, he captioned,
"Our daughter Lily posted this on her Instagram. So we did something right. love my wife, both our kids, and all you marrieds out there. And your kids. And all the single people."
Likewise, the romantic husband and wife, who reside in a $6 million house in California, celebrated their 31st new year together in 2018. Via Facebook, the duo wished all their followers a happy family, loads of food and wine, along with year-long laughter for their new year.
His solid relationship with his wife has resulted in their happy family four. He is also an inspiring father to his children. He felt proud when his children along with all the other kids participated in MarchforOurLives movement in 2018 in the wake of rising gun violence in the States
Despite beginning their relationship with a lie, Phil and Monica have remained honest with each other in other matters. Their honesty and trust for each other have helped them to lengthen their relationship.
Future Wife Lied In Second Meeting
Philip, who is the son of a Holocaust-surviving pair, first saw American actress Monica Horan in a play and thought she was comical. He saw her for the second time at a street food fair when he was feasting on a giant rib with juices dripping off it into his T-shirt.
The Burbank resident and Monica were introduced to each other through a mutual friend. Soon after their encounter, he told Monica that he was a big fan of her. The actress also duly returned the compliment despite not having a single idea of who he was. The lie on Monica's part was the start of a fairytale journey.
Thanks to the innocent lie, Phil asked Monica to cast in a play, and the rest is history.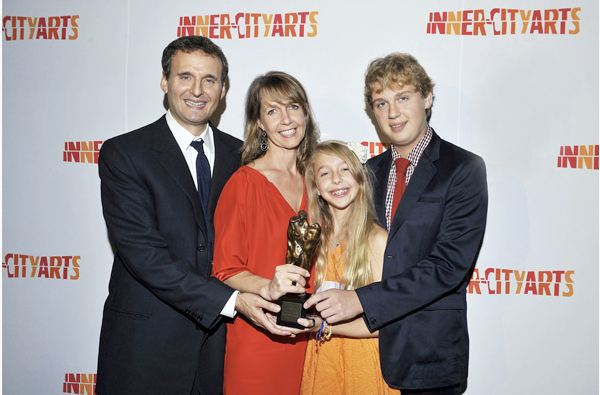 Phil Rosenthal attends Inner City Arts Auction and Gala with his wife, Monica Horan, and children in 2009 (Photo: Imagecollect.com)
Phill and American actress Monica Horan got married in April 1990 and are parents to two kids: a daughter, Lily and a son, Ben.
Excels His Career As Foodie
Apart from being a beloved husband and a loving dad to his children, Phil, whose estimated net worth is $200 million, is a big-time food devotee. His love for food led him to PBS network.
The man of slight build and average height with a big appetite, Phil, hosted a food and travel show, I'll Have What Phil Is Having, in the US network PBS in 2015. Despite the show being received positively by both the viewers and critics alike, the show was canceled just after one season.
However, the removal was not the end of his food presenting career as he was approached by the Netflix for a continuation of the food and travel show, in a different name, Somebody Feed Phil. The show's six episodes were released in January 2018.
With an enviable job of eating new cuisines and visiting new places topped up with a lovely family, Phil is enjoying his post-Everybody Loves Raymond life to the fullest.